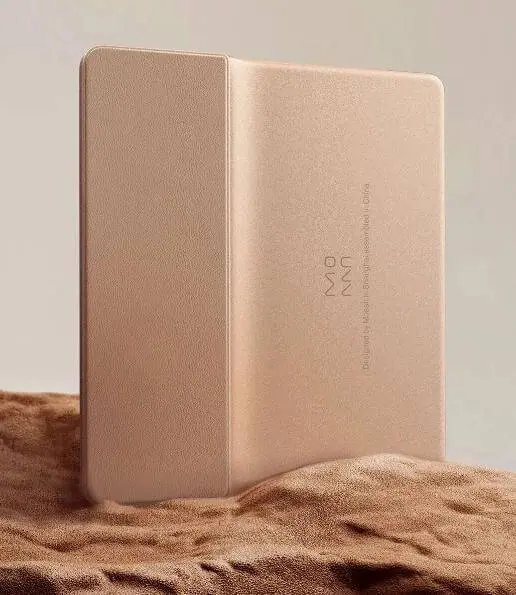 Image credit: techgoing
Moaan Smart has launched a new e-reader, "Moaan MIX 7S". The new product uses a new generation of ink screens and enhances battery life and system fluency.
The e-reader boasts an elegant and wonderful "naked gold" metal body. Its large 7-inch screen is enough to give a comfortable and eye-friendly reading experience. Its compatible style makes it portable enough to carry it anywhere you go. The body of the device features an asymmetric design and physical buttons. The ergonomic grip makes it comfortable to hold for prolonged hours.
Moaan MIX 7 S e-reader comes with a magnetic protection cover. The cover's surface is made of premium PU leather, while the interior is made of microfiber texture lining.
Featuring the E Ink Carta 1200 ink screens
The ink case MIX7 S features the E Ink Carta 1200 ink screen. The response speed of the e-reader is 20% faster, while the contrast is increased by 15%. So, the text on the screen looks sharper and clearer.
The E Ink Carta screen in this device supports a 256-level grayscale display. The pixel density is 300ppi, and 24 warm and cold light adjustment levels add to a better reading experience.
Another key feature of the Moaan MIX7 S e-reader is its self-developed refresh algorithm. The algorithm offers multiple refresh modes to choose from, including balanced mode, clear mode, and fast mode. You can set a refresh mode according to the content types and reading scenarios, such as graphic browsing, ebook reading, etc.
In addition, the ink case MIX7 S e-reader features a built-in 2300mAh battery. So, the device supports about 45 days of standby time or 80 hours of continuous reading time. Moreover, the Android 11 open operating system in the e-reader makes it compatible with third-party apps, such as WeChat Reading, Duokan Reading, Jingdong Reading, etc.
Navkiran Dhaliwal is a seasoned content writer with 10+ years of experience. When she's not writing, she can be found cooking up a storm or spending time with her dog, Rain.