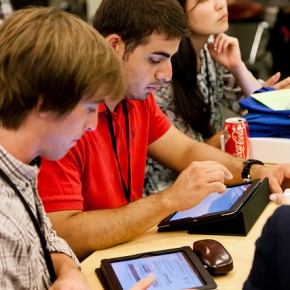 A new pilot program has been put into place to allow more universities and higher education institutions to work within the online media model for student learning. This program, developed by EDUCAUSE and Internet2, includes over fifty publishers, notably the CourseSmart platform. GoodEReader spoke with Cindy Clarke, Senior VP of Marketing for CourseSmart, about the goals for this program.
"The spring pilot was very well subscribed and we've had feedback that more institutions are very keen to take part in the fall term," explained Clarke, speaking of the original rollout which involved five schools and about eight hundred students.
While the offering will remain largely the same for this new fall 2013 program, there are some key differences based on that feedback. "One of the things that we're adding to the subscription pilot is a faculty access program, giving those faculty members direct access to CourseSmart through their faculty access program. They can use CourseSmart for finding and evaluating textbooks for their adoption cycle."
CourseSmart has learned from the original pilot program that both the students and the teachers were in favor of the subscription model, which affords students a significant savings over purchasing stand-alone titles while also giving them nearly limitless portability and access to their course materials. The savings through the subscription pack gives students twelve individual spots on their bookshelves that they can rotate their books through; the findings of the survey indicate that students tend to keep about five titles on that bookshelf at any given time, so the subscription model allows them to rotate their selected books through their bookshelves.
Of the large numbers of publishers who are participating in the fall pilot, McGraw-Hill, who has proven itself to be an educational publisher who stays at the forefront of digital textbook innovation, will once again be on board. In a press release on the fall pilot, McGraw-Hill's spokesman explained the importance this type of program can play on the educational landscape.
"McGraw-Hill is excited to partner with Internet2 and EDUCAUSE to offer a pilot option that will deliver cutting-edge adaptive learning tools that take full advantage of the digital learning environment to enhance teaching and learning," said Tom Malek, vice president, McGraw-Hill Higher Education Learning Solutions. "We're looking forward to working closely with a select group of institutions and faculty that are interested in assessing the impact of these digital-first tools on teaching and learning."
Mercy Pilkington is a Senior Editor for Good e-Reader. She is also the CEO and founder of a hybrid publishing and consulting company.