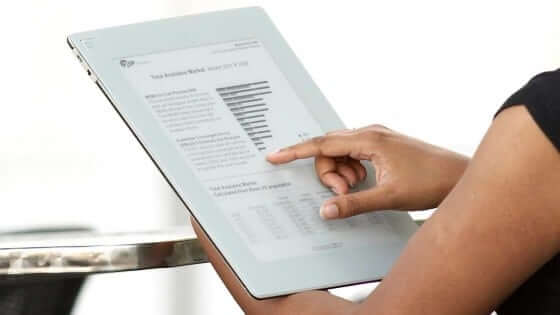 Here is something exciting to look forward to during the upcoming Electronica 2012 event in Munich. Epson has joined hands with Plastic Logic with the aim of optimizing performance of displays in the 1 to 5 inch category. Plastic Logic is at the forefront for the research and development of bendable plastic displays, and the joint collaboration with Epson will surely make the displays more practical in the long run.
How? Epson has developed a controller/driver, which is unique in that all the required components for controlling electrophoretic displays (EPD) have been crammed in a single module. The S1D13541—as the controller/driver has been designated—features four display pipelines "which can be used in parallel to represent up to 16 levels of grey."
What all of this means is that the displays from Plastic Logic, enabled with this technology can be used in a variety of application such as healthcare and automotive displays to mobile devices.
"Plastic Logic's versatile display solutions are all based on plastic and offer our customers the ability to improve their applications, as well as develop completely new products: from a wristband with an integrated flexible display to large area signage. We are delighted to announce the partnership between Epson and Plastic Logic, which has led to the development of a solution focused on our flexible plastic display sizes in the range of one to five inches and based on Epson's EPD controller S1D13541. This will offer great advantages for various applications, including mobile devices and will allow the freedom for new product design approaches," explained Dr. Peter Fischer, CTO at Plastic Logic.
Speaking of the joint collaboration, Manfred Wittmeir, IC Department Manager at Epson Europe Electronics said, "In recent years Epson has concentrated its development in particular on the development of unique EPD controllers for ebook customers. Our next objective is to expand our product range to also include industrial and other promising new applications."
"Electrophoretic displays based on the S1D13541 module are the ideal solution for any customer wanting to develop EPD based applications in a simple way and without the necessity for a complex technical learning process."
Plastic logic has long been involved in the research and development of plastic based displays, though a viable product produced en masse is yet to be a reality. It had launched an e-reader in Russia last year, though it failed to evoke a strong enough response. The last we heard, Plastic Logic had announced it would quit manufacturing and subsequent marketing of e-readers and would limit its involvement to just licensing agreements with other manufacturers.

Sovan Mandal is the senior tablet and tech corespondent for goodereader.com. He brings a international approach to news that is not just applicable to the North American market, but also Asia, India, Europe and others. Sovy brings his own writing flavor to the website and is interested in Science Fiction, Technology and Writing. Any questions, send an email