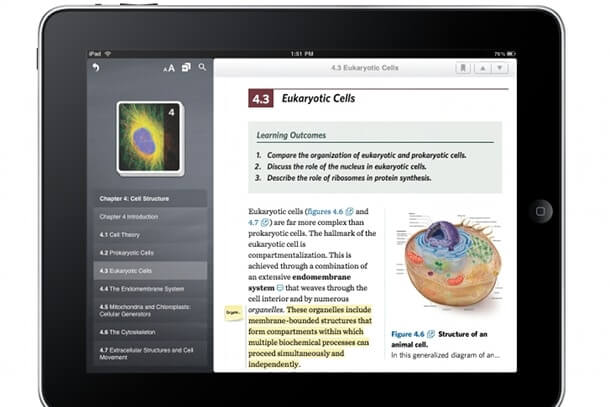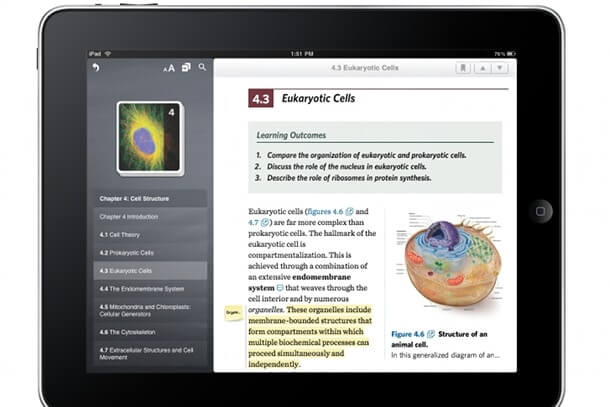 GoodEReader.com published an article on digital textbook designer Inkling in June of this year, and at that time there were reports that some major textbook publishers would be working with the San Francisco company. Several of those publishers, including textbook mainstay McGraw-Hill, have made a rather large investment in Inkling to produce digital versions of its undergraduate-level textbooks. While the amount was not disclosed publicly, reports simply stated that the investment was a multi-million dollar amount.
Obviously, this investment enabled Inkling to continue doing what it does best, namely, producing a digital textbook for tablets that does not simply try to replicate a print textbook in screen form. Previous reporting on digital textbooks has shown that students are often reluctant to purchase digital textbook editions because of the limitations in things like ease of search capability and the poor visibility of graphics on an e-ink enabled reader. Inkling, on the other hand, takes a print textbook and redesigns it from the bottom up, rather than simply converting its format to e-device.
"Until now, digital textbooks have failed to gain real traction because they add little value over the printed book," said Matt MacInnis, Inkling's founder and CEO in an interview with Publisher's Weekly. "But Inkling is different. We build every textbook from the ground up for iPad to create a more engaging learning experience. "
The digital textbook designer made headlines again this week with some interesting new features, just in time for college students to return for the fall semester. Inkling celebrated its second birthday on August 25th with the release of Inkling 2.0, whose highly anticipated upgrade feature includes a social media aspect to learning and studying from the text. MacInnis had this to say on the Inkling blog:
"Inkling 2.0 scratches another itch we've felt about textbooks: they're isolating. While it's certainly useful to focus on your studies, it's also important to talk to people about what you're learning. That's why Inkling now includes the collective wisdom of everyone who's ever used your textbook. Ask a question inside the textbook, get an answer. Have a conversation with your professor, or a professor at another school. It's a huge resource, and it's wrapped inside every Inkling textbook."
One point of interest in the on-going discussions of the future of digital textbooks for all academic levels is that the publishers seem to be entirely on board. Rather than fearing the "death of books" as many in the publishing industry have predicted for mainstream fiction with the advent of e-readers, the textbook giants seem to be as excited about the possibilities as the consumers. Taking into account that a large portion of the high cost of textbooks is borne out of the researching and writing of the original book, being able to spare the expense of the finished paper product can translate into a measurable amount of savings for the publishers.
Mercy Pilkington is a Senior Editor for Good e-Reader. She is also the CEO and founder of a hybrid publishing and consulting company.