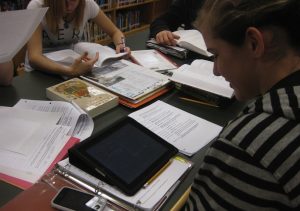 Initial indicators from the Book Industry Study Group more than a year ago demonstrated the young adults were the least likely demographic to adopt digital reading, preferring instead to use their electronic devices for socialization rather than education. But a new report from Pew Research Center's Internet and American Life Project, funded in part by the Bill and Melinda Gates Foundation, shows that reading and digital reading are both on the rise for teenagers.
According to a study released this morning, the project found that as much as 47% of young adults read digital content, specifically books, magazines, or newspapers. However, of those surveyed who do utilize digital reading, 41% were more likely to read an ebook on a cellphone and 55% were more likely to read one on a laptop; dedicated e-readers were used by only 23% of the participants, and surprisingly, tablet reading came in last with only 11% of those who acknowledged they read ebooks.
There was some very interesting—and almost contradictory—information about young adults' library use as well. While 60% of those under age 30 said they have borrowed at least one book in the past year, and despite the fact that high schoolers reported that they are more likely to borrow a book from a library than to purchase it, almost half of the sixteen- and seventeen-year-old participants reported that the library was not important to them. This demonstrates a severe disconnect between the actual use and the perceptions about the library.
"High schoolers stand out in several ways. We found that libraries are a large part of how readers ages 16-17 get their books, more so than older adults. These high schoolers are more likely than other age groups to use the library, including for research and book-borrowing," said Kathryn Zickuhr of the Pew Research Center's Internet & American Life Project, a co-author of the report. "Yet their appreciation for these library services doesn't quite match up—almost half of 16-17 year-olds say that the library is not important or 'not too important' to them and their family, significantly more than other age groups."
The survey was conducted by phone with nearly 3,000 participants, ages sixteen and older, over a five-week period.

Mercy Pilkington is a Senior Editor for Good e-Reader. She is also the CEO and founder of a hybrid publishing and consulting company.