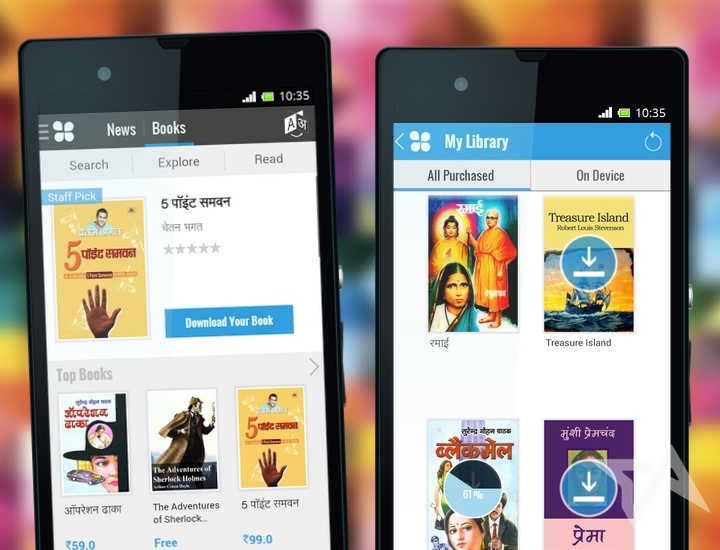 The news aggregating app NewsHunt is the newest to enter the ebook scene in India. The above development couldn't have come at a better time for the company which has reached the milestone of recording over a billion page views a month. The company achieved this feat in four years after its inception in June 2009. On offer will be ebooks in several Indian languages, something that is an absolute necessary for any ebook app to operate in a multilingual country like India. To begin with, it will be ebooks in Hindi, Tamil, Marathi, Malayalam, and English that will be on offer, sourced from more than 50 regional publishers spread all across the country. Vishal Anand, Chief Product Officer at NewsHunt has further stated it is regional language books that they will be concentrating in the near term.
"Just imagine the scale of problem – hundreds of publisher for each language..each publisher using their 'set' of proprietary fonts for their books. Almost none of these books are available digitally to be converted easily to ebook format. Large problem like this presents a large opportunity," said Vishal.
Also, the ebooks on offer will comprise of both free and paid titles. As for the mode of payment, users can either pay via their credit or debit cards or from the mobile balance iPayy, the carrier billing platform created by Ver Sé which again is the same company that launched NewsHunt.
The ebooks via NewsHunt is however only available for Android as of now though the company stated they are working on the iOS and Windows versions of the app as well. The ebooks will be available in readable text eBooks format. The NewsHunt app for newspapers and magazines is compliant with Symbian, Blackberry, Android & iOS platforms.
However, with their decision to venture into the ebook space as well, NewsHunt will have to ward off competition from existing players of the likes of Flipkart, Amazon or Google. Rockstand too has a considerable presence in the ebook segment in India and NewsHunt will have to start from behind these.
Sovan Mandal is the senior tablet and tech corespondent for goodereader.com. He brings a international approach to news that is not just applicable to the North American market, but also Asia, India, Europe and others. Sovy brings his own writing flavor to the website and is interested in Science Fiction, Technology and Writing. Any questions, send an email