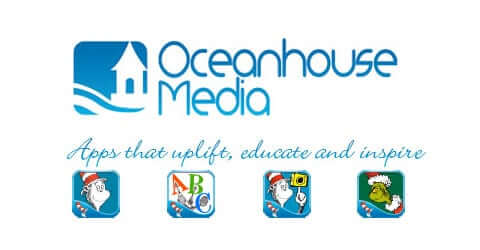 Oceanhouse Media has developed a large fan base for its work, most of which is centered around enhanced ebooks and fully interactive reading content for children. With the release of dozens of full-color and audio embedded app books for children, many of which include large numbers of titles from juvenile literature icon Dr. Seuss, it has become a mainstay source of content for both iOS and Android users.
In 2011, Oceanhouse Media became the first digital content provider to bring several of Dr. Seuss' previously unpublished titles to tablets; the seven children's stories had only been available serialized in Redbook magazine in the 1950s until Oceanhouse adapted the material for its catalog.
Michel Kripalani, president of Oceanhouse Media, spoke with GoodEReader at Digital Book World to elaborate on some of the more practical educational uses for this kind of medium in juvenile reading. He highlighted several other Oceanhouse offerings, such as Dr. Seuss Band, and the first in a series of science-themed books written in the style of Dr. Seuss after his death.
Kripalani explained that there is a fine balance to be achieved between engaging, entertaining content that still attracts the attention of young readers without detracting from the learning experience by incorporating too many extraneous features.
The current projection is for all forty-four of Dr. Seuss' titles to be made available through the digital publisher as interactive ebooks; Dr. Seuss' first book, And To Think That I Saw It On Mulberry Street, was released this week, following such favorites as Fox in Socks, Oh Say Can You Say, and many more.
Mercy Pilkington is a Senior Editor for Good e-Reader. She is also the CEO and founder of a hybrid publishing and consulting company.