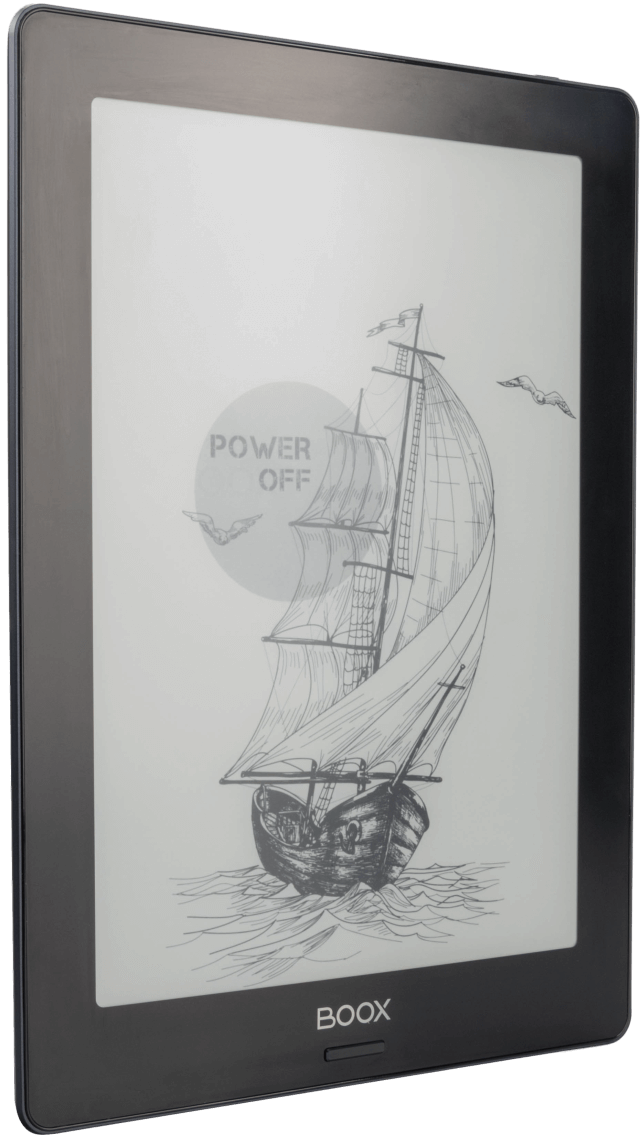 The Onyx Boox Note S is the latest generation e-reader that is exclusively designed for digital note taking and drawing. This device is only 9.7 inches, which makes it smaller at more portable than the Onyx Boox Note 10.3 and Onyx Boox MAX2 13.3 which were both released last year.
Hardware

The Onyx Boox Note S features a 9.7 inch E Ink Carta with a glass based display with a resolution of 1200×825 and has 150 PPI. The screen is completely flush with the bezel, which makes using the touchscreen or using th accompanied more intuitive than the 10.3 Note, which has a sunken screen. The Note S is employing a lower cost Hanvon Digitizer, instead of WACOM. This helps drive down the cost of the device, you can purchase it new for $389.
The vast majority of e-reader companies are employing Freescale 1GHZ single core processors and 512MB of RAM. This processor initially came out in 2011 and is really outdated, but everyone is using it anyways. Freescale developed a dual core solution in 2016 and the only e-reader that actually used it was the Amazon Kindle Oasis 2. Onyx has really done a service to the entire e-reader industry by incorporating generic Chinese quad core processors in the past two years. This has really made the MAX2, Note and Note S really stand out.
The Note S is using a 1.6 GHz quad-core processor, 1GB RAM, 16GB storage and has no SD card to enhance storage further or offload apps. It has two speakers on the back, mic, USB C, 3000mAh battery, WIFI and Google Android 6.0. It has Bluetooth 4.1 and this provides a ton of flexibility. You can listen to audiobooks or music via wireless headphones or a portable speaker. You can hook up an external keyboard or a wireless mouse to get even more productive. Musicians can also hook up a foot pedal or other accessory to automatically turn the pages of sheet music.
The accompanied stylus has an eraser at the top and a clip that you can use to attach to a case or your pocket. The nibs do not need to be replaced nor does Onyx even have an option to buy new ones. The stylus performance is superb because it has pressure sensitivity. The harder you press the lines become thicker. On the flip side pressure sensitivity does not work when editing PDF files with Onenote or Evernote. It only is optimized for the default note taking app.
On a design level the Note S only has a single button on the front of the device that is used as a generic home button. There is a power button on the top and USB-C port on the bottom, that is it. The back of the device is smooth and made of black hardened plastic with no perforation, but it is easy to hold and does not slip. The front of the device has bit of gloss on the sides of the bezel, and is more slippery. I feel overall the Note S has good design sensibility and am especially enamoured with the screen being flush with the bezel.
The Note S weighs a paltry 410g and the dimensions are 249x177x8.2 mm.
Software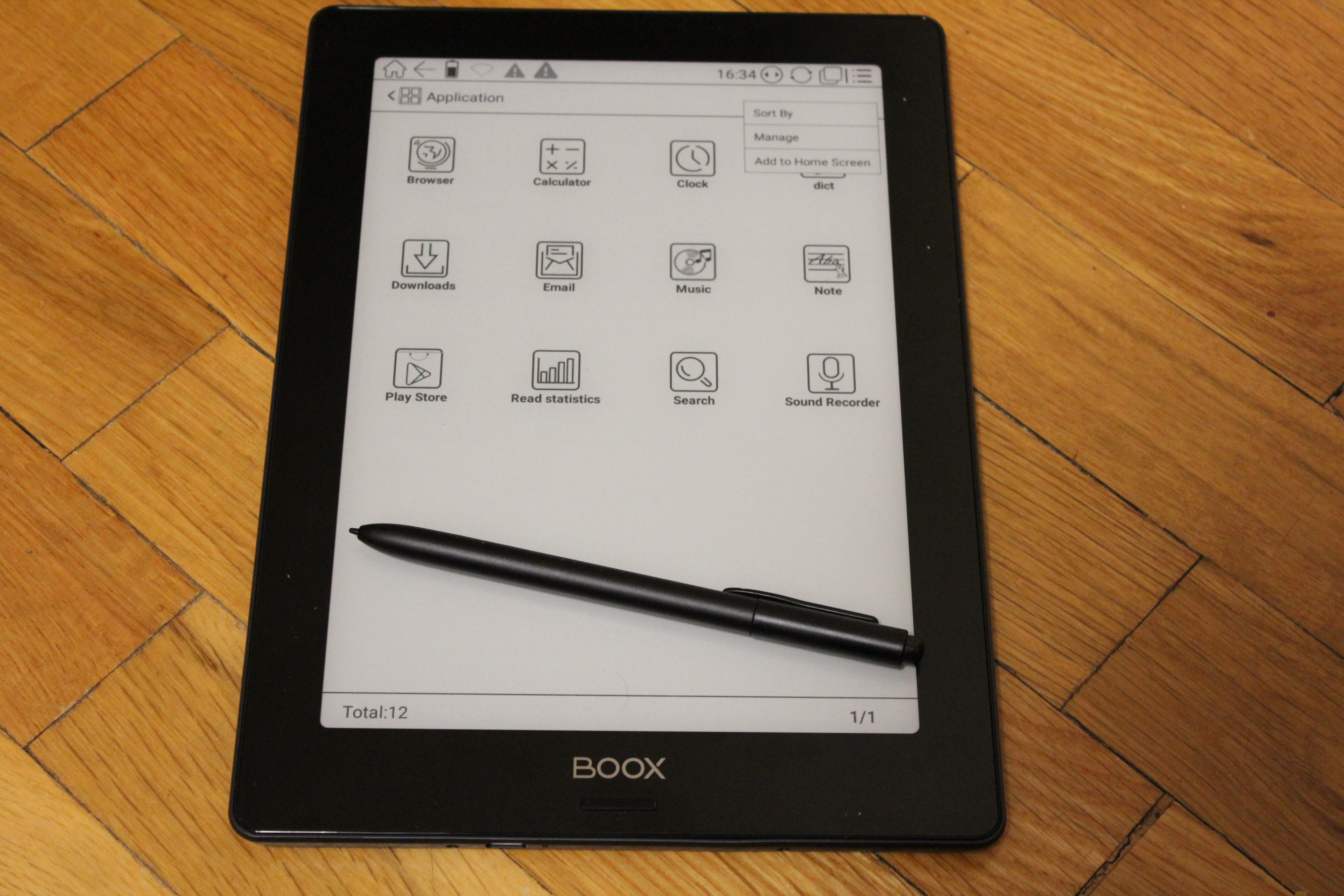 The Note S uses the Google Android 6.0 operating system and relies on Google Play as an avenue to download apps.
The home screen comprises of one book you are currently reading and a number of titles that you recently added. On the bottom of the screen are navigation buttons that take you quickly from one section to another. You have the library, file manager, apps, settings, note and internet browser.
The top of the screen is consistent, no matter what menu you are on. There is a home icon, back, battery, WIFi and alert icons. To the far right you can initiate A2 mode, which degrades the picture quality of the screen to increase performance. This is accomplished with software driven dithering and Onyx has been able to even increase the performance of popular e-reading apps such as the Amazon Kindle. They have been able to eliminate the page turn animation system.
If you tap at the very center of the top screen you can adjust the volume, setup a wireless internet connection or implement power mode.
Onyx does something very interesting with the library, which contains all of your PDF files and e-books. You can scan for metadata, which adds covers to titles that do not have them. This often occurs with royalty free content, but also ones that are issued by major publishers. This is useful because you no longer have to use a program like Calibre, you can do it directly on the e-reader. You can also do other things like switch between grid or list view or delete the book entirely off your device.
There default file explorer that shows you everything on your device and the app drawer houses all of your sideloaded apps, since Google Play is not an option. The App experience on Android e-readers is hit or miss, but most apps that do not have super complex animations or video seem to perform well. This includes Oneonte, Evernote, and other popular apps that rely on the stylus for drawing or taking notes.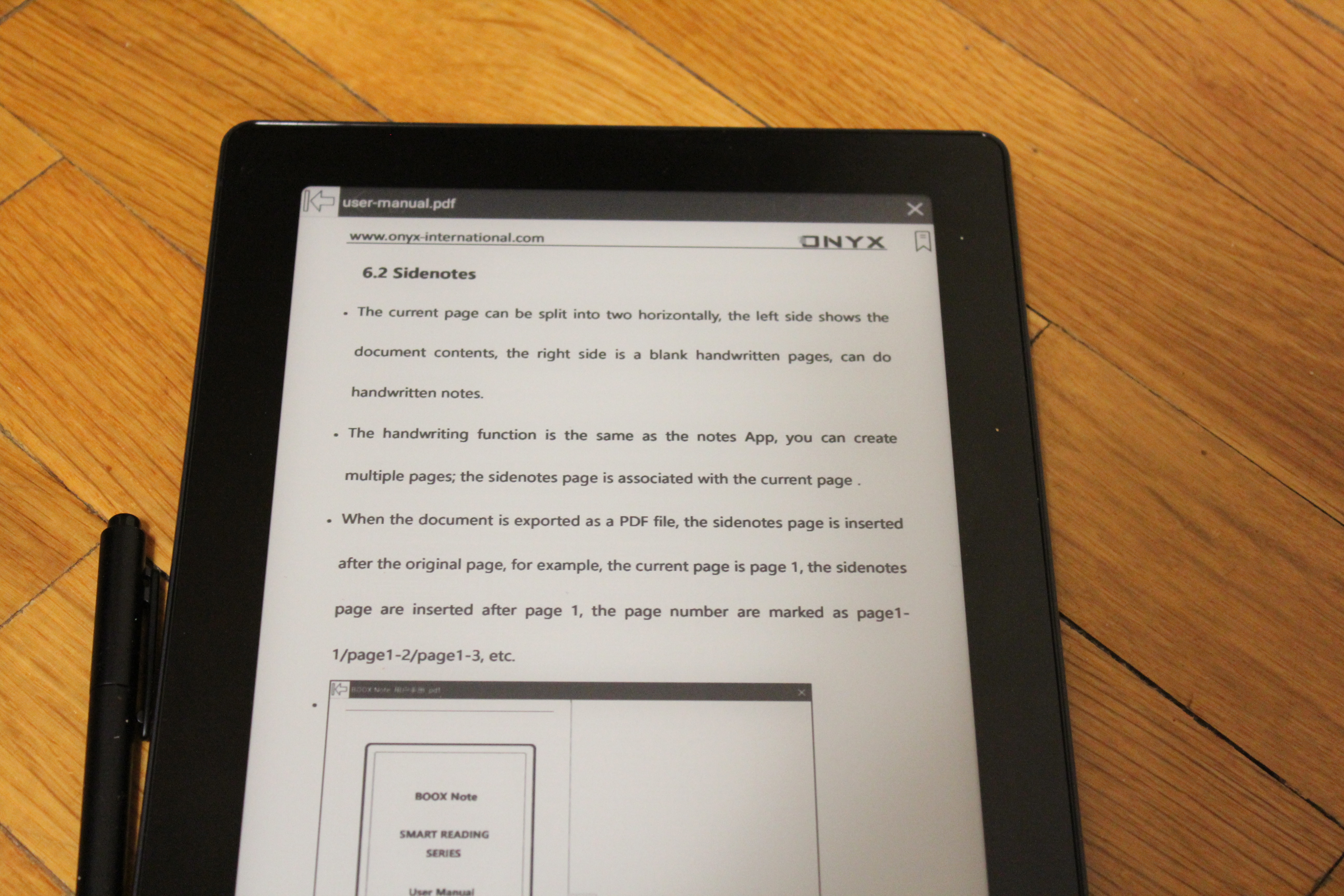 The e-reading experience is standard fair and it supports pdf, djvu, azw, azw3, doc, docm, docx, epub , fb2, fbz, html, mobi, odt, prc, rtf, sxw, trc, txt, chm. Onyx redesigned the font selection menu to increase the size, switch to bold mode or adjust line spacing or margains. It feels more like a Kindle now in this regard. One of the drawbacks was selecting a font, there is seriously 27 pages with 10 fonts per page. This is totally overkill and there is no quick method to search for a specific font, you are just scrolling endlessly to find one you like. Still, you can note takes, highlights, annotations, translate, lookup words in a dictionary or turn on text to speech. Text to speech is fairly robotic and does not even compare to Google Assistant, Bixbi, Siri or Alexa.
The stock internet browser is actually really solid. It has advanced options to remove images, javascript and others. It has 3 navigation soft keys that can make the webpage take up the entire page, removing the stock Android navigation bar and the Onyx UI. This is great if you are reading long articles on Medium or other longform articles.
Digital Note Taking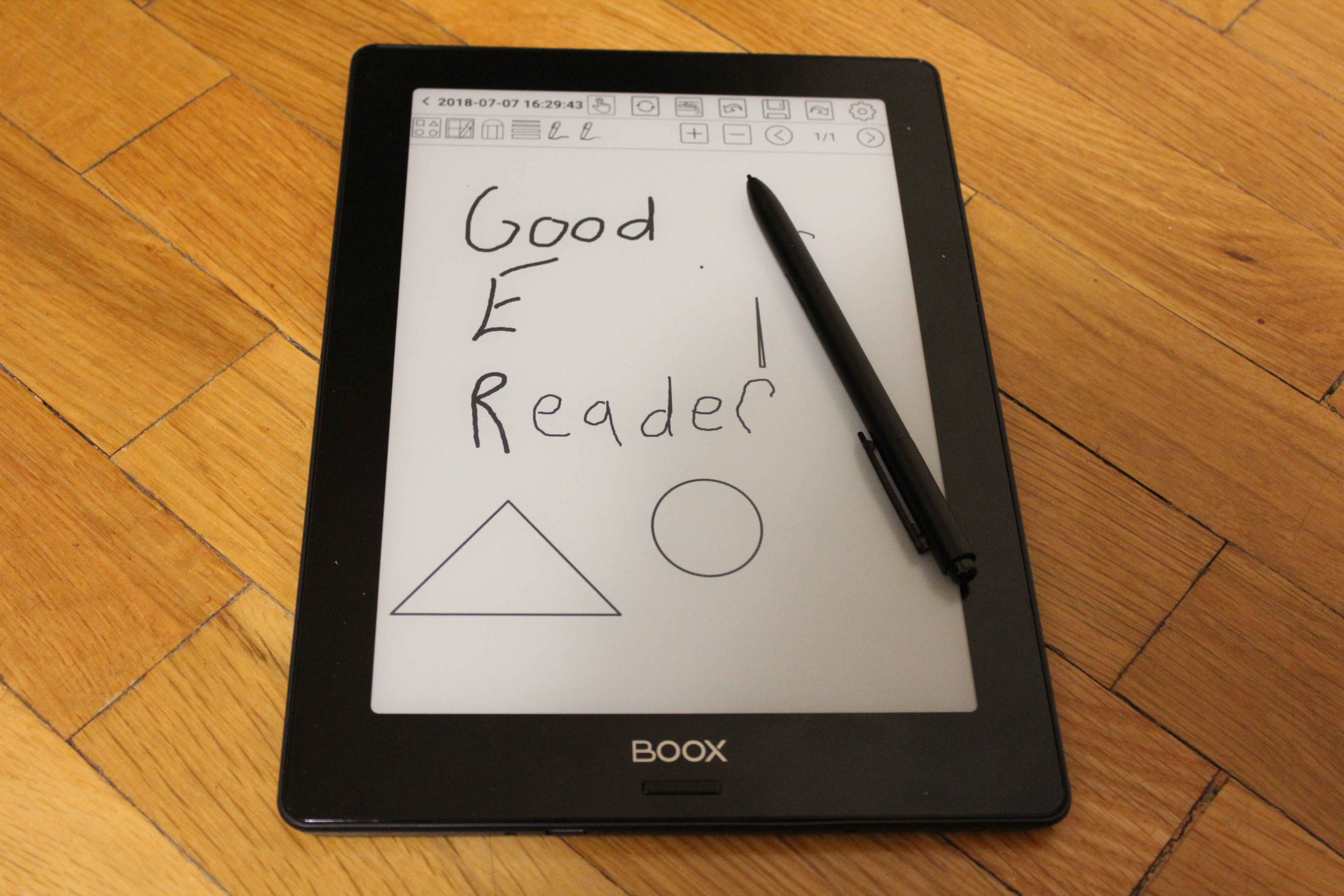 The primary reason you would buy the Onyx Boox Note S is to edit PDF files, draw and take notes. I am pleased to report that this device excels at doing all of the above, this is thanks to the processor, RAM and the constant firmware updates that Onyx pushes to enhance the overall experience.
The top of the note taking menu has an option to turn off the touchscreen and only use the digitizer layer, this is useful if you just want to use the stylus. I found this option isn't totally necessary because the screen has palm rejection enabled by default. There is a handwriting option that takes big letters and notes and makes them smaller. This is useful if you write a big note, "meeting at 6:00 with Michael Kozlowski" and you draw it really big, because you are in a hurry. The Note will then scan all of the big text and automatically resize it so they are really small, in bullet point form.
There are plenty of shapes you can use and scale them live on the screen such as a line, triangle, circle and square. Onyx has also revised their background screen, so there are only 12 of them now. The most popular is the blank one or college rules, which actually has a new option to manually configure the amount of line spacing. There is also sheet music background for musicians who want to write their own music.
The Note can also edit PDF documents, but you can't just start drawing right away like you can on the Remarkable or Sony Digital Paper. Instead you need to tap on the center of the screen with the stylus and it will bring up a small navigation bar located on the bottom of the screen. You can initiate the scribble option to draw or take notes and it the stylus has pressure sensitivity. You can save the edited PDF document as an independent file and save it.
There is also a redementary split screen view system where you can have a page of text on the left hand side and a blank page on the right. This is modeled after what Sony has done with the Digital Paper, although the Onyx struggles in this regard. You can't turn the Onyx into landscape mode and have two pages of text, you will always have a blank page on the right, meant for taking notes. I would likely recommend using a different PDF editor if you want more features.
It takes around 3-4 seconds to load a 94 page PDF and almost 20 seconds for a 500 page PDF to load. If you tend to use the Note as a replacement for paper, be prepared to wait if you have huge docs.
I found that stylus does a good job with minimal latency when using the stock note taking app. The eraser at the top of the stylus is satisfying to press down and it will remove an area of text by just clicking on it. This ensures that if you are drawing something complex you won't instantly erase everything is on the screen. It firstly erases the last thing you wrote or drew and then will erase an area of text that is interconnected with each other. For example, if i write the word HI!!!! it will erase all of that text if I click anywhere on it, but if there is text with spaces after it, I would have to erase that too.
One of the drawbacks of the Onyx Boox Note S is that the nibs of the stylus are fairly firm and do not have a lot of give. If you are the type of person that presses really firmly on a pencil or pen or stylus, you will likely not damage the screen because it is made of glass, whereas the Onyx Boox Note MAX2 and Note 10.3 are made of plastic. I would also recommend to buy the official Onyx screen protector to make sure you do not damage the screen when in transit.
Wrap up

The Onyx Boox Note S is not as good as the 10.3 Note. The Onyx Boox Note 10.3 features a flexible E-ink Carta display and a resolution of 1872×1404 and 227 PPI. Underneath the hood is a 1.6GHZ quad core processor, 2GB of RAM, dual speakers, mic, Bluetooth and USB C and is powered by a giant 4100 mAH battery. So basically the Note S has 1 GB less of RAM less and a weaker battery. It also does not have the best resolution and PPI, but the tradeoff is that the full sized Note costs $549 and the Note S costs $389 at launch and will gradually come down in price over time.
I would likely recommend you get the full sized Note, if you intend on drawing and taking notes full time. The Note S is not a slouch in this regard, but the Digital Paper DPT-CP1 does a better job.
The big advance of the Note S over the Remarkable and Sony DPT-CP1 is that it runs Android and is more customizable. You can install Kindle, Nook or Kobo, Evernote, OneNote etc. You can install the Good e-Reader App Store to install apps right to your device. Remarkable and Sony do not allow you to sideload in your own apps.
Peter is in Japan right now, so obviously I am not at the studio, so our pictures of the device are not up to our usual high standard. The full hands on review, comparison to the Sony DPT-CP1 and Remarkable are incoming and should be published sometime in the next couple of weeks. Good e-Reader will get back to normal at the end of July!
Michael Kozlowski is the Editor in Chief of Good e-Reader. He has been writing about audiobooks and e-readers for the past ten years. His articles have been picked up by major and local news sources and websites such as the CBC, CNET, Engadget, Huffington Post and the New York Times.