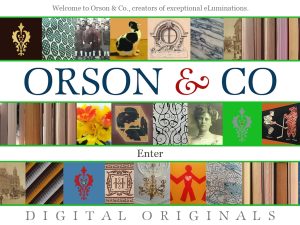 As the surge in digital reading continues to move forward, there is no shortage of digital publishing platforms for both authors and readers to choose from. New companies are springing up daily to encourage reading on a tablet or dedicated device, so publishers are now becoming smarter about trying to find ways to stand out from the rest.
Orson & Co.'s new app-based platform eLumination allows authors to get very creative with the additional features in their ebooks, such as music, videos, even the background display of the page, but more importantly, it allows readers to ignore these features if they do not feel they are anything other than a distraction, detracting from the reading experience.
"An eLume shouldn't be confused with an enhanced eBook — it is a different form that presents a new way for readers to lose themselves in a story," said author Richard Mason in a press release, whose title History of a Pleasure Seeker, Volume One is available now as an eLuminated app. "eLumes are individual, unlike eBooks, and the reader is in charge of how, and when, to fire their imaginations."
"Orson & Co's eLumination platform allows writers to be creative in new ways. eBooks are convenient, but they don't replace the uniqueness of a real book. eLumes offer a new imaginative experience – one that honors the individuality of reading while celebrating the possibilities of touchscreen devices."
In Mason's title, bonus features are hidden behind touchable icons on each page, so the reader must choose to manipulate the add-ons in order to experience them, rather than having them automatically inserted into the app. Some of these add-ons include narration of the text by actor Matthew Crawley (Downton Abbey), historically accurate scenery from the setting of the book, and an Ask the Author feature that allows readers to contact Mason with questions or discussion, as well as social sharing options.
Mercy Pilkington is a Senior Editor for Good e-Reader. She is also the CEO and founder of a hybrid publishing and consulting company.