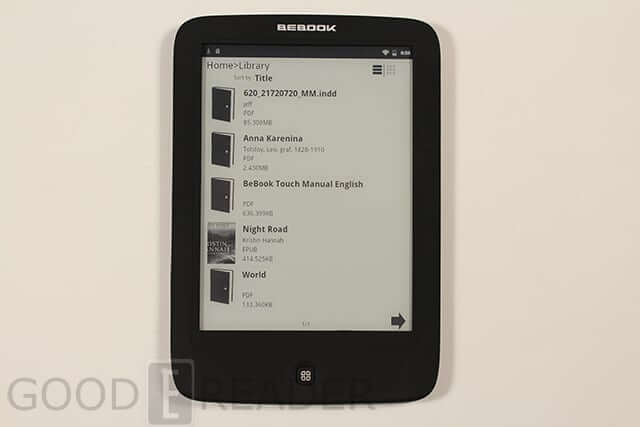 The Bebook Touch is the latest e-reader the company has produced since the ill-fated Club S. This device has a ton of momentum in its favor with the inclusion of wireless internet access and the ability to deal with any online digital bookstore you want. It also holds the distinction of being the only e-reader available that can install Android APK files right out of the box.
Hardware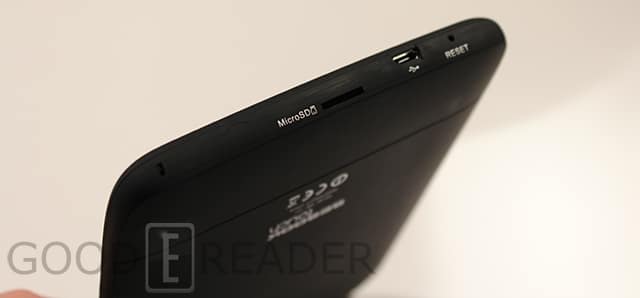 The Bebook Touch features a six inch e-Ink Pearl touchscreen display with a resolution of 800×600 pixels. Interacting the touchscreen requires you to firmly press any of the settings or navigation buttons.
Underneath the hood is a 800 MHZ internal processor and 4 GB of internal storage. You can enhance the memory via the SD card if you require more space for your ebooks or pictures. There are currently no speakers or 3.5 mm headphone jack, so you will not be able to listen to music or audiobooks.
One of the things that Bebook has done with its latest reader is include wireless internet access. The last few devices decided to forgo this to offer customers a cheaper entry price point. The one thing that impressed me was the ability in the settings menu to establish what ebook store you want to deal with. You simply write a hyperlink address so when you click on Book Store, it will always open whatever shop you like to do business with. When you purchase ebooks, they are automatically sent to your device and held under My Library. The internet browser also has a default link, so you can use your favorite search engine or even Good e-Reader!
One of the things I hated about the Bebook Club S was the lack of LED indicator light. You had no idea if it was charging or plugged properly into your PC via the Micro USB cable. Some of the previous models required you to charge it right out of the box and if you turned it on right away it would sometimes destroy your unit. Luckily the Bebook Touch comes fully charged right away, so you can start exploring it right away.
Battery life should last you a few months if you are just reading books. If you are surfing the internet or downloading Android files, it actually drains the battery very quickly. During our tests we went from 60% to 15% in the span of an hour browsing the internet and downloading a few Android files. You can charge your unit by connecting it up to your PC via the accompanied Micro USB to USB cable.
The Bebook Touch primarily responds via the touchscreen. There is a single home button at the very bottom. If you click on it once, it goes back a menu and holding down on it will bring you back to your home-screen. It also has pinching and zooming functionality, which is deadly with PDF files and surfing the internet. It becomes a bit unresponsive while you are reading ePub books.
In the end, I like the overall look and feel of the Bebook Touch. It is made of the same hard rubber body that is evident in the Nook Simple Touch and the inclusion of WIFI makes it a welcome change. It is very light, weighing in at a very respectable 186 g.
Software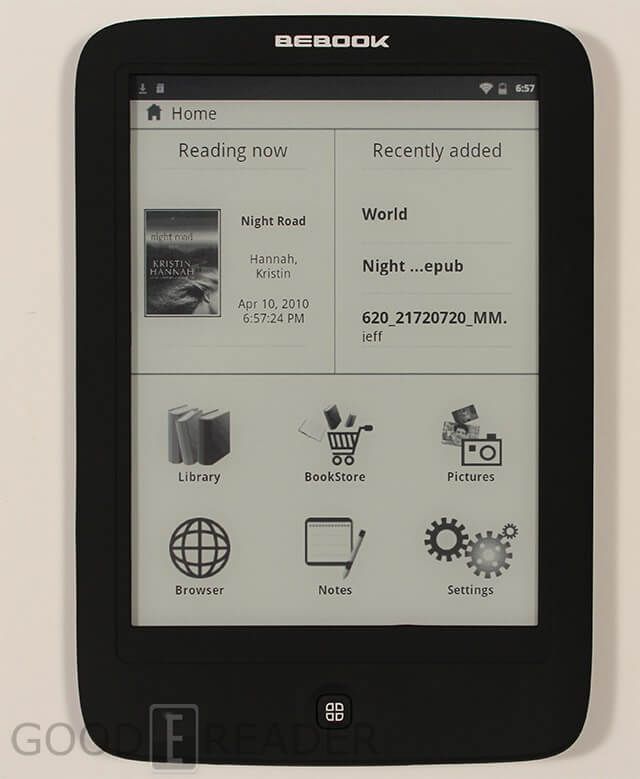 The Bebook Touch is running on Google Android 2.3 and offers the ability to load in Android files right out of the box. Not many companies offer the Android operating system, with Sony and Barnes and Noble being the only two notable companies to do it. Both of their competitors do not allow the sideloading of apps, unless you root it. It is strange that Bebook totally does not advertise this feature, as it makes the e-readers super competitive.
Your main screen comprises of your library, book store, pictures, browser, notes, and settings. Your library does not really allow you to make your own custom shelves. PDF documents do not show cover art, but you can get a sense of which formats your books are in by looking underneath the title.
The one element of this device I really liked was inputting the address of your preferred book store. Instead of Bebook locking you into a particular ecosystem the way Pocketbook does with Book Land or mainstream companies launch their own store, Bebook empowers you to deal with whoever you want. You can easily do business with any company that sells books in ePub or PDF format and buy them right on your Touch. This puts them in your library right away and does not warrant the additional step of using Adobe Digital Editions to transfer over your purchases.
If you like to have pictures on your device, the only supported format is PNG. One of the main drawbacks is that large pictures that were tailored towards landscape mode will look a bit off. There is no functionality to pinch and zoom pictures or take advantage of the software accelerometer that is evident in your book reading experience.
The settings menu is fairly basic with no options that traditional Android users get to enjoy. You can basically just establish your wireless network, choose your language, or setup your default hyperlinks. There is also the ability to input your Adobe Digital Editions account to make it easier to transfer over purchased content.
There are over 20 different languages that you can choose from to change your entire user interface. Bebook is very strong outside of North America and most European countries all use their own National languages. This allows you to really get the most out of your device. The one main drawback is the built in dictionary support. There is no current way to load your own in and Bebook does not currently offer any downloads or support. We tried looking for firmware updates but they don't offer any for this new product.
The one thing I absolutely despised on this e-reader was the certificate errors that would pop-up every time you visited a website. In most cases, every page you visited and anything you clicked on would give you a notification flag. You could click OK, view certificate, or cancel. If you canceled, you are brought back to your main home-screen and your browser is automatically closed. I would implore Bebook to fix this, as it makes visiting any websites an exercise in patience.
Android Installation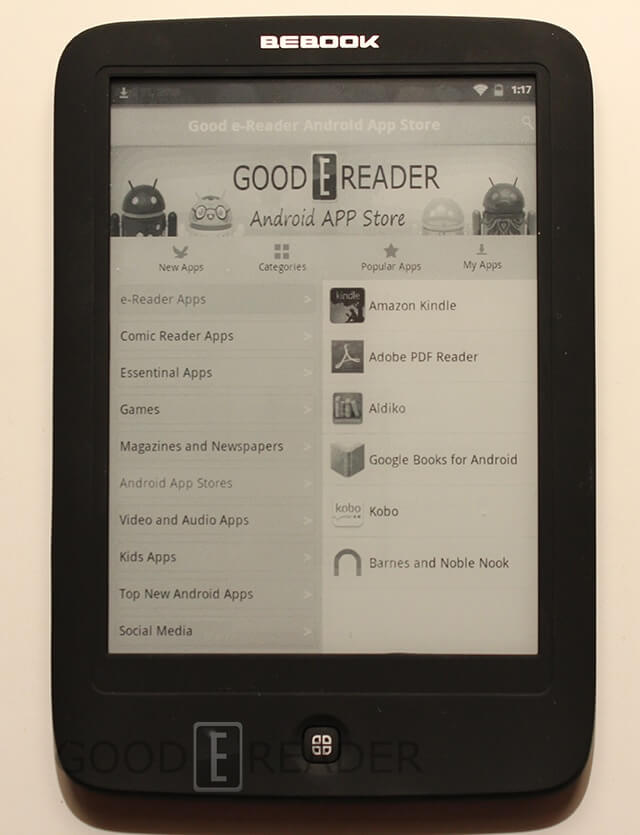 The one thing that sets the Bebook Touch reader apart from any other e-reader on the market is the ability to load in your own Android Files. This is a bit of a difficult process since the unit does not ship with a default file browser that gives you quick access to anything you installed. This makes you literally have to re-install the app anytime you want to use it. There is also built in email support, but no email app to send messages or email your friends.
You can surf the internet with the Bebook Touch's built in internet browser to download APK files directly to your device. Once the download is complete, you can drag your finger down the top of the screen and swipe downwards. This will show you the list of successfully downloaded files. You can click on them and they are automatically installed on your Bebook. We experimented with loading in Gmail, Kindle, Kobo, Nook, and Sony Readers, and they all worked! All of your purchases could be synced right to your Bebook. There is a catch, of course; if you close the app you have to re-install it! There are no icons generated from installed apps and no menus that let you see what apps are installed. Bebook has failed to put in a file browser to manually launch things you downloaded. The very best you can do is install your apps and then keep on installing ES-File explorer every-time you want to launch it.
By default, once you download an APK file you cannot see a list of stuff you installed. The best thing you can do is not clear your list of recently installed apps. Most of the time the list of apps randomly disappears. After extensive testing, we could download an app and click on the APK file while it was downloading. You can then see a full and complete list of apps that have either successfully downloaded or aborted. This is the most effective way to do a manual install.
The ability to load in your own Android Apps on the Bebook Touch is one of the best elements any company has ever introduced. We have reviewed hundreds of e-readers since 2008 and this is the only one. Unfortunately, it is poorly executed and punishes users who want to do this.
Bebook could improve the Android experience in a few ways.
a) Include the native Android File Browser
b) Allow installed apps to show under a new heading in "My Library" and allow users to filter apps and books
c)Issue a new firmware update that uses these new elements and watch the sales explode.
e-Reading Experience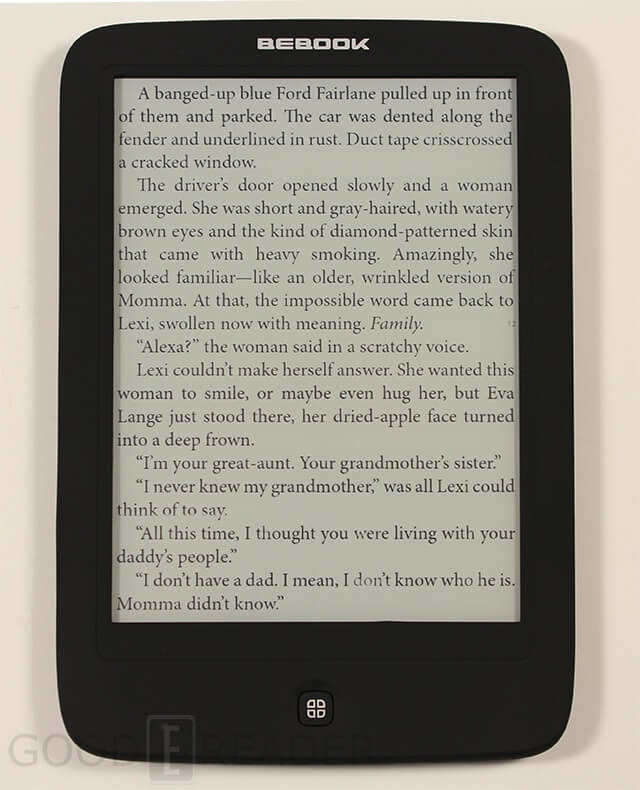 The Bebook Touch reads a myriad of ebook formats right out of the box. You can load your own books in or purchase them from other companies. It has support for ePub, PDF, FB2, Mobi, TXT, RTF, and HTML.
Reading on the Bebook Touch is a fairly pleasant experience. You can tap on the center of the book you are reading and view a small settings menu on the bottom. You can increase the size of the fonts by six different levels. Each increase or decrease is generated in real time, so so you can watch the text change. You may also elect to change the margins or change the orientation from the default portrait mode to landscape. There is no ability to change the line-spacing or change the font-type.
While reading a book, you can hold down on any word and a few new options appear. You can make a highlight or take a note. When you engage in a note, you can use the software driven keyboard to input your text and a little note icon appears on the right-hand side. A cool option to is turn a book into draw mode and you can interact with the touchscreen to circle things or just cause general mischief.
If you are a discerning shopper and like to hunt around for deals, the Bebook Touch is for you! You can enter your Adobe Digital Editions settings and use your password and email address. This will allow you to load in your own books directly from the PC via the USB cable. As long as they are in ePub or PDF, you are good to go. This opens up the ability to do business with Kobo, Smashwords, Barnes and Noble, Sony, and a litany of others.
Not only can you load your own books in, but you can buy books directly from the booksellers using the browser. If you want to install your favorite company's Android APP, you can do it from the Good e-Reader App Store and then quickly download them right to your device.
You won't find the extensive ebook augmentation options in the Bebook Touch as you would in the Kindle, Nook, or Kobo line of readers, but the unit is perfectly acceptable for your average user who just wants to change the size of the font and load in their own books. More advanced users will love Android Apps, but may be disappointed they can't change their font types or line-spacing.
Wrap Up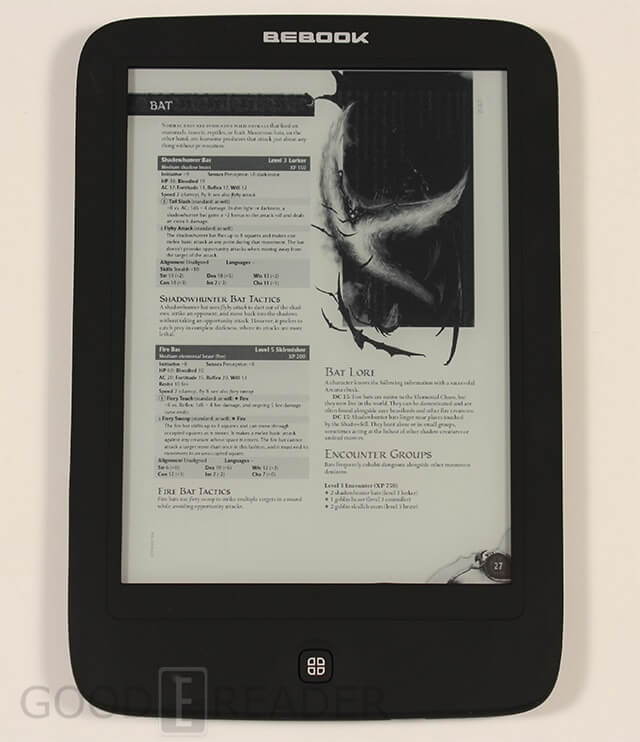 With a simple firmware update giving a native file browser and a new section in My Library, this e-reader could dominate in sales. I feel that Bebook is on the cusp to add a new dimension to your average e-reader. I read all the time about people rooting the Sony PRS-T1 or the Nook Simple Touch and playing Angry Birds on it. Not only does this void your warranty instantly, but the entire process is aimed at a super small segment of tech savvy users.
Bebook as a company is fairly agnostic about your choices of who to deal with to purchase content. Bebook doesn't lock you into a particular company or promote its own store. The company has a great philosophy of "deal with whomever you want, we'll just make it happen." This is very appealing to a wide majority of users that want to feel empowered.
Without a firmware update to make those two things happen, this is a very average e-reader. Reading books on it is about all you can do and it doesn't provide advanced options to change anything of value. Browsing the internet will give you so many certificate errors that it makes it unwieldy to even check your email or browse on Google.
As it stands, I would recommend this device to a European Reader or someone looking for an alternative to the big three. I would recommend this device to ANYONE if the company got the app situation under control.
PROS

Android OS
Extensive Support for Popular eBook Formats
Internet Browser
Choose Any Bookstore You Want as a Default
eBook Experience Is Solid
CONS
Android Support Is Painful
No Advanced eBook Features
Battery Life Drains Like Crazy If You Surf the Web
Can't Load in Anything but the Default Dictionary
Rating: 7/10
[cincopa AMFA8CbdHiHr]

Michael Kozlowski has been writing about audiobooks and e-readers for the past twelve years. His articles have been picked up by major and local news sources and websites such as the CBC, CNET, Engadget, Huffington Post and the New York Times. He Lives in Vancouver, British Columbia, Canada.