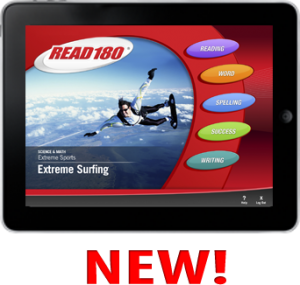 As more schools around the country continue to open up funding sources for tablet computers in the classrooms, even in grades as young as preschool and kindergarten, content that was once relegated to web-based access on a handful of classroom computers or was accessed once a week when the class had its turn in the schools computer lab is become in greater demand by a wider audience of users who plan to utilize it daily, sometimes throughout the school day.
Scholastic, the world's leading publisher of children's content, has now announced an updated function to its award-winning Read180 and Math180 curricular structures.
"In our estimation, the conversion of all of the robust personalized learning technology and the data reporting functionality in READ 180 makes it the most ambitious educational program available on the iPad," said Margery Mayer, President of Scholastic Education, in a press release.
Some of the new ways that the 180 content will work for iPad is to allow students personalized access throughout the school day and at home, afford teachers the ability to access real-time information via the dashboard, and by taking full advantage of the touch-screen capabilities of the tablet and its instant start-up ability. These factors all come together to enhance the ways that teachers and students can benefit from the existing platform.
"Educators for years have talked with excitement about the possibilities for using tablet devices in education, to really change the game. We think this iPad-ready technology, starting with the full READ 180 student experience, shows what students and teachers are capable of when they have the right support," Mayer said. "It is further evidence of Scholastic's ability to combine innovation with research to create programs that accelerate learning and ensure all students are meeting college and career-ready expectations."