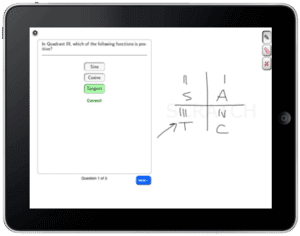 The widespread adoption of digital textbooks has been slow to take off… slower than necessary, some believe. What has happened in the wake of this frustration at academic publishing is a number of companies have grown to meet this need for the individual consumer, often bypassing the school or institution altogether, and often creating a much more dynamic product for the learning consumer.
School Yourself, a digital textbook design firm built by four friends who met at MIT, has developed a series of tablet-based textbooks for iOS devices that allow users to manipulate problems within the text, view video demonstrations of problems, and test their knowledge through the touch screen enabled lessons. While these titles work to align with the Common Core standards that are receiving so much attention in the US educational system, the purpose for the titles—currently available in several areas of mathematics—actually aims to reach users on a more personal level.
"John Lee and I had some ideas for what the future of education might look like," co-founder Zach Wissner-Gross told GoodeReader in a recent interview. "It evolved over time, and we saw that the initial releases at the launch of iBooks from Houghton Mifflin and Pearson McGraw-Hill, while they were digital and certainly an improvement over digital textbooks, they weren't particularly interactive. They had limited video content and a couple of touch-based demos, but we saw that that was really the future of what digital textbooks could be."
School Yourself began with math books and has plans to develop science textbooks, but at this time has created three highly interactive digital math texts, covering pre-calculus and trigonometry, with a calculus text to be released by the end of this year.
"Instead of learning about how to graph a trig function, you can directly touch the graph itself and slide it back and forth. You can modify the amplitude and the frequency of these functions. You can draw triangles by dragging your finger around the screen. We're working on calculus right now and we're adopting the same approach."
While School Yourself does see the place for its texts in the widespread adoption of textbooks in academic environments, currently the most common feedback comes from individual consumers who bought their hands-on books series in order to supplement their own school materials. The current School Yourself titles can be found on iTunes, with Hands-On Pre-Calculus currently available for free and Hands-On Trigonometry available for $4.99.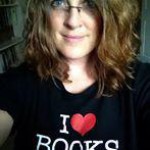 Mercy Pilkington is a Senior Editor for Good e-Reader. She is also the CEO and founder of a hybrid publishing and consulting company.