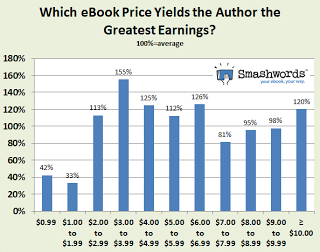 The ebook distribution site Smashwords, spearheaded by founder Mark Coker, is often at the forefront of what is shaping digital publishing. Whether it's making a free platform available to self-published authors or helping writers find industry professionals to work with them, the site is much more than just a portal for purchasing inexpensive digital books.
Today, the site's blog featured news of a recent survey that Smashwords conducted, one which provides valuable feedback on ebook sales and delivery. Through analyzing the components behind what Coker calls Viral Catalysts, or in other words, the things that make a book more likely to be discovered, the survey results shed some light on what is important for authors to know about their own books.
One of Coker's key discoveries in the survey was the discrepancy in book sales from one title to the next. As he points out, most books only sell marginally, but the ones that are considered "bestsellers" sell really, really well. Since this same piece of information is true for both traditionally and self-published books, is has to be asked: why is that? The strange dynamic is that, as a book moves up in ranking due to its sales, it is even more likely to sell even more copies due to that higher ranking. Therefore, books that initially sell well continue to rank higher due to customer activity.
The length of books and their titles seemed inordinately related. Longer books in terms of word count sell better than shorter books, but books with shorter titles sold better than books with longer titles.
Of course, the most important information from the survey for many authors will be pricing. There has been a lot of discussion and speculation over the years as to what constitutes the right price for an ebook, especially one by a self-published author. The results of Smashwords' survey showed a few crucial pieces of information for authors looking to price their books in order to reach a maximum readership.
While the data showed that $2.99 seemed to be the most popular price for authors to set, additional data asked the question if $3.99 was not actually a more effective price point in terms of finding new consumers interested in purchasing the book. One of the most important details, however, is Coker's assessment that self-published ebook authors actually come out ahead in terms of earnings over traditionally published authors.
"Indie ebook authors are earning royalty percentages that are 3-5 times higher than what traditionally published authors earn. Publishers are overpricing their books relative to indie ebook alternatives. This means that indie authors can reach more readers AND earn more money selling lower priced books at higher unit volumes all the while earning more per book sold than traditionally published authors at higher prices. The significance of these economic dynamics cannot be overstated."
One point that Coker stressed throughout the results report is that every book is a unique product and the the variables that determine its success are relative. Only by understanding how readers respond to an author's work can the author begin to make informed choices for his work.
Mercy Pilkington is a Senior Editor for Good e-Reader. She is also the CEO and founder of a hybrid publishing and consulting company.