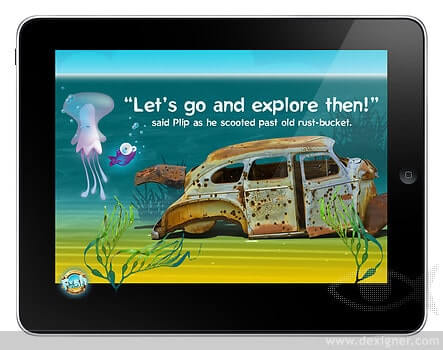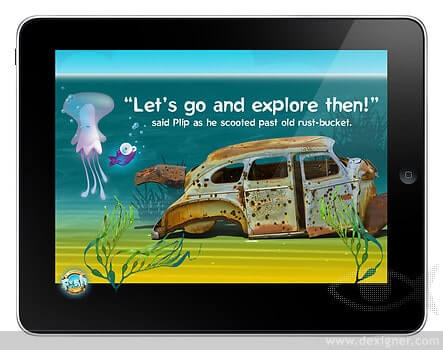 GoodEReader.com has profiled a number of companies that create children's interactive book apps, and the reasons these companies have given for their start-ups are strikingly similar, meaning that app developers worldwide recognize a fundamental problem with children's literacy: books have to compete.
With so much coverage given in the past two years to the so-called "death of books" due to the on-going digital vs print debate, it's interesting that not many pundits have spoken out about a fact that parents and educators have feared for generations, that books apparently are in competition with all of the electronic devices that young students have access to. Of course, television has been supposedly stealing books' thunder for decades, but now MP3 players and handheld video games are marketed in rugged cases for younger and younger users. Tablet PCs are being designed for smaller, chubbier hands, so that even preschoolers can use them.
The interactive book apps from companies like iStoryTime and Electric Type have been designed to speak to young readers on their technological levels, not just their reading levels. Reading is the purposeful by-product of handing a child a device with a pre-installed fully-interactive audio and graphics/video heavy app, like a mother sneaking extra vegetables into a recipe.
Now, several children's book app publishers are ramping it up for back-to-school time and hopefully the recognized educational applications of tablet computers have extended on a more widespread scale into the public school classrooms. Oceanhouse Media is releasing a series of book apps, beginning with ten Dr. Seuss titles listed at $1.99 each and continuing through early October with a new list of titles each week. Digital Kids' Author site and creator of the children's book app Karen Robertson is now taking the interactive features of tablet books to a whole new level by offering a promotion for young fans of the Treasure Kai series of book apps. Young readers who enter her contest by creating their own treasure maps based on the book, Treasure Kai and the Lost Gold of Shark Island will be entered to have their likenesses morphed into characters in the digital book.
Whether print or digital comes out on top in the next few years may not be the question to concern ourselves. Rather, in light of the loss of brick-and-mortar as well as online book sales, we may need to ask ourselves whether anyone in the future will be buying any kind of books at all, which can't happen if reading isn't fostered today. As the creators of children's reading apps have all rightfully explained, any avenue to getting a child interested in reading a book, whether it's on paper or on a highly-advanced digitized screen, produces the same end result: a child who becomes a reader.
Mercy Pilkington is a Senior Editor for Good e-Reader. She is also the CEO and founder of a hybrid publishing and consulting company.