Welcome to another exciting edition of the Good E-Reader Wars! We pit 2 E-Readers or Slates against each other, and one moves onto the Next round! In the last edition of the program we saw a hard fought victory of the Spring Design Alex over the Asus 950! It was a hard fought contest, but the Alex won due to Android Application features, and a multi-media driven web browsing experience in E-INK!
Today's contest is a heavy weight bought featuring two of the most anticipated Mobile Slates of 2010!
Standing in the Red corner we have the Apple I-PAD!
Standing in the Blue corner we have the Entourage Edge!
Pre Fight Statistics.
Hardware
The Apple I-PAD is garnering tremendous attention for a very loyal Apple user base and whirlwind marketing effort putting the I-PAD front and center in every major news media outlet. It is due for a major release the first week of April.
The Apple I-pad features various models from WI-FI only, to WI-FI 3G to large memory to hold data, applications, downloads, music and more! The Screen is 9.7 Inches and is full color HD with 1024 by 768 pixel resolution. It also features an LCD backlit technology, as most tablets are. It has around 10 hours of battery life with full use and is only half an inch thick. Like the IPHONE before it, it does both horizontal and landscape mode. It also has a proprietary Apple processor called the Apple A4 1 GHZ. Finally the I-PAD has headphone jack, built in speaker and microphone.

Software
The Apple I-PAD is compatible with all IPOD TOUCH and I-PHONE applications with a custom development kit to make Apple I-PAD only apps to take advantage of some of the new features. Standard features of the I-PAD include a Safari Web-Browser able to play YouTube Videos and other online content. It has an APP store and Maps, notes, Calendar all of the usual features the original IPHONE had. Some new software that has the fans excited is are programs like I-WORK and I-Books . I-Work is a business publishing software suite that allows you to create animated spread-sheets, graphs and other presentation based utilities similar to Microsoft Office. I-Books is a great application with a user bookshelf with all of the books you purchase from the iBookstore. The format the books abide to is the ePub format, which sits well with a user base with allot of ePub books.
The Entourage Edge
Hardware
Claimed to be the world's first dual book, it is equipped with dual screens with one of them in high resolution 10.1-inch color touch screen with 1024X600pixels suitable for media playback, web surfing and office applications. while on the other end, it has a 9.7-inch 1200X825pixels sunlight-readable e-reader screen with e-Ink technology that makes e-book reading a much pleasurable experience. One screen features E-INK technology for better reading, while the other screen is a LCD. To its credit, the E Ink screen is beautiful in its simplicity and readability, even in bright sunlight. At 9.7 inches, it's also much larger than the 6-inch screen found on most e-readers.. On the LCD side, the edge has an Android user interface that's almost identical to that seen in most smart phones. The 10.1-inch screen is amazing. Besides, it has been enhanced with wireless technologies such as WIFI as well as optional 3G/HSDPA modem for seamless connectivity while on the move. The Edges main build is the opening and closing and reading like a true book. The hinge allows the edge's screens to pivot around into several different configurations: tablet, notebook-like clamshell or, with the hinge in a vertical position, book. It's fun and adds versatility. Unfortunately, the edge lacks an accelerometer, so you need to manually click a button whenever you change orientations. The Processor features a Marvell Armada PXA168 1.2 GHz, which is .2 faster than the I-PAD! As far as media playback is concerned, you can open up with photos (JPG), videos (3GP, MP4, Adobe Flash Lite, H.264), or touch-screen-compatible Flash games. The Android music player isn't too shabby; it supports MP3, WAV, 3GPP, MP4, AAC, OGG, M4A, on the Edge hardware.
Software
Entourage Edge runs on the Google Android operating system, but there is no application for the Android market, Edge says they will allow developers to make applications then have them screened by Entourage for admittance into their program. Entourage is making their own e-book store and selling books, with more being added every day.
Nor many applications come bundled with the device, a planned patch will allow Edge users to view YouTube content. The entourage edge will include DataViz Documents to Go -entourage edition, you can enter text using an attached USB keyboard or on a virtual keyboard. It also comes bundled with an Internet Browser, a content learning module that allows teachers to share works with students.
Let The MATCH BEGIN!
Both fighters stare at each other in the eyes! They want to make a good impression! The Edge is already well known has been out for a month, and has had time to gain some market presence. The I-PAD has still allot left to prove.
They square up and begin a lockup! The 9 Inch Edge vs. the 9 inch I-PAD. They are truly heavy weights folks. The I-PAD beings to grapple the Edge while playing the latest Good E-Reader Podcast via the ITunes store! The Edge takes great glee in this podcast and uses it to power its rage! The Entourage edge suddenly opens to envelop the I-PAD! The I-PAD has one main while the Edge opens up into two and starts pummelling the hated Apple rival with a left hook from the LCD screen then a right from the E-INK screen.
Suddenly the Apple I-PAD flares up and blinds the edge, with a full screen flashlight application from the App-store! The Edge is groping around trying to shake off the glaring light! But it is hopelessly blind.
The I-PAD poses for the crowd, showing off its ability to buy books from Barnes and noble, Amazon and the internal I-book store! The Edge futility tries to access a book from the entourage edge store, only to find that it does not have the title it is looking for!
The I-PAD starts to unload sending a flurry of emails the entourage edges way from its legions of fans, the poor edge falls to one knee over the onslaught of Hate Mail!
The Entourage edge, then receives emails of its own from students, and teaches willing it on to victory! The Edge catches its second wind! It begins to wind up with custom Android applications! But alas, not too many exist, and the I-PAD casually brushes these aside and counters with its millions of apps from the appstore!
The Poor Edge is down for the count! And its ALL OVER!
After Fight Report!
The Edge is a great idea for a niche market, which is students, teachers and professionals. It's a small crowd compared to the mainstream appeal of the apple I-pad. The I-PAD won this one, due to learning from the initial growing pains of the I-PHONE and producing a well tailored device, that maintains the spirit of the I-PHONE as far as stability and trial and error goes!
The Edge tried to do too much too quick, they tried to make a new device from scratch, make their own book store, tried to get Android Developers to make applications but without a supported market place in Edges plans, the ability for home brewed Indy apps is lacking.
The Edge has tremendous appeal on a fundamental level, bringing the best of two worlds, which is LCD and E-INK! Having two large dual screens, allow one to easily read books on one side, and have a fully coloured textbook with pictures on the other.
The Apple I-PAD wins this one, despite the fact it is only on pre-orders right now, it will meet its release date with hundreds of thousands of units, meanwhile Entourage had thought the device to be out in Feb, but due to demand, and a nonexistent distribution network, they were late by more than a month and half to take new orders. They only ship to Canada and the USA, while the I-PAD will be shipped everywhere.
This was a great battle, by two very different devices, some would call them tablets, slates, single screen net books and so on, but all we know, this is an exciting time to buy new technology!
Join us in a few days at the Good E-Reader Blog, as we bring two more pure E-Readers against each other, the Amazon Kindle DX VS the Sony 900 Daily Edition! Thanks for tuning in and Good night folks!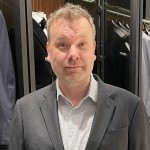 Michael Kozlowski has written about audiobooks and e-readers for the past twelve years. Newspapers and websites such as the CBC, CNET, Engadget, Huffington Post and the New York Times have picked up his articles. He Lives in Vancouver, British Columbia, Canada.