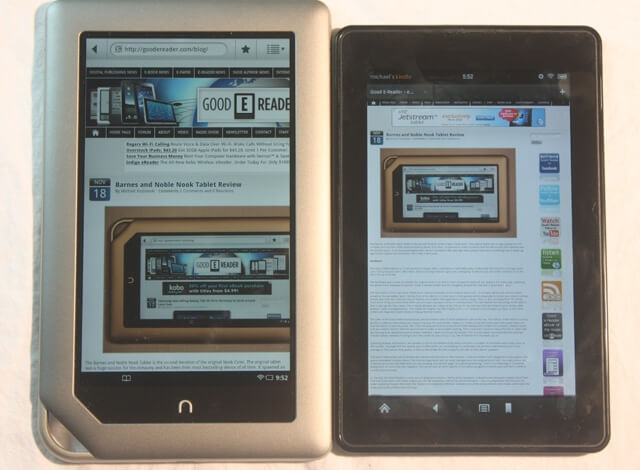 Springtime is in the air and its time to start reading outside with some of the great new ebooks coming out this month. If you are looking to upgrade your device to the latest and greatest, or looking to buy an e-reader for the first time, we got you covered.
What is an e-reader?
If you are coming into the game late, an e-reader is basically an electronic device used for reading digital books. e-Ink is the technology used in the majority of these devices and it mimics real paper. When you read ebooks, you can change the line-spacing, margins, and fonts. You can even make highlights and annotations without ruining the book like you would a real one. Some tablets are billed as e-readers like the Barnes and Noble Nook Tablet, Pandigital Novel, and so on. These are not true e-readers, but the distinction in 2012 is becoming increasingly blurred.
Barnes and Noble Simple Touch with Glow– This electronic reader features the first e-ink screen in the world with accompanied LED lights to allow you to read in the dark. The lights are on the side of the screen and built into the chassis of the screen, much like IR Touchscreens.
The Barnes and Noble Simple Touch Reader features a six inch e-ink Pearl display. The new display that the Nook uses is similar to the Amazon Kindle 3rd generation, Kobo Touch, and Sony PRS-650. The screen gives you a solid resolution of 800×600 pixels and displays 16 levels of greyscale. Underneath the hood is a 800 MHZ CPU processor and 2 GB of internal storage. The storage is where all of your ebooks and pictures are housed, and if that is not enough you can increase it via MicroSD up to 32 GB.
You can purchase comics, newspapers, magazines, fiction, and non-fiction books. Not only is this the newest one on the market, but also maintains the same processor, RAM, and hardware as the previous Nook Simple Touch. You can expect a lot of value for your money with this gadget. The drawback is that it does not have speakers or headphones to listen to audiobooks or music.
This e-reader hit the USA market in the first week of May of 2012. International users can purchase this device from Shop e-Readers.
Amazon Kindle Touch – People often expect e-readers to function much like their tablets and phones—with a touchscreen. The Kindle Touch leads the charge with one of the largest ecosystems on the market. There is no shortage of newspaper, magazines, books, and much more to satiate your literary thirst. One of the most popular uses of this e-reader is the "Send to Kindle" function for sending documents, blog posts, and much more to your device for offline reading.
The new Amazon Kindle 6 features a six inch e-ink Pearl display with a resolution of 600×800 Pixels. The same screen technology that the Kindle uses is found in many of the competing devices, such as the Sony PRS-T1, Kobo Touch, and Nook Simple Touch. It packs Freescale 800 MHZ processor under the hood and 256 MB of RAM, which keeps the reader speedy. There is also 4 GB of internal memory to house all of your content and has a 3.5 mm headphone jack and speakers. For wireless connectivity there are various flavors. such as 3G and WiFi.
One of the drawbacks is that there is no expandable memory via an SD Card. You have to make sure you keep space for all of your books. You are also locked into the Amazon ecosystem and many people don't like this fact.
You can purchase this device from Amazon in many different countries and also Shop e-Readers.
Kobo Touch – The latest generation Kobo touchscreen e-reader has been on the market for almost a year now. The company is rumored to be working on a new device and you can get plenty of deals on this right now.
The Kobo Touch has a full touchscreen e-ink Pearl display that has a full six inches of screen real estate. It features an Infrared Touch or IR touch that drastically enhances the touchscreen sensitivity and makes interacting with the screen a pure delight. Part of the reason why the unit is so responsive is due to the Freescale 508 Processor. You have by default 2 GB of internal storage, which should be enough for around 1000 ebooks. If this is not enough for you, it can be enhanced via the MicroSD card up to 32 GB. Keep in mind the SD card slot does not have a flap or any kind of protection, so you might want to make sure water does not get into the device.
Kobo has one of the most expansive ecosystems in the world and books can be purchased from almost every major country. There are nearly three million free and paid books available, and also plenty of newspapers and other content. Currently Kobo has 54% of the entire Canadian market and is growing in international expansion.
Nook Tablet – The Nook Tablet is not really an e-reader per se, and is more of a multimedia device with a strong focus on reading. Barnes and Noble has one of the best ecosystems in the world to suit content for a full color touchscreen. You can download Android apps, kids books, interactive books, magazines, newspapers, books, and plenty more. I would say the Nook ecosystem beats the Kindle Fire's hands down, in terms of reading content.
The Nook Tablet features a 7 inch multitouch display with a resolution of 1024×600 pixels. Underneath the hood it is running a dual-core 1GHZ processor and 1 GB of Ram. Internal storage bestows upon you a whopping 16 GB and you can further enhance it via the Micro SD up to 32 GB.
There are built in speakers and a 3.mm headphone jack for you to listen to audiobooks, music, videos, and other content. One of the few drawbacks is that you cannot order this from Barnes and Noble outside the USA. If you live in Canada, Australia, or anywhere else you can buy this from Shop e-Readers and they will ship to any country fairly quick. If you want to use this outside the USA you will need to use a USA address, which can be found anywhere on Google and your own Credit Card. Barnes and Noble will never send anything to you physically in the post and all confirmations for purchases are sent via email.
Amazon Kindle Fire – The Amazon Kindle Fire remains the highest selling Android Tablet in the world. It controls 54% of the entire segment and is rising every quarter. There are plenty of features not found anywhere else that really make this a worthy tablet to buy. Amazon Prime is a streaming video service that gives you thousands of TV shows and movies. When you are a Prime member, you can also borrow one free ebook a month and you have over a hundred thousand to choose from. If audiobooks are you thing, there is no beating Audible.com, which is owned by Amazon. You can listen to a copious amount of books while on your daily commute or out with the dog.
The Amazon Kindle Fire features a 7 inch Gorilla Glass display with a resolution of 1024 x 600 pixels. The glass on the display is one of the most stable screens the market. Gorilla makes very dense screens that prevent dings from dropping it on the ground and are almost shatterproof. Many YouTube videos exist where people jab it with a wide array of sharp objects, only to be harmlessly deflected.
The tablet is very robust with the dual core 1 GHZ CPU processors and 512 MB of RAM. Menus fly with abandon and videos never seemed to stutter. When we tried the web browser, you could scroll up and down a website and not see any artifacting or checked backgrounds. I was worried at first that when compared to the Nook Tablet, this one would fail and be slow. Against our expectations, in our head to head tests the Kindle Fire kept up with its B&N counterpart in every aspect.
Audio in tablets often earns my tremendous disdain. Mainstream e-readers like the Barnes and Noble Nook Color present the speakers on the bottom. This ensures that when you hold it in landscape or portrait mode your hands physically muffle the speaker. When you are laying down and the tablet is resting on its back, the same muffled sounds are emanating. The Kindle Fire features stereo speakers on the top. This won points with me right away and let me tell you, they are LOUD! When we compared the audio against the Nook Color and Apple iPad, the Fire blew them all away. It is that good.
The Kindle Fire overall hardware design is fairly minimal, with the only ports being the Micro USB, Power Button, and 3.5mm headphone jack. The majority of the functionality for volume, settings, and page turns are all software base. This cuts down on the weight of it and makes it more slim than competing devices on the market.
Amazon does not ship this tablet outside the USA, so the only way you can get it is through Shop e-Readers.

Michael Kozlowski is the Editor in Chief of Good e-Reader. He has been writing about audiobooks and e-readers for the past ten years. His articles have been picked up by major and local news sources and websites such as the CBC, CNET, Engadget, Huffington Post and the New York Times.