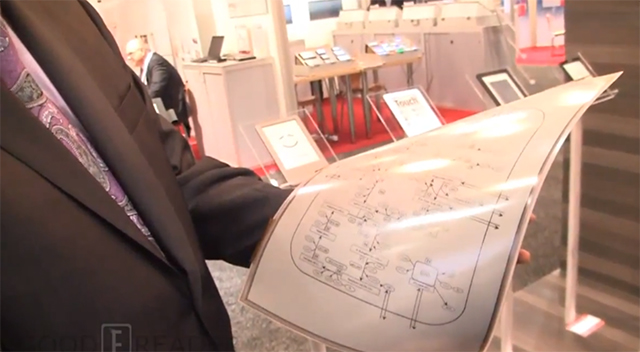 Many professional users who need a large screen e-reader for work, school or technical documents often find a six inch device is simply not cutting it. A large viewing area is often critical for showing the entire PDF document or to read eTextbooks. These devices normally start at 9.7 inches and the odd one is a bit larger. e-Reader companies such as Barnes and Noble, Amazon and Kobo simply don't make these types of devices, due to the prohibitive price point. Today, we look at the best large screen e-readers that are currently on the market.
Icarus Excel – Icarus is quietly building up a portfolio of very solid e-ink based devices and the Excel is currently the flagship model. It is a giant 9.7 inch e-ink touchscreen reader with the best PDF experience we have ever witnessed on an e-reader.
The Icarus Excel features a 9.7 e-ink Pearl display with a resolution of 1280×825 pixels and 167 DPI. It has a full touchscreen display, but only responds to the accompanied stylus. Underneath the hood lurks a solid 800 MHZ Freescale CPU processor and it has 256 MB of Ram. Storage gives you 4 GB to play around with and can be expanded up to 32 GB via the SD Card.
This hardware is similar to other devices on the market, such as the Pocketbook 912. During our extensive tests we did not see the screen lag associated with other large screen e-readers. Menus and touchscreen interactions often loaded very quickly and only saw slight stuttering on 100 MB PDF files.
The best aspect of this device is being able to edit PDF files and actually save them in an independent document. This allows you to keep the virgin unedited file, and also a separate one with your highlights, annotations and notes.
Onyx BOOX M92 Black Pearl – BOOX M92 Black Pearl, 9.7 inch screen operated with stylus. That solution provides you very comfortable reading. Black Pearl is equipped with modern software. Text-to-speech system Ivona 4.0 can read any eBook purchased in any store as audiobook. 9.7 is useful in reading technical documentation also PDF files.
Jetbook Color 2 -The Ectaco Jetbook Color 2 is one of the only e-readers on the market that have a full color display. This is critical for reading documents that are color coded or for eTextbooks. Color e-Ink is not really ready for prime time, but if you are looking for large screen display, with color, take a look.
The Jetbook Color 2 is basically the same hardware as the first generation device and the main difference is the screen and the faster performance because of it. The e-reader itself features a 9.7 inch e-ink Triton 2 Display with a resolution of 1600×1200 pixels. Underneath the hood is a Freescale i.MX508 800MHz with ARM Cortex A8 CPU processor. Unfortunately, this processor is woefully underpowered for what this device is intended to do. Navigating menus, turning page pages, or launching programs demands an exercise in patience. There is a solid 4 GB of internal memory, but with all of the student programs bundled on the device you have around 2 GB to work with, which is more than adequate. If you demand more space for your music, books, and other content you can expand it via Micro SD up to 32 GB.
Amazon Kindle DX – The Amazon Kindle DX came out in 2011, and is still available on the Amazon website. It has never been a priority with Amazon and received the least firmware updates than any other device they ever released. It is quite basic, does not have a touchscreen, but does have a full on keyboard.
The Amazon Kindle DX Graphite edition continues the trend of being Amazons largest e-reader to date. Featuring a 9.7 inch screen and 50% better contrast and resolution from previous models, it is certainly worth the $199 pricetag. Its screen displays a 1200 x 824 pixel resolution at 150 ppi, features 16-level gray scale, and a new 10:1 contrast ratio.
Sony 13.3 inch e-Reader – The Sony 13.3 inch e-reader is only available in Japan right now and will be hitting the USA in Spring of 2014. It is the best large screen e-reader we have ever used, but is only optimized for PDF documents.
The screen itself is quite respectable in terms of resolution and pixel density. The resolution on the display is 1200×1600 with 150 PPI. It is dubbed Mobius by E Ink and the company is actively shopping it around to the who's who list of the e-reader world. The main attraction is using the active digitizer and interacting with complex PDF documents. You can edit documents by jotting down your own handwritten notes, or even highlight passages to go back to later. The large screen display will simply give you the best PDF experience you have ever had on an e-reader. I have personally reviewed over 83 different e-readers since launching Good e-Reader in 2009, and this was the first one to give me a quality PDF experience. I have received emails from airline pilots, heads of research divisions, and publishers about what device they should buy to read their PDF Files. I would implore everyone to buy this Sony one when it comes out; it changes the game. I don't normally gush about things like this, but when it comes to school, work, newspapers, gaming guides, and technical PDF documents, this is solid.
Wrap Up
There are many other large screen e-readers on the market, Pocketbook has an extensive portfolio, but we can't honestly recommend them. They all suffer from woeful hardware, that make it an exercise in patience to get ANY work done. Kobo has a 6.8 inch Aura HD e-reader, it is not large enough for most peoples technical work, but does sport very high resolution.
In the end, most companies do not make very large screen e-readers, due to the cost. When you buy a e Ink device for over $300, most people end up just getting a tablet. The benefit of an e-reader is the one month or greater battery life and a screen that is easy on the eyes. Tablets often only last a full day of constant use and must be recharged.

Michael Kozlowski has been writing about audiobooks and e-readers for the past twelve years. His articles have been picked up by major and local news sources and websites such as the CBC, CNET, Engadget, Huffington Post and the New York Times. He Lives in Vancouver, British Columbia, Canada.