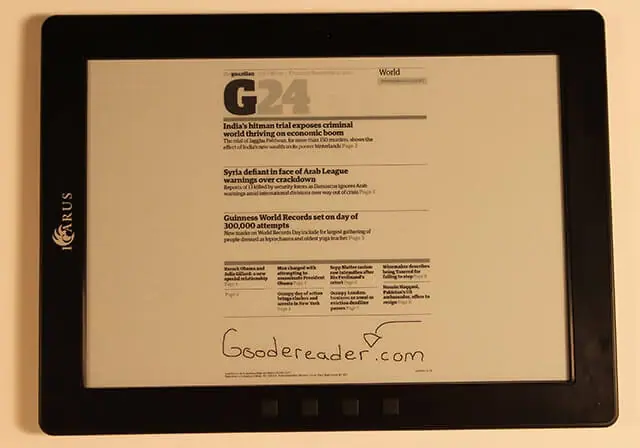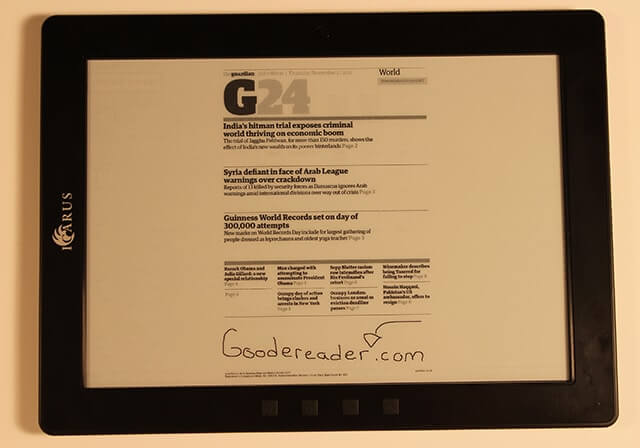 Icarus is quietly building up a portfolio of very solid e-ink based devices and the Excel is currently the flagship model. It is a giant 9.7 inch e-ink touchscreen reader with the best PDF experience we have ever witnessed on an e-reader. How does this rank up against the Kindle DX, Pocketbook 912, or others?
Hardware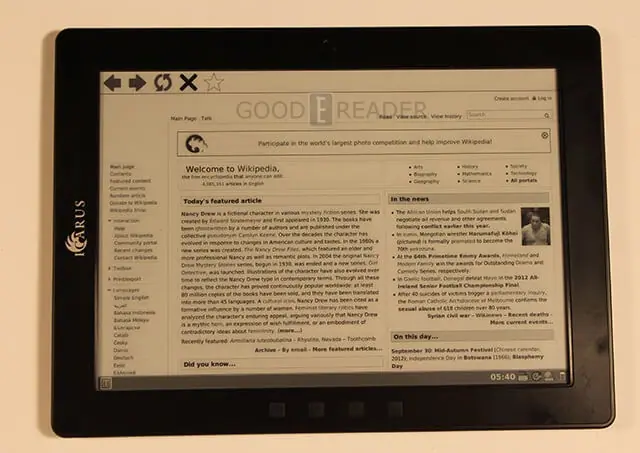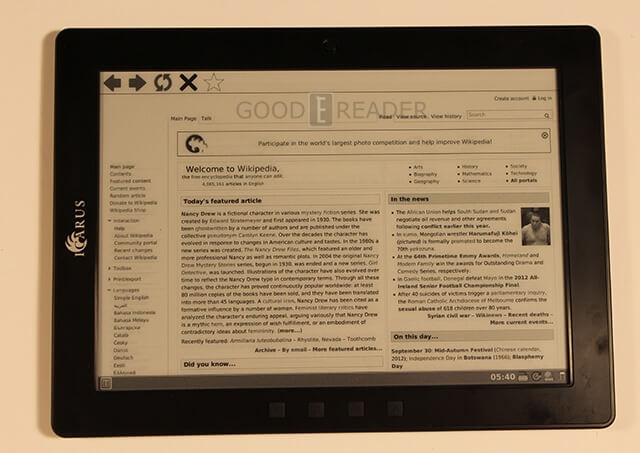 The Icarus Excel features a 9.7 e-ink Pearl display with a resolution of 1280×825 pixels and 167 DPI. It has a full touchscreen display, but only responds to the accompanied stylus. Underneath the hood lurks a solid 800 MHZ Freescale CPU processor and it has 256 MB of Ram. Storage gives you 4 GB to play around with and can be expanded up to 32 GB via the SD Card.
This hardware is similar to other devices on the market, such as the Pocketbook 912. During our extensive tests we did not see the screen lag associated with other large screen e-readers. Menus and touchscreen interactions often loaded very quickly and only saw slight stuttering on 100 MB PDF files.
This is one of the few 9.7 inch e-readers with full wireless internet access. Once you click on the web-browser you will be prompted to select your connection and enter the corresponding password. You have Wikipedia and Google bookmarked by default and surfing the internet is fairly quick. There are not many options to customize your online experience, but you can download ebooks directly to your unit.
On the front of the Excel is a little joystick on the right hand side, where page turn keys would normally be located. If you choose not to interact with your e-reader via the stylus, you can use most features with the manual controls. On the left hand side is your Home, Back, and 2 manual page turn keys. Many menus are accessed by clicking on the home button and a double click will bring you back to your main menu.
On the bottom of the device is a 3.5mm headphone jack, LED indicator, Mini USB, and SD card slot. On the back is a single speaker that actually sounds very good. You can listen to music or audiobooks while you perform other tasks. There is full multitasking support for your audio experience, which I always like.
Battery life will give you around 10 hours of constant use with the 1,600 mAh Lithium Ion battery. If you turn the wireless internet off you can garner around 8,000 page turns, which is enough for a month or two for your average user. It only weighs 530 grams and the dimensions are 240x180x11mm. We easily held it with one hand for around twenty minutes and it felt lighter than most competing models.
On the whole, the hardware is very good. It gives you a robust e-reading experience and everything loads very quickly. One of the shortfalls of traditional large screen devices is that the companies have to compromise on the hardware to offer it at a respectable price. This unit costs around 400 US and is tremendous value for your money if you are looking for a 9.7 inch e-reader to view ebooks and PDF files.
Software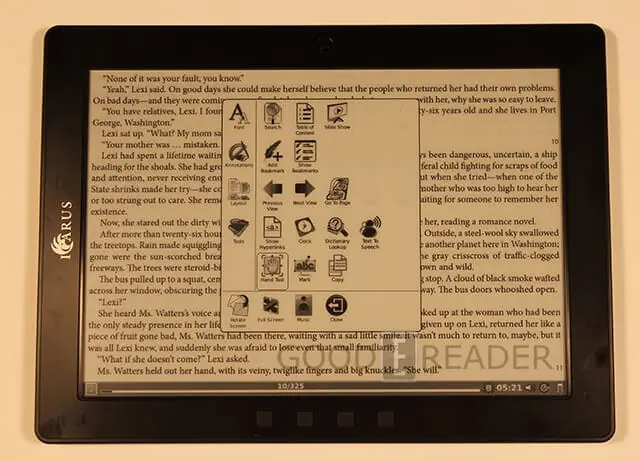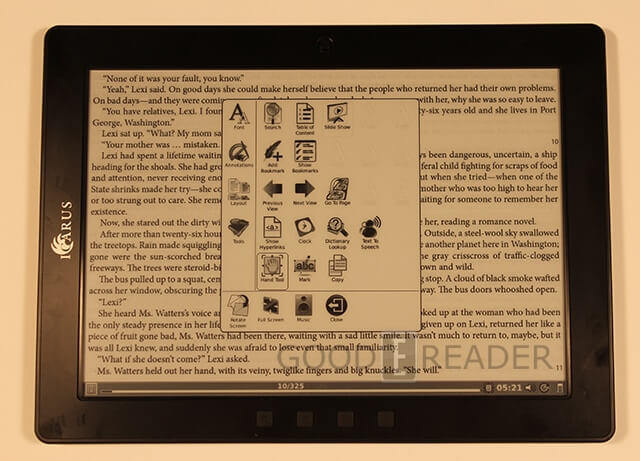 The Icarus Excel is running on a Linux interface and gives you a wide array of options and apps. There are three different games for you to play, which are puzzles along the same vein as Sudoku.
There are around 12 different language options that will set all the menus and settings. Russian, Polish, Spanish, French, English, and many more popular European languages are represented, making this a truly international e-reader.
There are many custom applications like Sketch, Dictionary, Notes, Calender, web browser, and internal storage. Most of these apps are dependent on the stylus, such as the drawing app.
When you connect this reader up to your PC via the Mini USB cable, you are greeted by a root directory. There are no files or folders, and everything is basically dragged and dropped via Windows Explorer. If you load lots of music, books, and other content, it could quickly become cluttered.
On the software side of things, this e-reader is fairly basic. It blends the touchscreen functionality with the type of dictionary and internet browsing features that most users demand in a dedicated e-reader.
Reading Experience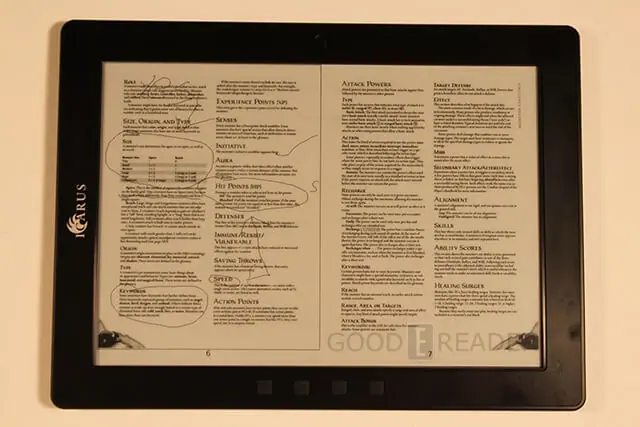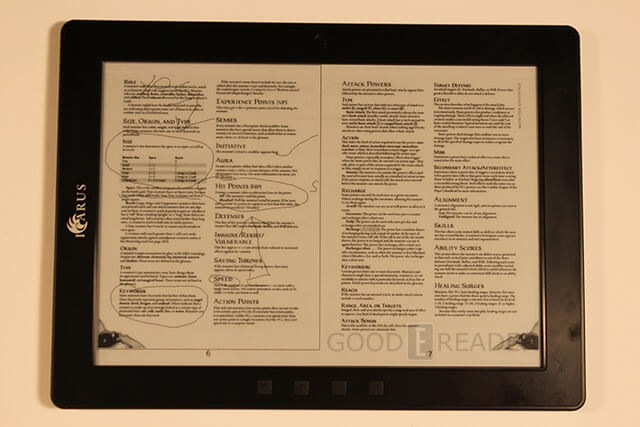 Bar none, this e-reader is the best we have ever reviewed for PDF functionality and should be the one you select if you are a student or someone who has very image-heavy books. The best feature is the ability to highlight passages of text and export them to physical TXT files. You can then access them via Windows Explorer and copy them right to your PC. When you highlight text, you can save the text to an independent file, so you can compile a ton of study notes and have them handy for easy reference.
The other great PDF option is the ability to use the stylus to draw, underline, take notes, or just doodle. When you do this on a PDF document, you can export the ENTIRE PDF document with all your annotations. This in effect creates a duplicate of your PDF but with all your drawings and notes compiled within it. The ability to export your notes into physical text files is something that hardly any other e-readers on the market currently offer. This feature alone completely won me over.
If you buy ePub books from other bookstores, such as Kobo, Barnes and Noble, and Smashwords, you can use Adobe Digital Editions to easily sync the books to the Excel. It does support PDF, Txt, EPUB, PRC, and many other formats, so you can easily download content from the internet and sideload to the e-reader.
You can also highlight and take notes when you are reading ePub books and export them to dedicated TXT files. Notes are accessible as you are reading the book and can be saved to your PC. One of the more useful elements is being able to hand write text with the stylus and the predictive keyboard will write it as digitized text.
One of the drawbacks is the ability to augment your ePub experience. Many e-readers like the Kindle, Kobo, and Nook give you the ability to change the font, which this reader does not allow you to do. Instead there are 17 levels of zoom that provide options to make the text larger or smaller. There are also plenty of margin settings.
You know when you are reading an ebook and after every page or every six pages you see a flickering? This is because of the way these e-readers refresh the display screen. In many cases, you have no control over the flickering or even the option to completely disable it. At best you might have the options to change it from every page to every six pages. The Excel gives you the power to change the physical refresh rate when you read an ebook. It has 1, 3, 6, 8, 9, always, or NONE. Selecting the NONE option will eliminate the refreshing rate of the ebook you are reading, so you never see the flickering. There are absolutely no hindrances to the ebook experience when you disable the refresh rate, which is very innovative.
Our Thoughts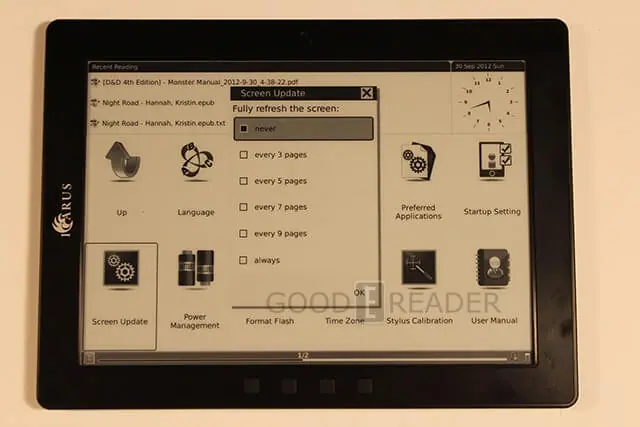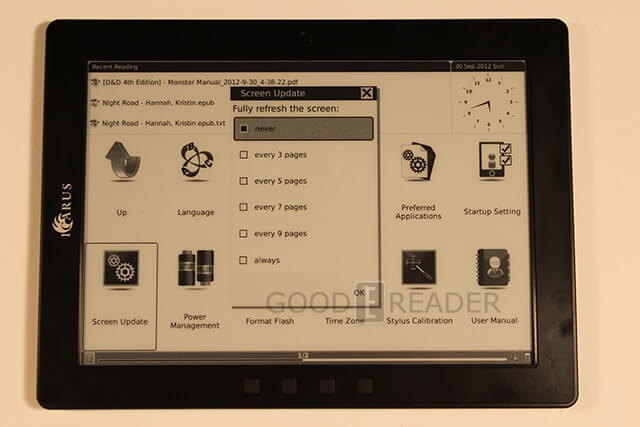 I think plenty of people in North America are spoiled by Amazon, Barnes and Noble, and Kobo. These companies sell their devices in such great volumes and develop their own ecosystems so they can offer hardware at greatly reduced prices. All of these companies' core e-ink readers are coming down in price, but are losing critical features such as Audio, PDF support, and 9.7 inch devices. Icarus does a phenomenal job of offering the best 9.7 reading device currently on the market.
Every day we field questions on Good e-Reader about the best device to read PDF's or for the student. eTextbooks always look better on a large display screen and this reader leads the charge with being able to personally augment the text. I would recommend the Excel to anyone who has a large PDF collection as the primary format in which they consume literary content.
Pros
Solid Hardware
Speaker
The Best PDF Support in the Business
WIFI
Reads Many eBook Formats
Supports Many International Languages
Cons
Internet Experience Suffers from Bad Refresh Rates
NO Ability to Switch ePub Fonts
5-10 Hour Battery Life
Rating: 9.5/10
[cincopa AoCAd_qi9SfK]

Michael Kozlowski has been writing about audiobooks and e-readers for the past twelve years. His articles have been picked up by major and local news sources and websites such as the CBC, CNET, Engadget, Huffington Post and the New York Times. He Lives in Vancouver, British Columbia, Canada.