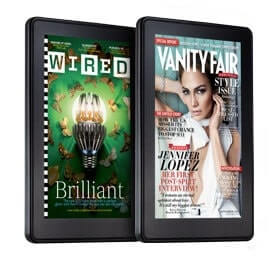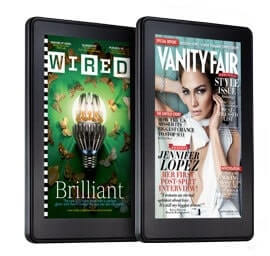 GoodeReader spoke with several of Adobe's professionals on exactly what the Digital Publishing Suite does for both magazine publishers and consumers of digital tablet editions of popular titles. The new Kindle Fire 7 inch was just released and soon the 8 inch version will be available later next month. Lynly Schambers-Lenox, Group Product Marketing Manager, Digital Publishing for Adobe, had some interesting insights into why the seven to eight inch tablet is perfect for the market at this time.
"It is still early and hardware manufacturers are rolling out tablets with different size and resolution dimensions. Because of this the industry, as well as consumers, haven't necessarily settled on the 7" size as a standard. Publishers are interested in making sure their content is available on as many devices as possible. To this end, publishers are publishing content designed to accommodate how readers are consuming content based on the device they are using. I expect we will variations in form factors and screen sizes in the next couple of years as technology changes and consumer behavior evolves."
"One of the most exciting features for the new Kindle Fire is the high definition screen, and that's going to have a very big impact on readers. The imagery is just going to pop out from the page. The end reader is going to have that experience. They've just upleveled the multi-media capabilities of the device. They have support for Dolby Digital sound, faster processing speeds, a lot more RAM, and that just means that when people are consuming these very rich magazines from Conde Nast or Meredith, the device is going to allow that level of engagement to shine through. Publishers will be looking for ways to add these interactive elements or extras to really expand the reading experience."
According to Schambers-Lenox, consumers have taken to the interactive features available to e-reading, especially in magazines. While they may still be getting used to the idea of touching the screen while reading an article and having access to pop up infographics, supported videos, or hearing sound, there needs to be a continued amount of education to make readers comfortable with the functionalities of tablet reading. She believes that publishers get a lot of value out of that and consumers will feel comfortable paying for content when there's simply more of it. This stands to have a huge potential impact on publishers because it will allow them to add actual value to their content through these additional features.
A full complement of interactive titles come preinstalled on the new Kindle Fire family of devices, including: Better Homes & Gardens, Reader's Digest, National Geographic, Vogue, The New Yorker, Wired, Vanity Fair, GQ, Glamour, Lucky, Bon Apetit, Architectural Digest, Self, Condé Nast Traveler, Golf Digest, Allure, Domino
"We're committed to helping our publishers get on these new devices so they can take advantage of the new readers."
Adobe sees the potential for the seven inch tablet to draw new tablet makers, so DPS is prepared with the alternate layout workflow system ready for publishers to adapt their content to that screen size without having to create different folios for vastly different sizes or screen definitions.
"This streamlining is coming out in our upcoming release, making it much more efficient for publishers to get their content out in different screen sizes."

Mercy Pilkington is a Senior Editor for Good e-Reader. She is also the CEO and founder of a hybrid publishing and consulting company.