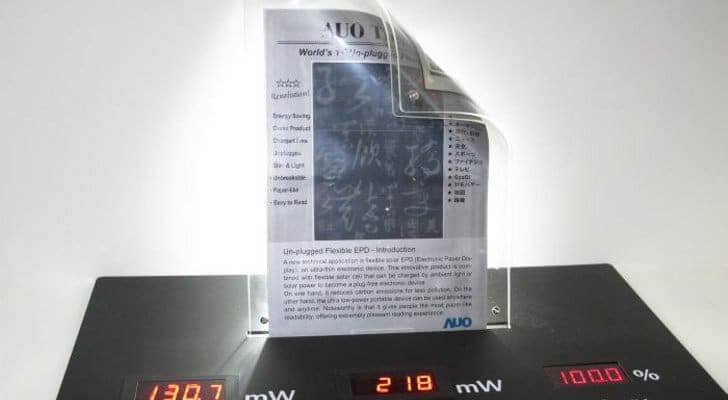 e-Readers, such as the Amazon Kindle and Barnes and Noble Nook, are famous for lasting months on a single battery charge. One of the draws of e-ink displays is that the power requirements are amazing because the screen does not automatically refresh. It is only when you are turning a page or navigating a menu does any serious battery drain occur with page refreshing. I have seen e-readers last over four months just lying unused and displaying a high resolution screen saver image. Many companies have taken the next step and making wall-charger powering obsolete with the advent of solar powered e-readers. The question is, is the next generation of e-readers going to employ solar charging?
Some of the biggest companies in the game have issued solar powered technology or e-readers that directly use it. As it stands, only Toshiba released a commercially viable product, but many others have developed technology for licensing. Obviously, there is a severe shortage of quality devices to use solar power, but there are some very interesting new technologies on the cusp of fruition.
Toshiba, in 2010, released the Biblio Leaf in Japan and it had six inch electronic paper display similar to the Kindle. Toshiba says that the solar panel that is built into the front of the device is capable of charging the battery enough for users to read up to 25 books, or 7,500 pages, on a single charge. Not only can you read tons but you can recharge it when you are not using it by just leaving it to catch ambient sunlight.
LG developed e-Paper screen technology that was employed on a TFT-LCD screen. It never really got past the prototype stage. At 10cm wide and a thickness of just 0.7mm, its dimensions are almost akin to that of a credit card. This combined with the weight of a fountain-pen, it is unprecedented in its form. The photovoltaic cell provides a steady stream of solar energy, which gives LG an absolutely winning design. Low battery is not something that will disrupt the flow of your novel, with this one at least. Just 4 to 5 hours in the sun will provide enough energy for a full day's reading. Recently, LG made news with the new flexible screen technology built into the Wexler Flex One, but did not utilize solar power.
Some promising new solar powered technology comes from NeoLux Corporation that developed Ink-In-Motion display technology. This solar panel supplies the power to the display and keeps the display running up to 18 months of continuous usage. NeoLux's solar power technology coupled with e-paper displays caught the eye of e-Ink Holdings. The companies signed a joint partnership to use the e-Ink technology in conjunction with the solar power to provide a wide array of practical usage. They two sides are providing labels to South Korean supermarkets and other advertising mediums that allow for constant power while displayed outdoors.
AUO Optronics has developed promising new flexible screen technology that might garner a ton of attention in the near future. The flexible e-paper uses the sun to get all the energy it requires for daily operation. The essence of the technology is a flexible photovoltaic battery on the back of a sheet of flexible e-paper. It can be rolled up, but also charged without requiring power from a wall plug. It uses only 218mW of power and this means you can be outside and it won't even draw power.
It is safe to say currently there is only a spartan amount of companies that developed solar powered e-readers. This has prompted Solar Focus to design a series of protective cases for e-readers to passively charge them while not in use. Mainly for the Kindle line of e-readers, these cases have a fine layer of film that can charge by ambient light. You don't necessarily need to leave it directly in the sun; as long as natural light comes into your house, it will charge. The company went one step further and built a small battery right into the case, so if your e-reader runs out of juice on its own, the case will kick in and deliver months of extra power. The developers won a number of awards for these new cases and they are selling like hotcakes.
If you look at the market, there is basically the Toshiba e-reader and that is it. If you are traveling to remote locations where charging devices is not possible, what else are you going to do? There is a large segment of customers that travel and go on vacation, where the last thing you want to do is worry about charging five devices when you are going to sleep. If you combine e-readers as portable libraries with the ability to recharge without any power at all, you will be prepared for any circumstance.
When the zombie apocalypse happens and the power grid is out, the days could grow long. Tablets and phones would be the first to lose their abilities to entertain and access to communication. Your trusty e-reader would have a longer lifespan, but eventually would fade as well. Since no company in North America sells an e-reader with a built in solar charger, the prospects to read digitally are dire. If you find yourself in this grim situation, you can read this handy DIY guide on how to make ANY e-reader solar powered – HERE.
[cincopa AEDAA_KEq0hz]

Michael Kozlowski is the Editor in Chief of Good e-Reader. He has been writing about audiobooks and e-readers for the past ten years. His articles have been picked up by major and local news sources and websites such as the CBC, CNET, Engadget, Huffington Post and the New York Times.