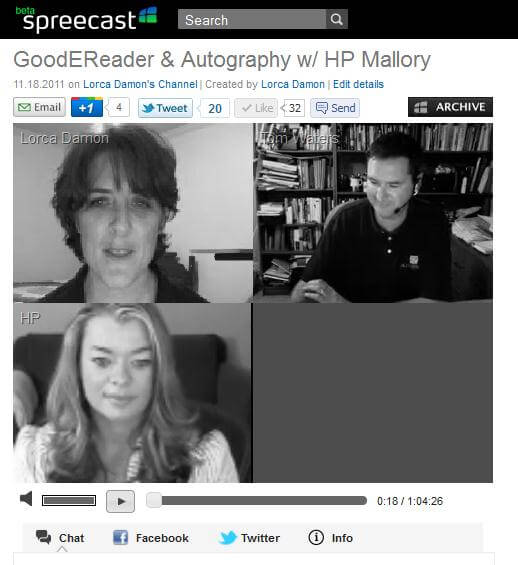 Over one hundred fans attended the online ebook signing with author HP Mallory, thanks to Autography's ebook signing software and Spreecast, the social video platform. Fans were able to ask questions live, receive their signed ebooks instantly via email, and interact with the author as she answered interview questions from our members of the Good e-Reader community.
Many of the readers and participants in the discussion were reluctant to join on video, or in many cases, lacked the necessary enabled equipment to participate on camera, all of the fans were able to type questions to the author using the video chat feature. Their questions were then answered by the author, covering topics ranging from Mallory's writing style and publishing experience, to what can be expected from her books and her characters in the near future. Fans really responded to the intimate feel of the event, as the author chatted with them from her own living room. Moreover, unlike at rushed events where a reader may get to exchange only a few words with the author at the signing table, many fans stayed for the entire hour-long event and talked intermittently.
"This is really cool format – I feel like I am in the same room as HP – best book signing ever," posted one reader at the event wrap-up.
While Mallory would pause from time to time to sign more ebooks, Tom Waters, co-founder of Autography, would interject information for both readers and authors interested in more options for ebook signing, explaining both the process of actually signing digital editions and how it can benefit both bestselling authors and indie authors alike.
The link to the recorded event can be found HERE and includes the audio and video of the ebook signing. For those readers who were unable to attend the signing, HP Mallory can still send an autographed ebook. Simply send your email address (or the recipient's, if this is a gift) to info@autography.com and be sure to include the name for which the book is to be personalized.
Be sure to check out future editions of the Good e-Reader live ebook signing. We will profile some very well-known bestselling authors very soon and give readers a chance to interact with these favorite authors.

Mercy Pilkington is a Senior Editor for Good e-Reader. She is also the CEO and founder of a hybrid publishing and consulting company.