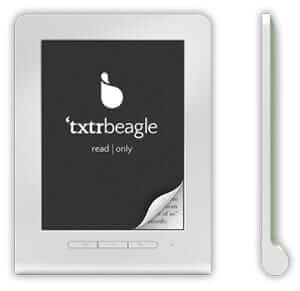 Txtr has been one of the leading German ebook companies for the last few years. The company has an official iOS app and many great publisher relationships to get first run content into its stores. The company announced today that it has developed the Txtr Beagle, which should cost a paltry 10 Euros.
The Beagle is a five inch device with a resolution of 800 x 600 pixels. It uses the same e-Ink Visplex technology found in the new Kobo Mini. There is also a very solid amount of internal memory to store your EPUB and PDF books with 4 GB. It is one of the lightest e-readers on the market, weighing in at 128 grams. One of the ways the company is able to offer it at such a basement bargain prices is to have it rely on 2 AAA batteries, instead of an internal rechargeable one. Since the device draws minimal power, you should get a solid year out of it!
The new Beagle does not have Wireless Internet access or a touchscreen, but brings something very unique to the table. Txtr has integrated Bluetooth technology into the device to sync all of your books via your phone or tablet. The company is also revising its iOS and Android apps to automatically send purchases right to your Beagle.
Thomas Leliveld, Chief Commercial Officer at Txtr says, "So far network operators have not actively marketed e-reading. In our view, this is because of the lack of a suitable device, which matches the crucial conditions relevant to the operator business model. Our new product connects with popular smartphones. The Txtr Beagle and Txtr's ebook store drive incremental ARPU from ebook sales, with a high RoI since data costs are low for e-reading during the contract period. From discussions with network operators, we foresee the Txtr Beagle to be available to consumers for a price as low as €9.90. That is up to ten times cheaper than other e-readers in the market, which will certainly drive adoption and ebook sales."