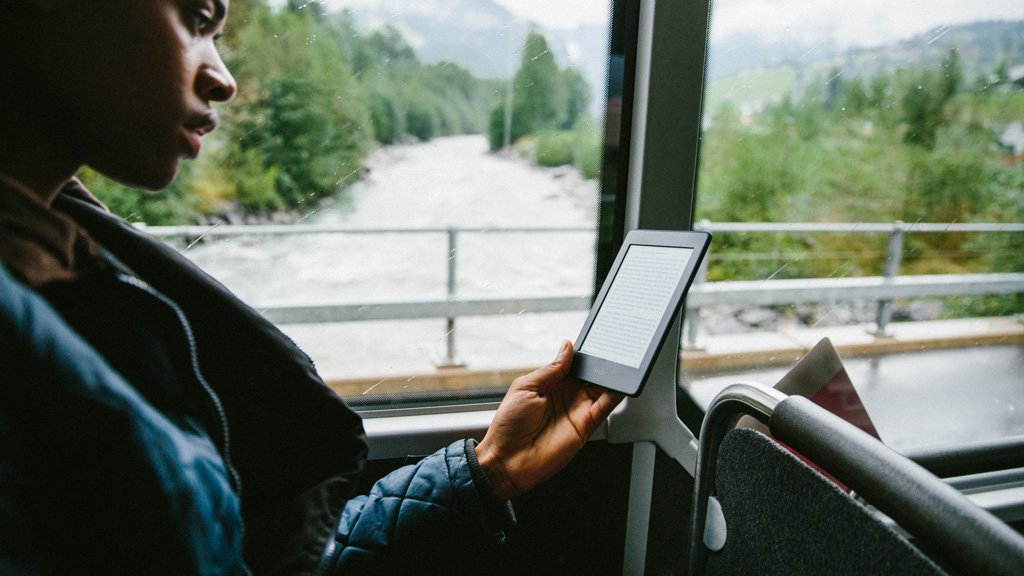 There are a multitude of devices that are being employed to consume e-books. The most voracious of readers often go with a dedicated e-ink device, such as the Kindle Paperwhite, primarily because its easier on the eyes and has amazing battery life. Others prefer a multi-purpose tablet, while a growing segment of the population uses the smartphone that is always in their pockets. In the world of e-books there are a growing number of companies that are doing very unique things, that go beyond just trying to sell you books. Here are the websites that everyone should know about that takes reading to the next level.
Earlier this year, the price on the blockbuster book, The Girl on the Train, was slashed from $11.99 to $1.99 for one day only. Previously, Gone Girl was discounted from $9.99 to $2.99, and The Da Vinci Code was given away for free for one week. In all three cases, the discounts were only available for the e-book version.
Finding these deals can be quite daunting, unless you are subscribed to BookBub, a daily email that alerts readers to free and deeply discounted e-Books that are available for a limited time.
Over 5 million people have signed up for BookBub's free service. Readers sign up with just an email address, and then select their favorite genres. Each day, BookBub sends an email with free and discounted bestselling e-books in the selected genres. Just click, download, and read on any device: Kindle, Nook, iPad, iPhone, Droid, & more.
BitLit produces an app called Shelfie, that allows readers to digitize their print library. By taking a photo of their bookshelf (a "shelfie"), readers can identify a list of books that are eligible for digital bundles. Readers download an e-Book by using the app to snap a photo of their book's copyright page marked with a bookplate, ex libris stamp or their handwritten name.
Publishers decide if they want to make the e-books available completely for free or charge a very small nominal fee. There are 1,200 publishers who offer bundling through the Shelfie app. Major publishing partners include HarperCollins, Macmillan, Elsevier, Wiley, Packt and O'Reilly.
Evan Jacobs started Author Graph in early 2011 with a unique system that connected authors with their fans to digitally autograph e-books. There is now over 10,00 authors who use the platform.
Here is how the service works. Readers will have to log into their Twitter accounts and make a choice of the e-books they would like to have the author's signature. Once the author receives a request, he or she would do the actual singing using Docusign's API. This is then sent back to the user as a separate file.
Author Graph has really grown in the last few years and is now a solid place for e-book discovery. You can find self-published and traditionally published authors sitting on the websites home page, all wanting to sign your e-book.
There is likely no larger e-book discovery and online social community than GoodReads. The company was acquired by Amazon in 2013 primarily due to millions of users that visit the site on a daily basis.
On the Goodreads website, users can add books to their personal bookshelves, rate and review books, see what their friends and authors are reading, participate in discussion boards and groups on a variety of topics, and get suggestions for future reading choices based on their reviews of previously read books.
Goodreads features a rating system of one to five stars, with the option of accompanying the rating with a written review. The site provides default bookshelves—read, currently-reading, to-read—and the opportunity to create customized shelves to categorize a user's books. It also offers quizzes and trivia, quotations, book lists, and free giveaways. Members can receive the regular newsletter featuring new books, suggestions, author interviews, and poetry. If a user has written a work, the work can be linked on the author's profile page, which also includes an author's blog. Goodreads organizes offline opportunities as well, such as IRL book exchanges and "literary pub crawls".
Somewhere between fashion and beauty tips is an awesome YouTube community of literary enthusiasts. BookTubers is the catchall name for a new generation of youth that give bookshelf tours, conduct book reviews and read aloud from books they are currently reading. Some of the online personalities rack up millions of views and its worth checking out during the cold winter months.
Sometimes you buy books on impulse or because you heard it was good. In other cases due diligence is necessary and maybe you want to read a few reviews first. There are many review sites out there that have spoilers that can ruin the reading experience, while others are really solid. Check out our complete list of the top book review websites.
Podcasting is starting to become big business with over 2.6 billion downloads in 2014. Edison Research reported that fully one-third of all Americans 12 years of age or older now say they have listened to at least one podcast. One of the biggest new segments of podcasts has to do with books, author interviews and discovery. Check out our list of essential podcasts.

Michael Kozlowski is the Editor in Chief of Good e-Reader. He has been writing about audiobooks and e-readers for the past ten years. His articles have been picked up by major and local news sources and websites such as the CBC, CNET, Engadget, Huffington Post and the New York Times.