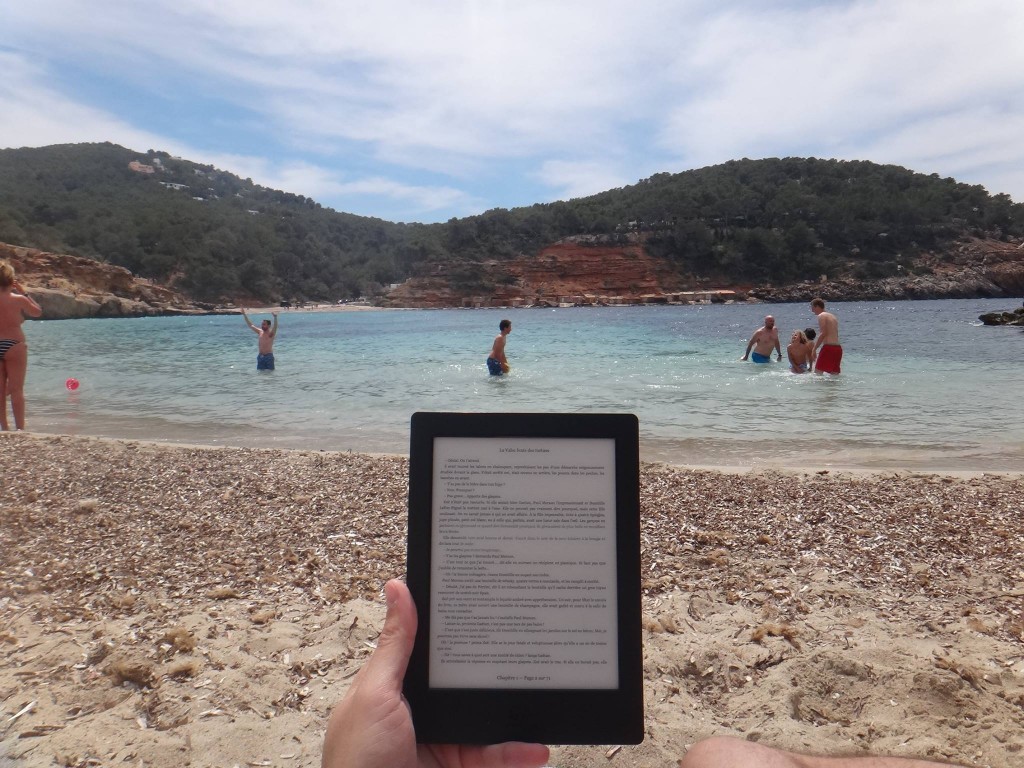 It's summertime and the living is easy! Many people are looking to buy a new device to read e-books at the cottage or just to bring with them to the beach. There are a slew of new resolution devices on the market that not only give you a better overall reading experience but they also allow you to read in the dark! Today, we take a look at the top 5 e-readers for the summer.
Energy Sistem PRO+
We first reviewed the Energy Sistem PRO back in February and were impressed by the fact it ran Android and allowed users to install their own apps. One of the drawbacks that it was running e Ink Pearl, which is fairly old by today's standards. This has since been remedied with the advent of the Energy Sistem PRO+ that has e Ink Carta.
I think the Energy Reader PRO+ is a viable investment for those looking for a solid alternative to Kindle or Kobo, because its platform agnostic. The device itself has a resolution of 1024×758 pixels. It has a touchscreen, which makes it easy to click and navigate around the UI or just simply flip the pages in your favorite e-Book. It also incorporates a front-lit screen that allows users to read in the dark.
Underneath the hood is a ARM Cortex A9 1.0Ghz dual core processor and 8 GB of internal memory. It also has the option to expand the memory up to 64GB with a SD/SDHC card. The PRO+ is available to order from the main Energy Sistem website and costs 129 €.
Onyx Boox i86 HD Plus
The standard e-reader is only six inches, and Onyx has bucked the trend with the advent of the i86 HD Plus. It features Google Android 4.04, so you can install any e-reading app you want.
The Onyx Boox i86 Plus features an eight inch IR touchscreen with a resolution of 1600 x 1200 with 250 PPI. It does not have a front light like most contemporary e-readers which helps keep the cost down.
This particular e-reader model is not using a super modern version of e-paper, as found on the Kindle Voyage or Kobo H2o, instead it is employing an older form of Pearl. Normally, I would lament the screen quality is poor, but this couldn't be further from the truth. In reality, reading e-books, manga and PDF files is amazing. Onyx has a bunch of software functions that enhance the rendering of image heavy content.
Underneath the hood is a 1 GHZ single core processor, 1 GB of RAM and 8 GB of internal storage. There is compatibility for an Micro SD, so you can easily enhance it further up to 32 GB.
One of the most exciting features about this reader is the fact it has Bluetooth and a 3.5mm headphone jack. This allows for the playbook of audiobooks and music. In addition, you can hook up external speakers to get a ton of streaming content from companies such as Spotify or Soundcloud. This e-reader costs 199,99 € and you can order one HERE.
Kobo Glo HD
The Kobo Glo HD is a brand new e-reader that features a high resolution display and was designed to be both economical and heavily compete against the Kindle Voyage.
The brand new Kobo Glo HD features a six inch e-ink Carta screen with a resolution of 1448×1072 and 300 PPI. It has the same front-lit display as the Kobo Aura H2O, so you will be able to read in low-light conditions or complete darkness.
I think the main reason Kobo rushed the Glo HD to the market was because of the overwhelming success of the premium Kindle Voyage. This Amazon branded device was released late last year and at the time had the best resolution and highest PPI in the world. It also carried a hefty price, retailing for $199 US vs the $129 of the Glo HD. Due to the success of the Kobo Glo HD, Amazon has countered with the new Paperwhite 3, which matches the Glo HD specs .
Underneath the hood is a 1 GHZ processor and 4 GB of internal storage. When you take the e-reader out of the box for the first time you only have 3.1 GB of memory, primarily because the OS takes up a fair amount of space. This model does have a hidden SD card, but the average user will not be able to take advantage of high memory, because you need to employ cloning software, since the entire OS is stored on it.
Finally, if you are going to be be spending a lot of time around water, such as the beach or swimming pool, you will want to check out the Kobo H2O. It came out last year, but it has a bigger screen than the Glo HD and is totally waterproof.
Amazon Kindle Paperwhite 3
We decided to include the Paperwhite 3 on our list because it just started shipping at the end of June and has a very respectable price tag of $139.
The Amazon Kindle Paperwhite 3 has a e-ink Carta display screen with a resolution of 1430×1080 and 300 PPI. This is a huge upgrade from the 2013 model which only had 1024×768 and 212 PPI.
When it comes to the visual aesthetics the new Paperwhite is virtually indistinguishable from the 2nd generation model. The only change on the hardware is very subtle, the Kindle logo on the front is piano black, while the older edition had it in pure white. The retail packaging also makes reference to 300 PPI, so this should aid you if you are looking to buy he latest edition and can't really tell what model you are looking at.
Underneath the hood is a 1 GHZ processor and 512 MB of RAM. There is 4 GB of internal storage and the majority of your content will be held in the cloud. There is certainly enough space to have a thousand e-books on your device at any given time.
One of the big reasons why I decided to recommend this e-reader is because the base price is very cheap, but there is an optional 3G variant for $209. Amazon is the only company to charge a premium price for a data enabled reader that does not charge any monthly subscriptions, so you can buy e-books no matter where you are in the world, without having to pay roaming or extra fees. This is important if you are looking for a vacation e-reader and if you are normally outside a WIFI network.
Pocketbook Sense
The Pocketbook Sense is a brand new e-reader and has just hit the open market in Europe and North America. One thing that is clearly evident at first glance is how well designed it is. Pocketbook is not known for having sexy looking digital readers, but the Sense is their best offering to date.
The Pocketbook Sense features a six inch e-ink Pearl HD screen with a resolution of 1024×758. I was afraid that the outdated screen might make this reader dead in the water, but I was pleasantly surprised. Instead of going with infrared touch, Pocketbook made the decision to go with a capacitive touchscreen display. This makes pinching and zooming, as well as drawing very robust.
Underneath the hood is a 1 GHZ processor, 128 MB of RAM and 4 GB of internal storage. You can enhance the memory up to 32 GB via the Micro SD card and it also has a Mini USB to charge and send data to your e-reader.
One thing I really liked about the design is the manual page turn keys. Rather than have them on the front of the device, Pocketbook has them on the back. They are positioned exactly how you would hold it, so its very intuitive to hold it with one hand. Alternatively you can simply use the touchscreen display. It costs 149 euros and you can buy one from HERE.

Michael Kozlowski is the Editor in Chief of Good e-Reader. He has been writing about audiobooks and e-readers for the past ten years. His articles have been picked up by major and local news sources and websites such as the CBC, CNET, Engadget, Huffington Post and the New York Times.