The technology world has been abuzz since the CES earlier this year with the tremendous onslaught of new E-Readers, Tablets and Slate devices that have been announced to be released during the next five months.
I often read how slates are going to initiate a paradigm shift of the way we go about our modern computing. Mobile computing started with Laptops, then smart phones , subsequently followed by Net books and now Slate devices. The Slate market is an amalgamation of many different devices fused together, for the ultimate new medium of computing technology.
Slates have all of the advantages internally as a mid range laptop, blow away net books and smart phones in terms of resolution, processor and ram speed and many other extenuating factors. Slates sure do travel easier. Have you ever opened a laptop while standing up? Or tried to get work done on plane flights? Slates fit in the hand and carry around loads better then encumbersome laptops. Curling up on the couch holding an object that weighs less than 2 pounds, is certainly more of an advantage then a net book which does not hold the same.
We are currently under an evolution of modern computing. Statistically speaking, the average person spends most of their online time, watching videos, listening to music, twittering, Facebook, forums and email. The Slates are the obvious choice for all of these aspects.
We are currently in the first generation of pure Slate devices. E-readers have been around for five years, and have often remained under the radar for the mass market customers. But this is not stopping companies like Asus, Fujitsu, Barnes and Noble, Chapters/Boarders and many new start up companies from releasing traditional e-ink e-readers.
The E-reader market, has been very consistent and has led to the rise of tablets, which took the best aspect out of e-readers and wrapped it up into a device, that is extremely multi faceted.
We are going to run down the most highly regarded slates to either come out this year, of have their dates etched in stone.
Microsoft Courier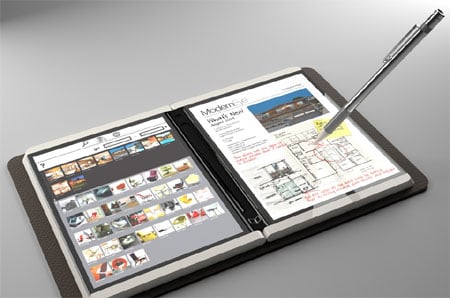 The Microsoft Courier has been a pet project of Microsoft for the last year. Countless iterations of a prototype device have been showed off on video and internal memos. Bill Gates heralds the Courier as a "revolutionary device in mobile computing"
The Courier features dual color touch screens interfaced with a stylus. It runs the Windows CE 6 operating system which is a derivative of the of the Windows Phone series 7. It also sports a web cam and head phone jack to listen to music or to engage in web conferencing or instant messaging. It will have an Nvidia Tegra processor and the entire unit will weigh less than a kilo.
No pricing or official announcement has come forth with on when this device will come out, but industry insiders claim around Quarter 3 or 4 of this year, we should see etched in stone details.
HP Slate
The HP Slate is set to hit the market on June 7 of this year. With a retail price of around 500.00 this is a great price for an astounding device.
The Slate is touted to be more powerful than a smart phone and close at heels with a PC. It is perfect for reading, surfing the web and taking entertainment on the go. Resembling an Amazon Kindle DX in size, it aims at bridging the gap between laptops and smart phones. HP's Slate will run on full version of Windows 7, complete with multi-touch capabilities. It comes with 3G connectivity as a standard feature and may cause a lesser pocket-pinch than iPad's $629.
The 8.9 inch screen will have multi-touch capabilities, which you can flip through and experience a book in full color. The Wi-Fi capabilities allow you to download content. It will focus on content consumption including games, e-books, music, videos and web browsing. It will also be powered by FLASH and will be compatible with all Adobe Programs and Support, such as Shockwave.
We are excited about this device due to the fact that it has USB, HDMI Camera and other features that let us hook this up to a projection system. Use it as a Entertainment medium hooked up to the Television. Or just Geek out with it on the couch instead of always be sitting at the PC.
Notion Ink Adam
Notion Ink has a group of dedicated Indians working to build a tablet – Adam, Apple iPad's worthy competitor. After the buzz over the web last week, the official specifications of this Nvidia Tegra 2 SoC powered device have been finalized. The tablet, along with its official specifications, will be unveiled at the ongoing Mobile World Congress 2010 at Barcelona. Notion Ink will make Adam available in June/July and will charge between range of $327-$800 (Rs. 15,700-Rs. 38,400 approx.) depending on the configuration.
In terms of specifications, Notion Ink's Adam tablet clearly weighs more than Apple iPad – except the multi-touch supporting display with IPS technology. The Adam tablet runs dual-core ARM Cortex A9 CPUs bearing Nvidia Tegra 2 System-on-a-Chip while Apple iPad uses company's own A4 SoC silicon. Both SoC chips have capability of running at 1GHz clock speed. Check out more specs at our e-reader forum.
Compared with iPad's 9.7-inch IPS LCD with 4:3 aspect ratio, Adam will come with 10-inch Tran reflective LCD PixelQi screen supporting 1024×600 at the same time. Low power consuming PixelQi screen will support full color along with a Black & White mode. Apart from that, Adam's 10-inch screen is capable of displaying 1080p video playback, thanks to the Nvidia Tegra 2 which is also said to consume less power than its predecessor.
So, while iPad offers 10 hours web browsing on Wi-Fi and 8 hours of video watching experience, Notion Ink claims that Adam offers 16 hours of web browsing. The Adam also boasts of a 160 hour run time in backlighting off mode. While Apple sticks to Safari for iPad, Adam tablet will have Firefox and Chrome web browsers to support.
Adam's one of the most noteworthy part comes with multiple operating system support – Android, Ubunty and Chromium. Compared to this, Apple has iPhone OS 3.2 running on the iPad. Another significant feature the OS support on Adam is that the Adobe Flash Player 10.1 support will exist for better web browsing experience. And, oh boy, the operating systems on Adam would support multi-tasking. These features could be a game changer for Adam. The Adam is due out the 3rd quarter of this year, and should retail from $400 – $600
Dell Slate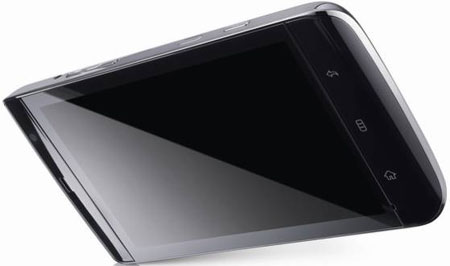 At the CES in January this year Dell had a very mysterious device to show the people in attendance, the Dell Slate. It is a 5 inch full color touch screen The Dell Slate will run a Google Android driven Operating System. Which means you will see Google Application Development and the Porting in of games and business applications from the independent an business community. The Dell Slate has a SIM Slot in the back, which means that you will be able to connect up to the internet in 3G, or use it as a phone. It will also be able to do WI-FI. The Slate unlike some of the tablets coming out in the near future has a few key features such as, a 5 Mega Pixel camera with Auto focus, so you will be able to take pictures with it, or use it as a webcam.
It seems to me that Dell might be arriving to the dance a little bit late. Many other Tablet and Slate devices have been making waves in the news, such as the Entourage Edge, the HP Slate, the Notion Ink Adam and Apple. If Apple manages a tremendous success their next I-PAD to a totally new level, It will boost the market and stimulate demand for these new generation of tablets. We are interested to see if a large company like Dell will offer any decent . One of the big factors with some of the new tablet hinges on how well the Android's Marketplace does in terms of software offered. Dell has hopes to roll it out in varying screen sizes (and probably memory capacity)
Finally, it seems the most popular Slate devices to garner large scale attention are not only tablet computers but are also billed as E-Readers. We cover allot of technology here at the Good E-Reader Blog and seven new devices are going to be hitting the market in the next four or five months. It will be interesting to see, which companies the market will gravitate towards and be accepted by the community at large.
Our Bets, is that the Apple I-PAD, Microsoft Courier, Notion Ink Adam and the HP Slate look to have versatile technology and most function as E-Readers, as well as a casual entertainment device, or in the Couriers case, an extension of the office.
The Dell Slate is set to be announced this summer, price and date are yet unavailable.
Neofonie WePAD
We would like to introduce the latest Android driven Slate to make a splash into the increasingly competitive E-Reader and Tablet market. This device is called WePAD made by the company Neofonie in Berlin, Germany. It features the largest display in the burgeoning slate industry with a 11.6″ display with 1366×768, resolution. It has a rather quick 1.66GHz Intel Atom N450 processor, a 1.3 MP webcam (for instant messaging and Video Conferences), two USB sockets, a flash card reader, integrated WWAN modem, and GMA3150 graphics. With the two USB sockets we imagine that the WePAD will allow external devices such as USB keyboards, USB drives and more. Finally it has multi-tasking support, Bluetooth 2.1, Wi-Fi, optional GPS, an ambient light & motion sensor and an internal fan.
Now let's talk applications. Most new devices that have come out lately that can be considered slates and e-readers have no built in Google Android market. Take the Entourage Edge for example, one of the big draws about it, is that it is an Android Device, but where are the applications for it? Ditto with the Barnes and Noble Nook. The Wee-PAD will have a true Google Android Market application made available on it, when it ships. There is no product date for shipping yet, but this one makes our heads turn.
So this is our list of our top 5 Slates to look out for in 2010, we have omitted the I-PAD as we have wrote enough about it, in the last week or so. If you like this article we suggest you sign up for our Good E-Reader Magazine we are publishing next month! You can have it delivered to you via PDF, sent to your E-Reader, or read it online! Its only $3.99 an issue and it shows your support for our news site!
Michael Kozlowski has been writing about audiobooks and e-readers for the past twelve years. His articles have been picked up by major and local news sources and websites such as the CBC, CNET, Engadget, Huffington Post and the New York Times. He Lives in Vancouver, British Columbia, Canada.