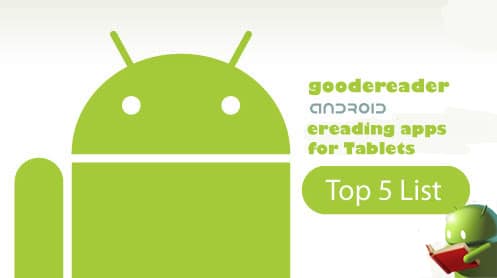 Google Android continues to enjoy being one of the most heavily used operating systems for tablets and phones. This is a robust operating system that is easy to license and many vendors relish in the constant attention the big G brings to their companies. If you have an Android Tablet, e-reader, or phone, you might find yourself in the position that you have no access to some of the best apps on the platform. Many e-readers, like the Kobo Vox, Pandigital Novel, Velocity Micro Cruz and many others, have limited access to 3rd party downloads. The average user only uses the apps the unit is shipped with and does not know there are tons of choices out there.
There are quite a number of mainstream e-reader apps that allow you to buy books, newspapers, and magazines directly from the apps. Not only can you buy, but you can also read them as they were meant to be seen, making them the perfect all in one solution. Today we are going to take a look at some of the best mainstream e-reader apps out there and tell you a bit about them. You can also download any of these apps directly to your tablet or phone by visiting http://goodereader.com/apps/
Amazon is one of the largest and most successful companies in terms the sheer amount of ebooks that are available. They have a tremendous ecosystem that allows you to buy the latest bestsellers and newspapers at good prices.
The Kindle for Android interface is very clean and gives you many options to browse content from the New York Times Bestseller list to the staffs personal picks. It has its categories developed fairly well, but often works best if you know what you are looking for.
Amazon has released a new library lending program via Overdrive partners. If you have a local branch that participates in digital ebook lending you can borrow books form the library and have them sent directly to your Kindle account. You can then send the books directly to your Android Tablet or e-Reader and read for free. Amazon also has a lending program that allows you borrow select books from other users or from eBook Club websites like Lendingebooks.com
Amazon for Android continues to be one of the better ecosystems out there in terms of mainstream and current books. They have a great indie writer community and you can discover new writers at affordable prices, often at .99. This program is a free download but obviously the content costs money but there is a ton of free books on the service.
Barnes and Noble Nook for Android
Barnes and Noble in the last few years has developed an expansive bookstore with tons of content. If you have a Nook Tablet or Color you know first hand how the store functions and the sheer amount of kids books, cook books and others specifically tailored for the Nook line of devices? What if you just have a Kobo Vox or other tablet? How does the experience rank up against the competition?
Nook for Android only works best if you live in the USA, if you live outside that country you do have some options. Many users claim using a fake address from the USA is all you need to do and then use your real email address and credit card. The company will NEVER send anything to your physical address unless you order non-digital content.
Nook for Android is a great reader program that allows you to lookup words via the dictionary and alter your fonts and margins. You can also augment your linespacing if you want to customize your reading experience.
This bookstore has a ton of new and mainstream books available and also a select amount of other material. The company runs their own indie publishing project called PUBIT which allows writers to submit their own content. Unlike Amazons publishing program physical people actually read the book to make sure its suitable to publish.
Kobo boasts a current library of 2.5 million books and 60% of them are free and open source. This means a fair number are classics and books you might have read when you were a little kid. Kobo is a very internationally friendly company and you can buy and read books in almost any country in the world.
One of the strongest features the company has going for it is 'Reading Life' which allows you earn awards and achievements. You can then let your friends know when you have read a book or earned an award via Facebook and Twitter. Speaking of social media you can also send passages of text or select words to those services too.
If you want to load your own books Kobo is one of the only mainstream apps that allow you to do it. Simply upload books that don't have DRM to your dropbox account or send them as attachments via email and when you open it up the books can be read within the app.
Finally, like most mainstream apps there is a ton of customizations you can make to change up the look and feel of most books. You can change fonts, margins, line spaces and much more.
Android is the first platform that Sony started to market its own fledgling bookstore to phones and tablets. There is actually an optimized version of their app specifically for tablets that is an independent download. Book Prices are a bit higher then some of its competition but they do have a bunch of graphic novels and manga available.
The Sony Reader is one of the least developed mainstream apps and by comparison ranks lower on our list of essential apps. It does not give you as much freedom to change fonts and other aspects of your book experience like Kobo, Amazon and Barnes and Noble.
When you download the app you are greeted by 3 free books that change once in awhile but are often open-source free books that are in the public domain.
If you have a Android Tablet or Phone with full access to the Android Market often this app is installed on your device. Often if you don't there is no actual way of getting it other then our own app store. It features one of the nicest page turn animations in the business and looks very slick to read even scanned books.
Google is trying very hard to make a go of the entire ebook world and only started its service last year. They are the least mature of all of the other mainstream apps in terms of selection of books and the overall app experience.
The essence of Google Books is it is mainly a cloud based reader, when you buy books they are not stored physically on your e-reader or phone but within the Google Cloud Service.
There are over 3 million books in its ecosystem, but the majority are free and open sourced books the company has tediously scanned over the last five years. If you live in the USA it has an expansive selection of modern bestsellers in the fiction and non-fiction genres. If you live in Canada, Australia, or the UK the selection tends to fall of the cliff fast with an emphasis on local writers. It seems like most publishing companies did not authorize their books to any market outside the USA, which makes finding the latest best sellers an exercise in patience.

Michael Kozlowski is the Editor in Chief of Good e-Reader. He has been writing about audiobooks and e-readers for the past ten years. His articles have been picked up by major and local news sources and websites such as the CNET, Engadget, Huffington Post and Verge.