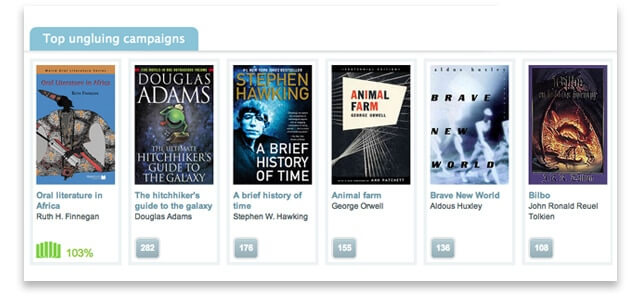 Unglue.it, whose launch earlier this year was only recently overshadowed by its news that it has had its first successful "ungluing," was forced to halt future attempts at unglue it campaigns when it's payment processor, Amazon Payments, decided to pull the plug on its acceptance of donations.
What is ungluing? It's the crowdfunding process by which individuals pledge donations to pay the author or publisher to remove all copyright and DRM from a title, essentially unleashing it on the world and making it accessible to anyone who has any form of digital reading capability. The author or publisher who currently hold the rights agree to a price, and when the donations total that amount and payment is made, the book is available everywhere for free.
Today, Unglue.it announced that not only has signed on with Stripe to be its new online payment source to continue accepting donations from individuals, it has begun campaigns for five new books. This is welcome news following the completion last month of Unglue.it's first campaign, in which Ruth Finnegan's 1970 Oral Literature in Africa was completely unglued.
The new campaigns are for Budding Reader Book Set 1: Cat And Rat (Ten Books) by Melinda Thompson with Melissa Ferrell; National Book Award winning coming-of-age story Love Like Gumbo by Nancy Rawles; Obama Search Words by Stephen Black; So You Want to be a Librarian by Lauren Pressley; and "a macabre, eco-friendly, erotic sci-fi fantasy satire" The Third Awakening by Dennis Weiser.
"We appreciate the support and kind words we received from around the world," said Eric Hellman, President of Gluejar, the company behind Unglue.it in a press release today. "Having Stripe on our side puts us in a much better position to grow our movement and bring many books into the public sector. These five books are just a start and we hope that their successes will be the snowflakes that trigger an avalanche."