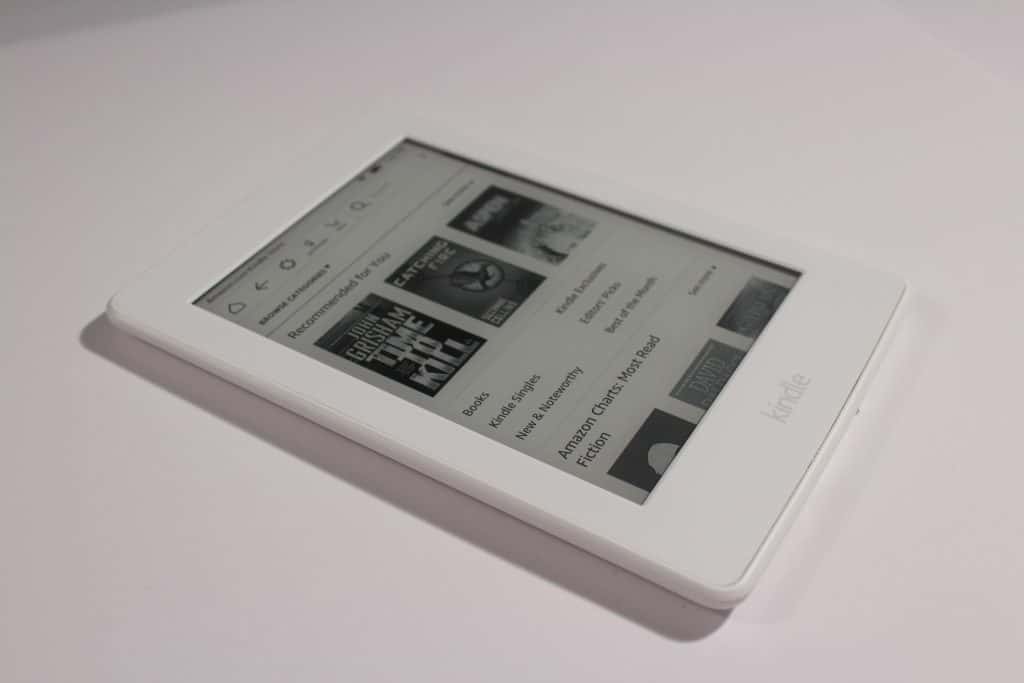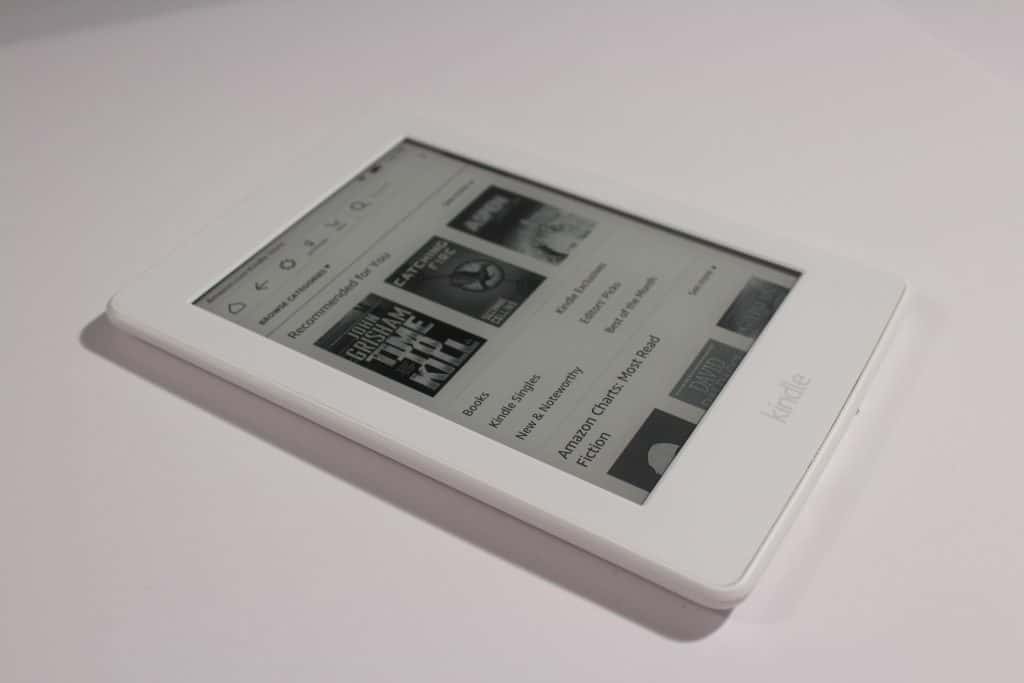 WaterFi is the only company in the world that sells a waterproof Kindle Paperwhite 3. Their proprietary method allows people to use their Kindle in the bathtub or at the beach. Additionally, if you are the clutzy type it also prevents tea or coffee from ruining your e-reader. This device is marketed for $230 and they will also waterproof other e-readers for a $99 fee.
The Amazon Kindle Paperwhite 3 has a e-ink Carta display screen with a resolution of 1430×1080 and 300 PPI. This is a huge upgrade from the 2013 model which only had 1024×768 and 212 PPI.
Underneath the hood is a 1GHZ processor and 512MB of RAM. There is 4GB of internal storage and the majority of your content will be held in the cloud. There is certainly enough space to have a thousand e-books on your device at any given time.
This e-reader has a front-lit display, that allows you to illuminate the screen so you can read in the dark. It has four LED lights that power the front-lit display, whereas the Voyage has six and the Oasis 10.
Waterfi makes the Kindle waterproof by filling it with an insulating barrier around all of the sensitive electronics. This barrier guards the device from exposure to threatening elements such as chlorine, salt water, sweat, and shock. The Waterfi Kindle is certified IPX8 and can withstand up to 230 feet under water. Due to the insolation it is 30% heavier than the standard Paperwhite 3.
Although the Amazon warranty is voided by Waterfi implementing their waterproofing technology you can take solace in your investment because Waterfi offers a two year warranty against defects in materials and workmanship, under normal use.
Software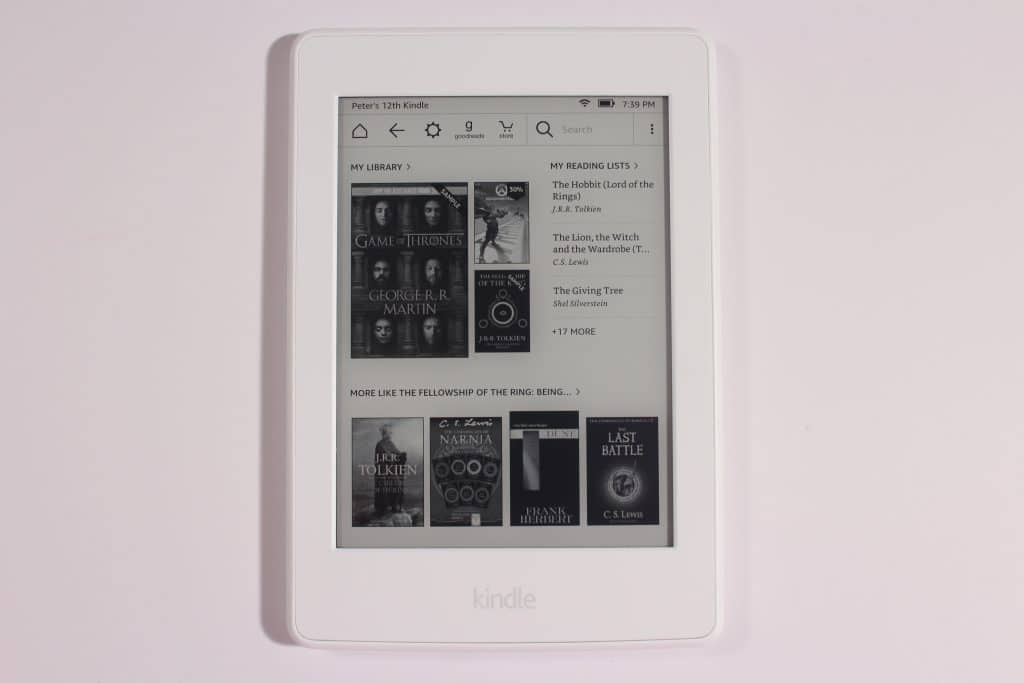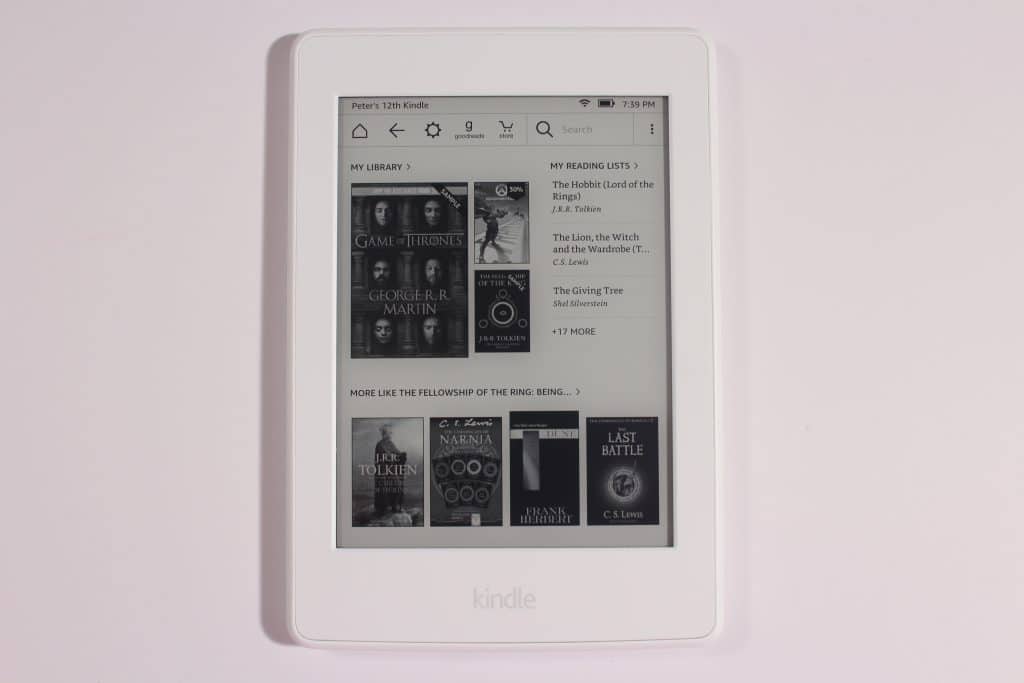 The home screen and overall design of the UI were heavily revised last year with an all-new typesetting engine that lays out words just as the author intended for beautiful rendering of pages. With improved character spacing and the addition of hyphenation, justification, kerning, ligatures, and drop cap support. There is also support for larger font sizes without compromising your reading experience. Page layout and margins will automatically adapt to work well at even the largest font sizes.
Amazon doesn't control the digital book market because it makes great hardware, but it has software elements that no rival can match. X-Ray is a great example because it allows you to get a sense of the people, places and things in a book and how often they are referenced. This is tremendously useful for people who juggle multiple books at once or come back to a book that they put down for a few months and forget who all the characters are.
Amazon also has Wordwise, which basically gives you a list of synonyms and homonyms in a book, great for learning a new language. If you normally share your e-reader with multiple family members, Family Sharing allows you to share the same content using different Amazon accounts. You can also take advantage of the translate capability by tapping any word or highlight a section to instantly translate it into other languages, including Spanish, Japanese, and more. Translations are provided by Bing Translator and you can even do it with PDF files, which is totally awesome.
Likely one of the biggest selling points is the social book discovery site, GoodReads. Placed right on the navigation bar you can talk about your favorite books with a community geared towards discussion and reviews. You can form or join a book club and bring a little bit of socialization to a otherwise solitary reading experience. You can follow your favorite authors and ask them questions, sometimes they even do community Q/A's. One of the features I like is how you can import in your Kindle collection and GoodReads will make solid recommendations.
E-Reading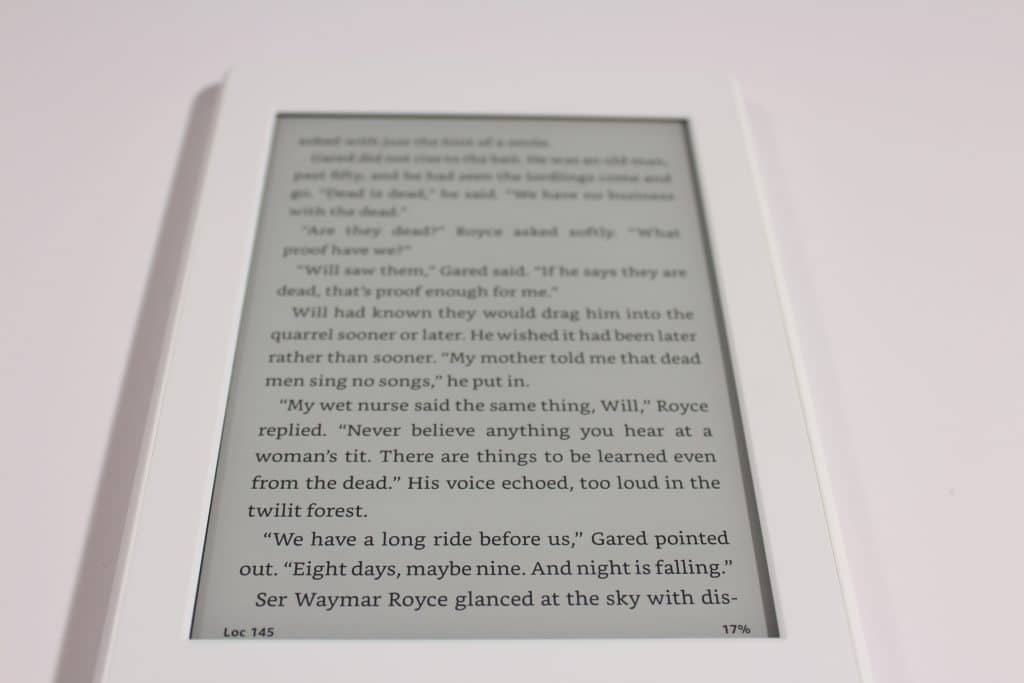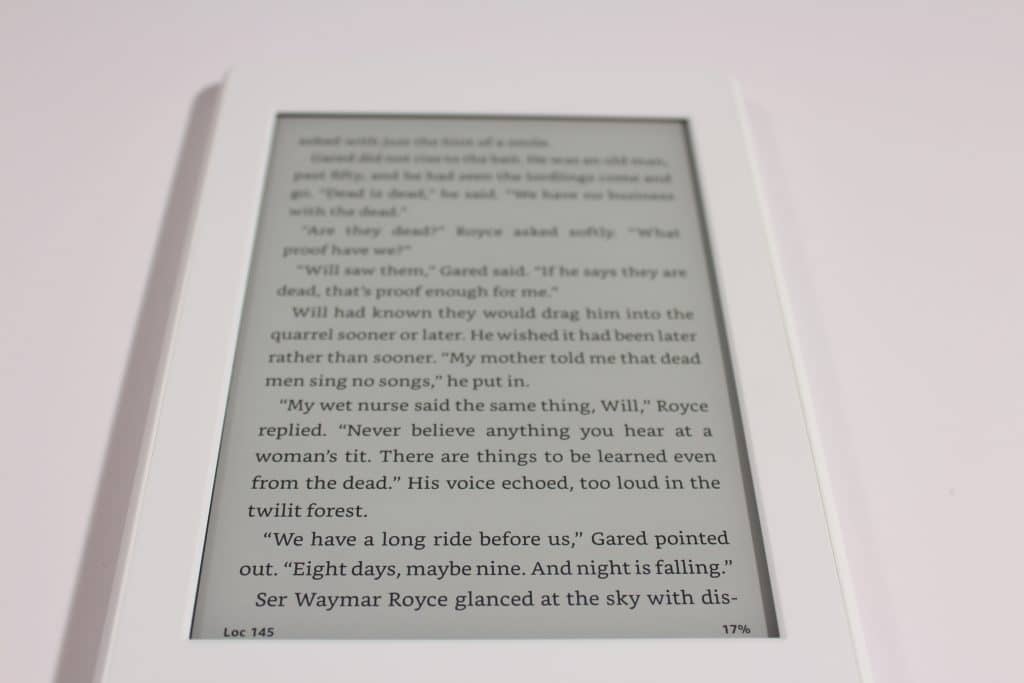 The 2016 Kindle Paperwhite has a font that was exclusively developed to make reading on a Kindle much more intuitive. Bookerly has replaced Caecilia as the new default font their e-readers, tablets and Amazons fleet of apps. Bookerly is a serif style of font that has been custom-made by Amazon to be as readable across as many different types of screens as possible. Like Google's Literata, Bookerly is meant to address many of the aesthetic issues surrounding e-book fonts.
Does Bookerly make a big difference while reading an e-book? According to Amazon's internal tests, that means it's about 2% easier on the eye. That may seem like a small improvement, but spread that 2% across millions of Kindle users and billions of pages of e-reading, and it all starts to add up. In real world conditions though, this font is a big improvement. There are fewer large spaces between words, something that has been my bane for a while, but in order for it to really shine Amazon needs to launch their new typesetting engine.
Like all Kindles, Amazon has their own proprietary format that makes other e-books from other companies incompatible. For example, if you buy something from Barnes and Noble or Kobo, they use EPUB which cannot be loaded or read. This is somewhat of a mixed blessing, Amazon could laser focus on providing a great reading experience and make dramatic improvements, while the EPUB format languishes.
Reading on the Kindle is great, there are enough options to optimize your experience but doesn't overburden with a ton of advanced features. You can adjust the margins, line spacing, choose between 7 fonts and have great control over the size of them. There are 3 different tabs that all of these options, which is a welcome change, since in the recent past all of these settings were on a single menu.
One of the great things about the Paperwhite 3 is a system they recently implemented called Ultra-Fast Skimming. It provides users with 33% faster single page turns, delivering a fast-paced, immersive reading experience when reading manga or an e-book. Also, by simply tapping and holding, readers can now rapidly skim through a manga at seven pages per second to find a specific place in the story, spending less time searching and more time reading.
Wrap Up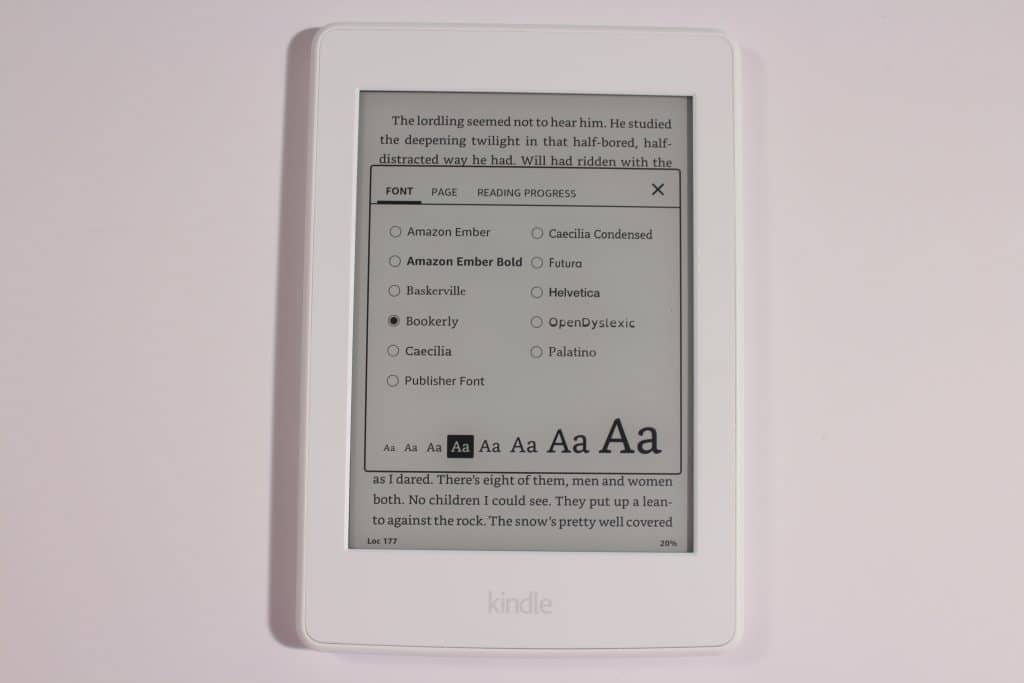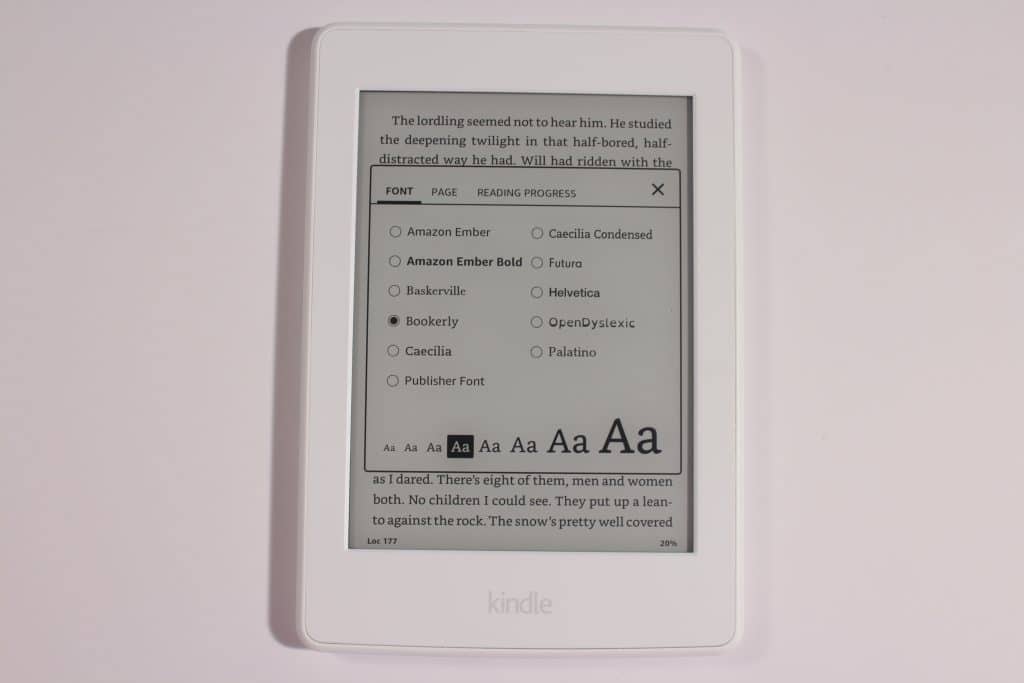 The Kindle Paperwhite 3 is Amazon's most successful e-reader because it offers a tremendous amount of value for the price. The Oasis and Voyage are fairly expensive and they rarely receive discounts, whereas the stock Paperwhite is frequently on sale.
There were rumors floating around a few months ago that Amazon was going to release a waterproof Kindle. It looks like the company will not do it this year because Summer has already started and they missed the 2017 window. It really does not make sense for them to release it this Fall.
WaterFi is the only way you can waterproof the Paperwhite and although it is more expensive, it allows you to use it anywhere you want and not worry about water damage. Finally, you have a Kindle you can use in the bathtub or on vacation.
Michael Kozlowski is the Editor in Chief of Good e-Reader. He has been writing about audiobooks and e-readers for the past ten years. His articles have been picked up by major and local news sources and websites such as the CBC, CNET, Engadget, Huffington Post and the New York Times.