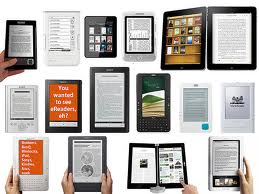 What e-Reader Should I buy? This is the most common question that we get here at Good e-Reader! We have put together our essential list of the best e-readers in the market for July 2011.
Barnes and Noble Simple Touch Reader
The Barnes and Noble Nook 2 is being billed as the simplest e-reader ever created! It features a full touchscreen 6 inch PEARL display with a resolution of 800×600 pixels and 16 levels of grey scale. The screen looks very good and is said to have 50% better contrast then the original Nook 3G and WFI. This new e-reader is blazing fast with the 800Mhz processor underneath the hood. It is running on the Google Android 2.1 OS and many people have already loaded Angry Birds and other apps on it.
The Nook 2 is the new Barnes and Noble flagship e-reader and will be the standard e-ink model the company goes with in the future. The only drawback is that the unit does not have speakers to play audio books or mp3′s.
The Kobo Touch is the first touchscreen e-reader served by Kobo and it's a dandy! It features a six inch Pearl e-ink display with a faster processor than the Amazon Kindle. It has one single home button and the rest of the time you are pressing the virtual keyboard or various menus. One of the most exciting new elements to this e-reader are the social media aspects that the "Reading Life" brings to the table. It awards you achievements for reading and brings statistics into the fold. It will monitor your reading habits, how many books you read and so on, to compete against friends.
The Kobo bookstore currently has over 2.2 million titles and many of them are free! You can also get local magazines and newspapers to satiate your literary thirst. It is highly affordable at $139 and raises the bar on e-readers.
The Nook Color is the perfect example of a tablet being billed as an e-reader and actually functions as one. It blends the combination of the two to the pinacle of perfection. The Nook Color is a full touch screen Android Tablet with a 7 inch capacitive color touchscreen with a resolution of 1024×600. It has a built in accelerometer that will switch the screen between landscape and portrait mode.
The big successes of this device is the textbooks, kids books, magazines, and newspapers you can subscribe to. Most of this content is all in full color and looks really good. You connect to the internet via WIFI and can easily surf the internet with the web browser. The company also introduced an appstore recently so you can easily download apps, games, and more. It retails for around $259 dollars and is the best bang for your buck in Android Tablets.
Amazon Kindle Special Offers Edition
The Special Offers edition gives you a six inch e-reader with the latest PEARL e-ink technology; fast page turns, quick menu navigation, and more. You can buy books and audio books via Amazon and have them delivered very quickly to your device.
This ereader is proving to be quite popular because of its paltry price of $114! The drawback is that it serves you advertisements via the screensaver and menus. You don't see the adverts in the books, thankfully, but the low cost is attracting a wider audience. Currently this model is the company's strongest seller but is only available online in the USA.
iRiver Story HD
The iRiver Story HD is the first e-reader to to tap into the Google Books ecosystem. It features a six inch e-ink display with a resolution of 768-by-1024-pixels. It employs some new technology that makes it an interesting pickup, namely the improved electronics backplane that drastically increases the resolution. The Story HD uses a Freescale ARM CortexTM i.MX508 processor, and has 2GB of built-in storage. Along the right side is a sturdy flap door covering the full-size SD Card slot, which supports SDHC cards up to 32GB.
This is a brand new e-reader and many people have claimed the interface and book experience to be a bit clunky, but it should improve over time.
This is a brand new e-reader that just came out in the last few weeks and is a multimedia LCD based device, as opposed to traditional e-ink. I reviewed this device a few weeks ago and really liked it.
The Skytex Primer Colour eReader features a 7inch TFT color display with a resolution of 800×480. Under the hood it is running a 400mhz ARM9 and has 2 GB of internal memory. It does have a MicroSD card so you can enhance your storage capacity up to 16 GB.
On the back of the unit is a single speaker used for listening to music or audiobooks and also has a 3.5 mm headphone jack. There is also a mini USB port to connect up to your computer in order to facilitate a data connection. You can then transfer music, movies, and pictures to your device.
Since the core functionality of the Skytex Primer is to read ebooks, it does the job very well. It supports a multitude of formats such as PDF, ePub,FB2, HTML, TXT, and Mobi. It also supports a myriad of audio/video formats such as MP3, WMA, APE, FLAC, AAC, RMVB, VOB, DAT, MP4, FLV, and 3GP. One of the more interesting aspects of this device is the inclusion of a built in microphone to do your own dictation or recording.
It is the perfect $99 device and has the most bang for your buck for a budget entry level e-reader.
The Pocketbook 360 Plus features a 5 inch Vizplex eink display with an impressive resolution of 800×600 pixels. Its backbone is a 533 MHZ Samsung Processor and it has 128 MB of RAM. The storage is quite modest at 2 GB to store your media, but of course you can further enhance this up to 32 GB via the MicroSD.
One of the most highly advertised features on this device is its ability to access the internet via the integrated WIFI. This will allow feature firmware updates to be "pushed" right to your Pocketbook. The ability to use the internet is something the direct competition (Jetbook Mini) is incapable of doing.
The best aspect of this device is how easy and portable it is, you will have no fear carrying this in your pocket or bag all day. This device is perfect for those who love to load in their own ebooks because it handles so many different formats.
That wraps it up for the months top picks for best e-readers! If you want to purchase any of these and you live outside the USA, make sure to check out our retail partner SHOPEREADERS.