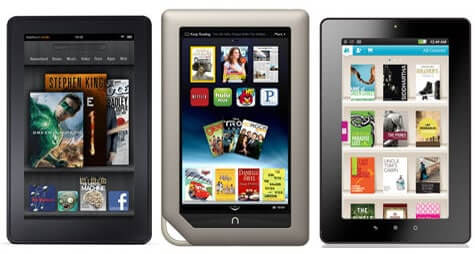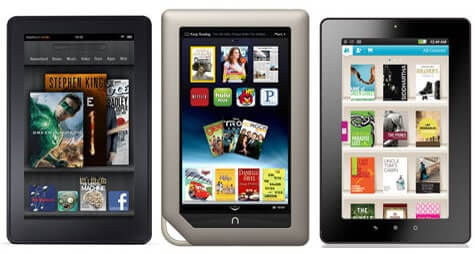 e-Reading has changed dramatically in the last two years and many users are making the switch from traditional e-ink devices to tablets. Tablets offer a wide array of added functionality, such as videos, music, email, internet, and apps. Both Amazon and Barnes and Noble developed their own ecosystems to offer added content, while Kobo relied on Getjar for its apps and then updated to Google Play. With all of these devices almost a year old, what do they have to do to remain competitive in a ever shifting landscape of tablet computers?
The first thing all of these companies need to do is adopt higher hardware level performance. Quad-Core processors are becoming the norm in offerings from Asus, Google, and other major companies. Customers expectations have reached a point where they demand a higher performing processor. There are many benefits to elevating from the dual-core level of old. Added power allows for better rendering of 1080 P video and play the most cutting edge of games. As ebook technology increases and enhanced books editions are becoming the norm, you want to be able to get the full experience without the OS stuttering. Most books have a high decree of multimedia content, such as interactive maps, audio, video, and touchscreen controls. With prices coming down on processors, due to wider industry adoption, going this route would not dramatically elevate the cost to the customer. The Google Nexus 7, which enters the markets at a little over $200.00, proves this point.
Kobo is the odd man out, in terms of a rich and expansive ecosystem. Besides its own bookstore, it does not offer anything original in terms of content distribution. Amazon and Barnes and Noble both run their own app stores and actively court developers to submit exclusive content to them. Kobo formerly relied on Getjar to deliver content to the devices, and in most cases the apps and games are tailored towards phones and not tablets. A few months ago the company received Google Certification and now has full access to Google Play. This might work out just fine, but in order to be distinctive in the marketplace, Kobo really needs to take a hard look at developing its own app store and not rely on a 2nd party to deliver it to the customers. It would give the company more control over what apps and games best work on its devices and create a greater competitive edge in the market. You might not buy a Vox, but if you can use the Kobo App Store on any Android tablet, then the brand still gets advertised.
All of the major tablets that are geared towards reading run the Google Android operating system. When you purchase anything by Amazon, Barnes and Noble, or Kobo, you are relegated to tremendously outdated version of Android. Often you will see 2.3 being the standard and many top-end devices right now are running Jellybean, which is quite a few iterations further ahead. In order to deliver the best content, apps, and games, it is essential that these companies adopt Jellybean into their platform. There are some major additions to the platform such as Google Now. It functions like your own personal assistant, giving you a wide array of options to manage your daily life. There is also expanded facial recognition software to provide an extra layer of security. Tablets that are marketed as e-readers are mainly a family device, with everyone having access to certain things. How great would it be if a face unlocked your kids profile and only their books would be listed or their favorite learning games? While your face would unlock your own library and favorite zombie stomping time killer?
In essence, all of these tablets issued by Amazon, Kobo, and Barnes and Noble are woefully outdated by current standards. More than ever, customers are seeing high performing hardware at prices under $259.99. In order to remain competitive in the marketplace, all of these companies need to adopt higher performing hardware and software. These e-reading tablets might appeal to a strong segment of avid readers, but could see an increased user population of casual customers who just want a great deal. The one advantage all of these companies have is a strong retail presence. You can't enter any store with a respectable tech section and not see a Kindle, Kobo, or Nook.
What do you think these companies need to do to warrant an upgrade from your older model or just buying one for the first time?

Michael Kozlowski is the Editor in Chief of Good e-Reader. He has been writing about audiobooks and e-readers for the past ten years. His articles have been picked up by major and local news sources and websites such as the CBC, CNET, Engadget, Huffington Post and the New York Times.