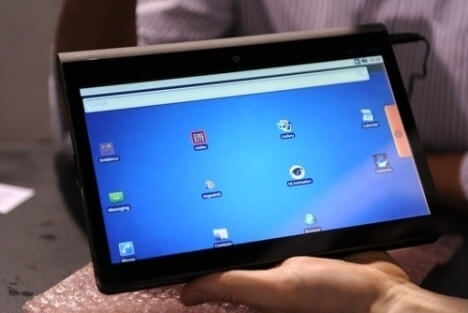 Notion Ink has a group of dedicated Indians working to build a tablet – Adam, Apple iPad's worthy competitor. After the buzz over the web last week, the official specifications of this Nvidia Tegra 2 SoC powered device have been finalized. The tablet, along with its official specifications, will be unveiled at the ongoing Mobile World Congress 2010 at Barcelona. Notion Ink will make Adam available in June/July and will charge between range of $327-$800 (Rs. 15,700-Rs. 38,400 approx.) depending on the configuration.
In terms of specifications, Notion Ink's Adam tablet clearly weighs more than Apple iPad – except the multi-touch supporting display with IPS technology. The Adam tablet runs dual-core ARM Cortex A9 CPUs bearing Nvidia Tegra 2 System-on-a-Chip while Apple iPad uses company's own A4 SoC silicon. Both SoC chips have capability of running at 1GHz clock speed. Check out more specs at our e-reader forum
Compared with iPad's 9.7-inch IPS LCD with 4:3 aspect ratio, Adam will come with 10-inch Transreflective LCD PixelQi screen supporting 1024×600 at the same time. Low power consuming PixelQi screen will support full color along with a Black & White mode. Apart from that, Adam's 10-inch screen is capable of displaying 1080p video playback, thanks to the Nvidia Tegra 2 which is also said to consume less power than its predecessor.
So, while iPad offers 10 hours web browsing on Wi-Fi and 8 hours of video watching experience, Notion Ink claims that Adam offers 16 hours of web browsing. The Adam also boasts of a 160 hour run time in backlighting off mode. While Apple sticks to Safari for iPad, Adam tablet will have Firefox and Chrome web browsers to support.
Adam's one of the most noteworthy part comes with multiple operating system support – Android, Ubunty and Chromium. Compared to this, Apple has iPhone OS 3.2 running on the iPad. Another significant feature the OS support on Adam is that the Adobe Flash Player 10.1 support will exist for better web browsing experience. And, oh boy, the operating systems on Adam would support multi-tasking. These features could be a game changer for Adam.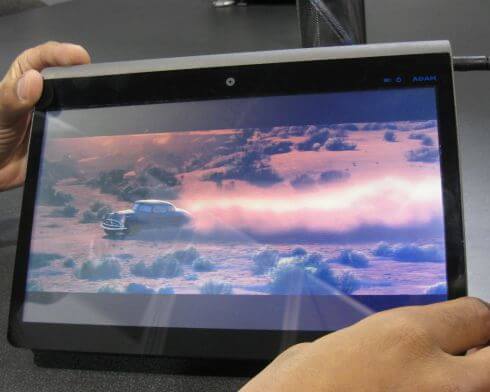 For storage expansion, Adam has SD card slot while Apple sticks to SSD options with 16GB, 32GB and 64GB storage options. For wireless connectivity Adam again has Wi-Fi, 3G and Bluetooth, just like in the iPad. Apart from that, the Adam has ambient light sensor, RF sensor, Assisted-GPS, proximity sensor, accelerometer and touchpad. Adam also offers HDMI and three USB ports. While iPad E-reader has no camera, the Adam tablet sports 3 megapixel auto focus camera.
Except for multi-touch and IPS LCD panel, the Adam Tablet clearly wins over the Apple iPad in every possible way when compared on specifications level. Looks like Notion Ink has put everything that isn't offered in iPad. Even on the price level, Adam has an advantage with start price of $327 (Rs. 15,700 approx.) while iPad's starting price is $499 (Rs. 24,000 approx.).
At the MWC 2010, this India-based firm will officially unveil Adam along with specifications and we expect fireworks once it is made available in June-July period.
Good E-Reader Blog