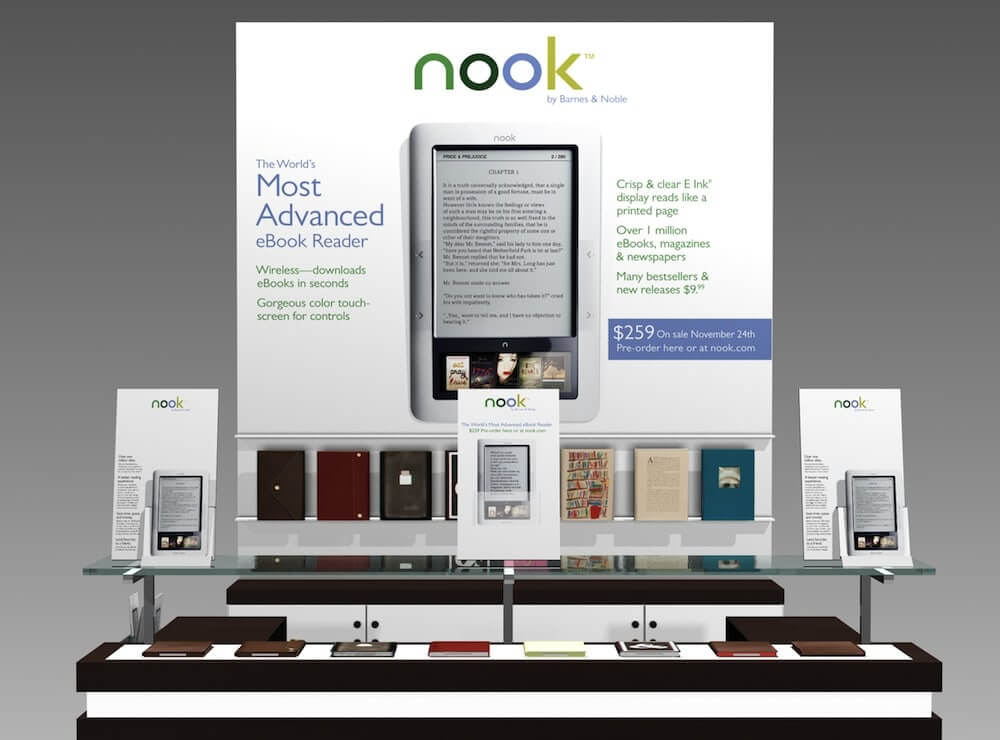 Barnes and Noble first got into the e-reader business in 2009 and the first few years were very profitable, primarily due to the lack of entrenched competition. The only company that mattered at the time was the Amazon Kindle, but it launched only two years prior. Barnes and Noble started to lose money when companies like Apple and Samsung popularized multimedia tablets, that could do more than just read books. Barnes and Noble tried to compete in this space with the Nook Color, Nook HD and Nook Tablet 7, but they failed to impact the marketplace. Since its peak in 2012, NOOK has lost over $1.6 billion dollars in revenue. Sales have consistently fallen and the losses do not seem to stop in the near future. Will Barnes and Noble sell the Nook brand to another company or will they continue to stay the course?
Presently, the company shows little interest in expanding their tech business. BKS is no longer selling their eReaders through their retail partners and has shifted their NOOK displays to the corners of their stores. Furthermore, Barnes & Noble's agreement with Microsoft to sell eBooks on the Windows platform has since been canceled. They also shuttered the UK bookstore and killed off their Nook App Store and Nook Video Unit. They also fired most of the Nook engineering team and outsourced all future app and e-reader developed to a 3rd party company. In 2017 they killed the Nook support forums, the last refuge of their loyal user base. Former CEO Ron Boire hyped the "omni-channel" approach that will blend the company's different businesses to create a compelling experience for consumers, whether they are shopping at a retail store or online.
The performance of NOOK in recent years has shown its inability to compete with the Kobo and Kindle platform. Unless we see the introduction of a disruptive business innovation such as a pay-to-read or an unlimited audiobook and ebook subscription model, the company will need to significantly reduce its NOOK losses in the next few years.
The Nook brand continues to struggle and the executives still working in the department do not have any long-term goals. They simply want to issue a new e-reader every three years, outsource the hardware to Netronix, outsource the coding to another company and just sell ebooks. The Nook Audiobook experiment is clearly a bust, they can't be bothered to even preload the Android App on any of their tablets, ditto with their GoodReads clone Browsery.
Who is to blame for the shortcomings of the Nook having no long-term business goal? Frederic (Fred) D. Argir is in charge of digital and came from Toys R US, who recently went bankrupt. Since he took the post in 2015 the only notable thing he did was fix the broken Barnes and Noble website and cut costs on the Nook. The Nook has more competition than ever before. Scribd relaunched their unlimited subscription model earlier this year, Amazon continues to dominate, Google got into audiobooks and is focusing pretty hard on ebooks, Kobo will entering the US later this year by way of Walmart.
The business philosophy of the Nook is as follows; do more with less, continued cutbacks and outsource. Former Nook engineers told me that Nook has no direction, everyone basically clocks in, has lunch and clocks out and lets the revolving door of CEOS try and placate investors. There is nobody left in the Nook department to voice a different direction of the brand to management, everyone who who was really good left the company long ago.
I would love to see Barnes and Noble finally sell the Nook unit, their investors would literary cheer. The question is who would buy it? Only Kobo Rakuten is likely to do it and Kobo does have a ton of experience taking over ailing digital bookstore business and transferring all of their users to the Kobo ecosystem. They did it with the Sony Reader Store, Blinkbox Books, Flipkart, Sainsbury's, Waterstone's In 2017 Kobo purchased a huge chunk of the Tolino brand from Deutsche Telekom and is now responsible for hardware/software design for all future Tolino branded e-readers and gets a portion of the book sales.
Kobo purchasing Nook would make sense. Kobo is going to be entering the US market very soon and Walmart will be e-readers in their stores and audiobooks/ebooks online. The impact would be huge for Kobo to get millions of Nook accounts and blast them with newsletters and promotions to get them to buy ebooks with a different company.
It remains to be seen what will happen with the Nook. Barnes and Noble clearly has almost zero interest in moving the brand forward and it will slowly fade into obscurity with an outdated business model, or they could just wash their hands clean and sell it.

Michael Kozlowski is the Editor in Chief of Good e-Reader. He has been writing about audiobooks and e-readers for the past ten years. His articles have been picked up by major and local news sources and websites such as the CBC, CNET, Engadget, Huffington Post and the New York Times.