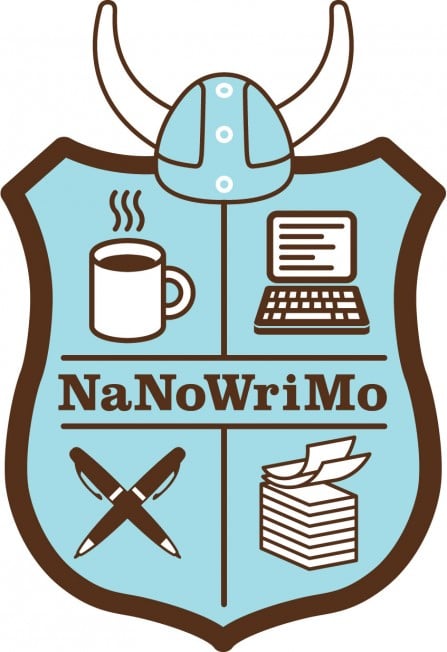 Ordinary folks may be stringing a few more fake cobwebs around the lamp post in preparation for Halloween tomorrow night, but die-hard authors–an anticipated 350,000 or so–are busy plotting and scheming against their characters and their plots.
It's NaNo time again, or National Novel Writing Month. If there's anyone left, book lover or author alike, who's never heard of the phenomenon, it happens when aspiring writers challenge themselves to put fingers to keyboard and produce a 50,000-word novel within the span of November's thirty days.
Too often, articles about NaNoWriMo focus on the projects that won the challenge before going on to becoming "real" books, as in NaNo projects that were later queried to agents and shopped to publishers. Some of the lucky chosen few were even adapted and optioned for film.
But that's totally missing the point of the project. NaNo is about the discipline it takes to write at 1667 words a day, every day, no matter how many football games or Thanksgiving dinners or Black Friday shopping events are going on. More importantly, it's about the author forcing the words to happen and not worrying about the editing process, at least not at this time. In short, it's about the challenge of accomplishing something massive, not the hope of getting published.
When you're done, you still don't have a book. That's why it's called the National Novel Writing PROJECT, not "ready to publish work of art." But the first step, perhaps even the hardest step, will be finished. You can edit later, add more chapters later, decide if you even want to query it later. But the effort will be worth it just in knowing that you are capable of putting in the labor and sticking to it. As one agent explained it to Publisher's Weekly, NaNoWriMo is the "kick in the pants" that many authors need to get the words on the screen.
For more information or to sign up for this year's challenge, visit the NaNoWriMo website at https://nanowrimo.org/.
Mercy Pilkington is a Senior Editor for Good e-Reader. She is also the CEO and founder of a hybrid publishing and consulting company.