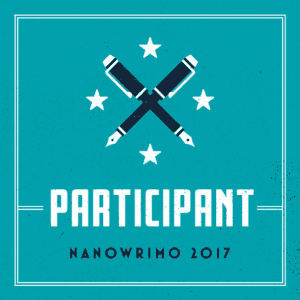 If you're connected to any writers on social media, your timelines are probably already filled with the complete spectrum of emotions concerning NaNoWriMo, or National Novel Writing Month. The elation at meeting or passing your word count goal for the day can be cause for a little humble-bragging, but the angst that goes with life events preventing you from getting to the keyboard can be overwhelming.
Even harder to bear are the poor writers who didn't get to join in the fun for one reason or another this year, whether it was too many other obligations, lack of creativity and spark, or just not feeling up to the challenge. It's hard to watch so many other writers celebrate their steps towards their goal while knowing you're not part of the fun this year.
Good news! NaNo has sent out an email update today reminding would-be novelists that it's not too late!
"You might be telling yourself that writing a novel is frivolous. That it's self-indulgent, or pointless, or not deserving of your focus right now. You might be telling yourself, 'Later.' Maybe this really isn't the perfect time for you. But don't let yourself get fooled into believing that you, writing a novel, would be wasting your energy."
But how is it even possible at this point? The typical daily average for NaNoWriMo is 1667 words, which some authors manage to surpass in a day and therefore bank up a few days' worth of word count. For a novelist who starts today, the new daily word count would only be 2,000 words. Of course, you could spend some time this week doubling up to 3,000 words per day and get yourself back on track in a short amount of time.
Regardless, the message is that only five days have passed; a number of writers, either intentionally or accidentally, find themselves with a few days here and there during November in which they didn't get to work on their projects. You would just need to be careful to avoid many more no-write days this month. To sign up, go to NaNoWriMo.org and create or sign in to your account.
Mercy Pilkington is a Senior Editor for Good e-Reader. She is also the CEO and founder of a hybrid publishing and consulting company.