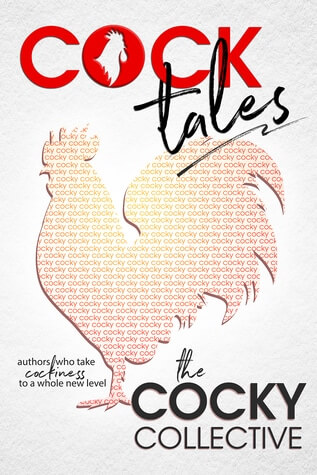 Cocktales is available for a limited time.
Just when you thought it was safe to write about cocks…er, cocky…again, the courtroom drama isn't over. Rather than admitting defeat and facing the loathing hordes, author Faleena Hopkins has apparently dug in her heels and plans to proceed with further legal efforts.
In the meantime, a judge ruled last week–after some awkwardly hilarious courtroom explanations of what exactly constitutes "cocky," and why shirtless, muscled torsos are all the rage–that some of the initial efforts to undermine other romance authors and their work were without merit. One of the authors, Kevin Kneupper, was removed from the lawsuit altogether, and others weighed in that Jennifer Watson's role as a publicist (rather than author or rights' owner) of some "cocky" works also meant she had nothing to do with this lawsuit.
Important word of advice: when you attempt to sue someone, make sure you know who they are and what they actually do. Hopkins named Watson in the lawsuit under the claim that she was the publisher on one "cocky" title when she was not.
That left Tara Crescent, and Judge Alvin Hellerstein dismissed the temporary restraining order requested by Hopkins that would have prevented Crescent from selling her own "cocky" book on Amazon.
There were a lot of key players in the matter, including the Authors Guild and Romance Writers of America. The AG issued a response to the events on its site which can be found here, but clearly stated the reason for its involvement in this issue by saying, "The Authors Guild seldom litigates on behalf of individual authors, but this is an important issue for authors generally. Authors should be able to express themselves in their choice of titles. A single word commonly used in book titles cannot be 'owned' by one author. This is especially true when, as here, the word has already been in use by other authors in titles for years."
There is a lot going on in the case, and perhaps nothing more beneficial came out of that court day than this: one lawyer took time out of his day to expertly explain what authors stand to lose in a case such as this one. Assuming the September court date has a better outcome for Hopkins–which Judge Hellerstein sagely cautioned isn't likely–authors who are sued stand to lose a lot. Marc Whipple (@legalinspire) posted a thread on the case that outlines why indie authors would do well to establish an LLC or other business entity to "publish" their books. In the event of a case with far better legal leg to stand on than this one, the defendant would only lose any assets their LLC owns as opposed to losing their home, their cars, their IRA, their kids' college funds, etc.
For what it's worth, Hopkins was a no-show in court, which leads to two possible assumptions. First, she's so "cocky" herself that she thought there would be no need to explain herself in the matter, or more likely, she's starting to realize that no one thinks her ill-planned attempt at owning a word in the English language was a good idea…not even herself.
Mercy Pilkington is a Senior Editor for Good e-Reader. She is also the CEO and founder of a hybrid publishing and consulting company.