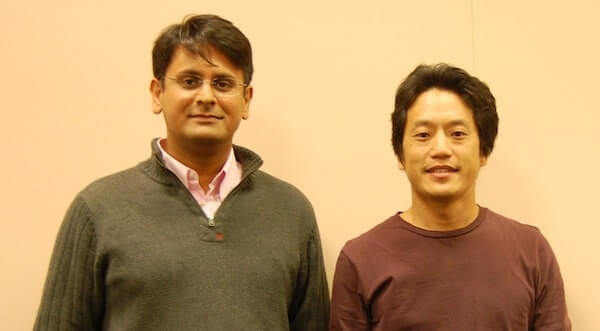 Today, Viz Media announced that its digital manga magazine Shonen Jump Alpha will publish manga chapters simultaneously with its Japanese counterpart, Shonen Jump. This means that North American fans of Naruto, Bleach, and other high-profile properties will be able to read the newest chapters digitally at the same time their counterparts in Tokyo and Osaka are picking up the print magazine from the newsstand.
Viz has reinvented the manga magazine and perhaps the entire manga market with Shonen Jump Alpha, which executive vice president Alvin Lu sees as a key part of building a manga community in North America. The weekly releases allow English-speaking fans to have the same sort of experience that superhero fans have every Wednesday, when they head to the comics store to pick up the latest releases and discuss them with their friends. While the Shonen Jump Alpha community starts out in the digital realm, Viz has a number of initiatives that extend beyond it to bring fans together in real-life settings.
Viz is the largest U.S. manga publisher, and when it came time to think about digital comics, they decided to go it alone, developing first an iPad app, then a website, then apps for the iPhone, Android devices, and Kindle Fire. Viz also publishes their books on the Nook. It has been just over two years since the iPad app was released, and Viz has been aggressive about adding content; currently, about 850 volumes are available digitally.
In addition to their book apps, Viz took the daring step of converting their monthly print magazine, Shonen Jump, into a weekly digital magazine, Shonen Jump Alpha, which prints fresh chapters of the most popular titles—Naruto, Bleach, and One Piece—just two weeks after their Japanese release. In October, at New York Comic Con, Lu remarked that Shonen Jump Alpha will soon go to simultaneous publication with the Japanese releases. The next day, I spoke to Lu and to Gagan Singh, who heads up Viz's digital arm, Viz Labs, about where Viz's digital efforts are leading the company.
Lu said that the users of Viz's manga apps seem to be experienced manga readers. "These are people who know their manga," he said. "It seems to be people who have print collections and are using digital as a way to augment or try out things, or to get back volumes that they have missed or that are no longer available. I say that because our backlist sales are relatively strong on the digital platform."
The other interesting thing about digital media is the distribution of titles. In the print domain, shonen (boys') manga tend to be either big hits, such as Naruto or Bleach, or low sellers, while shoujo (girls') manga go more toward the middle. But shoujo makes a stronger showing on digital. "Some of our top selling [digital] titles are shoujo titles, so there's more parity between the top shoujo titles and the top shonen titles on digital, which means there is a fairly strong, dedicated shoujo audience," Lu said. "We were fairly aggressive about moving onto phone platforms early on, and we see a younger and more female demographic—at least that's what we saw initially."
"We knew going in that comiXology iPad demographic was not necessarily the manga demographic," he added. "So putting it on the phones was an important move for us, and I actually think it has paid off pretty well, both on iOS and Android." He also observed that shoujo manga sales were relatively strong on the Nook.
Shonen Jump Alpha was another bold move. The Japanese publisher Shueisha, which is one of Viz's parent companies, publishes the Japanese Shonen Jump, so there is a natural synergy between the two publications. But pushing the U.S. publication from monthly to weekly, and going near-simultaneous with Japan, changes the whole game, Lu says. For many years, readers of American comics have had the ritual of going to the comics shop on Wednesdays, the day new comics come out, not just to buy comics but also to meet up with other fans. That hasn't existed in the manga world, because it is more of a book business than a serial business, but Shonen Jump Alpha brings that weekly component into the mix. "It's so important to build a core customer, a regularity, even a sense of community," Lu said. "As a company, our graphic novel business does great for us, but to really foster that manga community and to really grow that readership—we were struggling with that."
Shonen Jump Alpha has provided that platform. "That sense of community built up [very quickly] around this digital publication, and it became very apparent that Shonen Jump Alpha is much more than something you download onto your phone or something that you check in on on your website once a week," Lu said. "It's a living community that you interact with, and it goes beyond the digital delivery once a week."
Viz is stretching that community in different directions, with print exclusives for digital subscribers and in-person meetups at comics conventions—they handed out free ice cream bars at an off-site event during Comic-Con in San Diego last July, and during NYCC they had a meetup at the nearby Kinokuniya bookstore. Lu said that Viz will be going to more smaller cons, and they have already begun participating in Yu-Gi-Oh! shows, which are a natural venue as Viz publishes the Yu-Gi-Oh! manga.
Singh likened Viz's outreach to Mark Zuckerberg's original concept for Facebook: The chairman of a media conglomerate asked him how to build a network of his readers, and Zuckerberg told him that's not how it works: "You have to find a network that already exists and then you enable it through a platform. For Shonen Jump, it's not so much we are creating this network in any way. We cannot. It exists in the physical reality. There's manga clubs and there's anime clubs at schools, and they introduce each other. People give it to their friends, and the friends pass it on to the family, and that's how it grows organically. What digital allows us to do now is be able to communicate with these groups a little bit better, and also it helps us find them."
"I have never looked at myself or Viz as being a creative powerhouse," Lu added. "I think what we are good at is reading what people want and figuring out the most effective way to get that to them."
The ability to release new chapters of manga simultaneously with Japan is key to the success of Shonen Jump Alpha, because that is very important to one segment of the audience, Lu said. "With the print audience, a matter of months or even years doesn't matter that much," he said. "You can still drive those sales. For that audience that does care, though, a matter of days or even hours can make a difference. It's even interesting to see some of the comments around the initial announcement, just the fact that there are people out there who have been wavering, now that they are hearing simultaneous [with Japan] they say 'OK, now I'll subscribe.' We know that makes a difference."
Speed is only part of the equation, however. Every week, as soon as the new Shonen Jump comes out in Japan, groups of translators scan the pages, translate them into English, and post them on pirate sites. Viz may be able to deliver the pages faster, but they also charge for Shonen Jump Alpha, while most of the bootleg sites are free.
"There are two axes that drive the sales in our business, other than the content," Singh said. "There is the timeliness of the content and there's the price. And the farther out you are with high price and the farther removed from simultaneous, the worse off your sales are. The holy ground is where it's simultaneous and you get the price as low as you possibly could. We are going to continue to find ways to narrow the gap on either of those [axes]."
Singh also pointed out that Viz has started running surveys in Shonen Jump Alpha to determine how popular the different series are, much as the editors of Shonen Jump do in Japan. "That ties back into what we are talking about, enabling our readers and engaging them more as we move forward so they get their voice heard as well," he said.