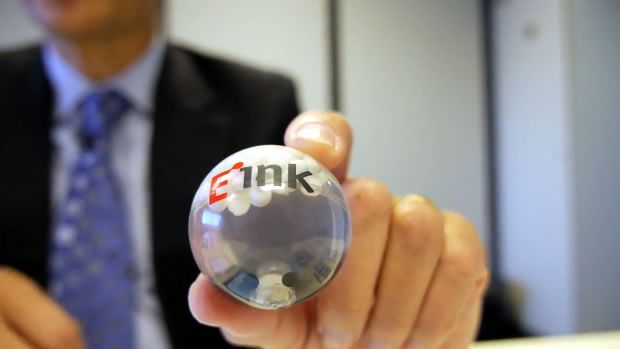 E Ink is the company that is responsible for almost every e-reader on the market. Their e-paper displays were employed on the very first Kindle e-reader in 2007 and continues to be utilized today. The company developed Regal Waveforms in 2013 which dramatically reduce the need for full page refreshes after a few page turns. In 2016 the company will likely release a second generation version of this technology and it will vastly improve the e-reading experience.
In order to truly understand how the second generation Regal Waveform system will improve our lives, we first have to become fundamentally aware of what it is and how e-paper has evolved over time.
E Ink works using microcapsules that contain a positively charged white particles or negatively charged black particles. By changing the charge within the panel, the mix of black and white can be altered to form letters and pictures.
In the early days of E Ink, turning the page would see it flash black, then white, then the text would appear.  That was a full refresh, flushing out the previously set image and replacing it with an utterly new one. Regal Waveforms allows the E Ink display to change only those parts that need changing: black particles from the old letter that would be in the same place in the next, stay in place. The means that devices like the Kindle Voyage, or the Kobo Aura can flick through more than 100 pages before the display needs a full refresh.
In June 2015 Freescale announced the IMX 7 dual core processor, which will be incorporated into most new e-readers in 2016. This chip was designed by both e Ink and Freescale.  It was chiefly developed to give you a better experience using Carta, Regal or Pearl screens, but was primarily made for whatever new e-paper tech e-ink comes out with in 2016.
The main benefits of Regal 2 in e-readers will be the elimination of full page refreshes and ghosting when you turn the pages of an e-book. This is made possible because many of the processes that used to handle this sort of thing would now run directly off the processor, instead of the RAM.
You might notice how e-readers these days are very slow. The Barnes and Noble Nook Glowlight is a perfect example. A really modern e-reader, using all of the latest technologies and runs the Android OS. Navigating menus and running different processes gives you a noticeable delay. This is mainly because the operating system and all software related functions are handled by the 1 GB of memory, instead of the processor. Future Nook e-readers will be faster, more battery efficient and will be able to provide a better software experience using IMX 7 and Regal 2.
Regal currently supports both Pearl and Carta e-paper technologies, but is not compatible with the Fina or Mobius. This is generally why we have not seen any large 13.3 inch e-readers hit the market, other than the Sony DPT-S1 and this is only because Sony c0-developed the technology with e-ink.
Amazon, Kobo, Onyx Boox, Pocketbook, Icarus and other companies still involved in the e-reader space release new products every single year. Sadly, as polished and refined as they all look, they are using very dated technology. Regal, Carta, Fina and Mobius were all developed in 2013 and since then, we have seen zero innovation. The only news they made in the e-reader space was this summer when we broke the news that they formed a partnership with longtime manufacturer Netronix to create a new company and provide end to end development.
E Ink  is overdue for new e-paper to come out and it is my belief that in 2016 we will hear an official announcement.  70% of their entire revenue stream derives from the e-reader sector and with the comprehensive development of IMX 7, we will likely hear about new technology in 2016.

Michael Kozlowski has been writing about audiobooks and e-readers for the past twelve years. His articles have been picked up by major and local news sources and websites such as the CBC, CNET, Engadget, Huffington Post and the New York Times. He Lives in Vancouver, British Columbia, Canada.