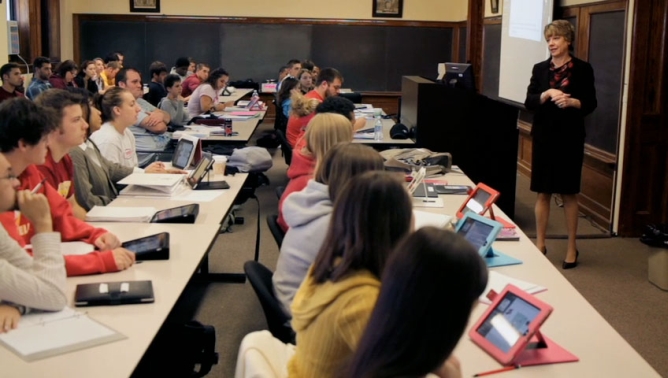 Education is always changing, but the one thing that doesn't seem to change is the way in which children are presented information. That, however, is changing considerably in the digital age, even if the progress is a bit slow. The innovation we are looking at today is that of Nook reading apps and the impact that they can make in schools. There are two types of learning environment today, the online learning environment and the basic classroom environment. The thing that both of these have in common, is that they are going to need books, and whether you are dealing with college students or K-12 students, books are prohibitively expensive, as unfortunate as that is. Accessing eBooks is now easier than ever before; most publishers are starting to release all of their books in digital format, which makes them more available as well as cheaper to produce. Where you might have paid $200 USD for a text book at one point, it can now be reduced to $50 or even less. Increased availability makes education cheaper, and that money can now be directed to more important things. South University recently discussed the clear benefits, along with Read Write discussing the benefits of eBooks over physical books.
Instant Delivery – the Ultimate Benefit
When you are working with textbooks, you quite often end up with outdated information, and that can be a bit challenging, for obvious reasons. First of all, you have to consider that outdate information can be almost harmful to a student's education, and it can take a considerable amount of time to order new textbooks. That being the case, eBooks, with their instant delivery mean students can have access to new information right away. Your textbooks will never be out of stock, and they will never be delayed by the mail system. Education should never be interrupted or delayed, period, and this instant delivery system make sure that it is not.
Health Benefits for Students
If you have ever been a part of any debate about education, there is a good chance that the concerns regarding overstuffed backpacks have been raised. There is more than a good chance that heavy books and other materials are causing back pain and other issues in students, and with that being the case there is definitely a good argument for eBooks and tablet devices. As a student, having a lighter backpack will present you with countless benefits, and you can even access your books across a number of devices.
Because books are now stored on an electronic device, you can have as many of them as you want, and you can even access them across various devices. For example you could start reading on one device, and then move over to another device. If you consider how many students carry their smartphones to school, you will quickly see the benefit of this. In other words, forgetting books at home is no longer an option.
Multiple Styles of Book for Different Styles of Learning
It is known that students tend to learn in many different ways. There are those who learn well using info graphics, and there are those who learn better with text. In addition to that you will find that there are a number of students who learn better when they are read to aloud. The majority of eBooks, even textbooks, will have an audio option that makes it simpler to follow. Once again, there are some that will not benefit from this feature, but having it available at all is definitely beneficial. That being said, having eBooks and e-reader software around is highly beneficial. This, we believe, is the very definition of 'no student left behind', and this time it is put to practical use.
Searchability – a Must-Have Feature In the 20th Century
In the old days, searching through a book was done manually, there was no other way around it, and no other way for us to get it done. This worked, of course, and the manual approach produced some great mind, but can you imagine how much more efficient it would be to have the capability to search through the textbook for specific keywords? When one is studying or doing homework, search features will make the work quicker, and it will help the learning process. Most importantly, it will cut down on frustration.
The time is coming when e-reader applications will successfully replace physical books, and it couldn't come soon enough. If you are in a position to make a change, then making the switch to digital books would be within the best interest of you as well as the organization that you represent. It won't be long before all books are presented in digital format, which will help students, protect the environment, and make things easier for you overall. It's a brand new world in academia—it's time to embrace it!

Markus lives in San Francisco, California and is the video game and audio expert on Good e-Reader! He has a huge interest in new e-readers and tablets, and gaming.