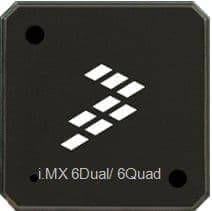 One company that we don't hear much about in the consumer electronic market is Freescale. The reason for this is that they are traditionally back stage players. They make the chips which are fitted on e-book readers or other in-vehicle entertainment systems. We see the devices everywhere but are not much aware of the chip that actually makes it run. We rather hear or read about big names like Qualcomm, NVIDIA, Texas Instruments, and Samsung for the tablets and Smartphones that they have given to the market. Freescale is now going to come up with two low power processors based on the ARM Cortex-A9 core.
One of the chips that they are developing is a 1 GHz single core processor named the i.MX 6SoloLite. It will support devices which will have 2D graphics, as well as E Ink and LCD display panels. The chip has 256 KB of L2 Cache and compatible with 32 bit DDR3 memory chips. Next generation e-book readers, which are expected by the end of this year or early next year, will have this chip from Freescale at its heart.
The other advantage that the new chip from Freescale offers is that it draws less power, thereby enhancing product run time. However, that is not at the expense of performance; rather, it adds several new features which in turn enhances its overall performance. Further, the chip is cheaper than its predecessor.
The second chip that Freescale is launching is named the i.MX 6DualLite and, as the name might suggests, it comes with twin cores. Even though it runs at 1 GHz clock speed, it has 512 KB of L2 cache, and also supports 3D graphics.
This second chip is to be used on tablets, medical system equipment, home energy management solution devices, televisions, and other such devices.
Also, the new Freescale chips are expected to be ready by the second half of 2012.
via liliputing
Sovan Mandal is the senior tablet and tech corespondent for goodereader.com. He brings a international approach to news that is not just applicable to the North American market, but also Asia, India, Europe and others. Sovy brings his own writing flavor to the website and is interested in Science Fiction, Technology and Writing. Any questions, send an email