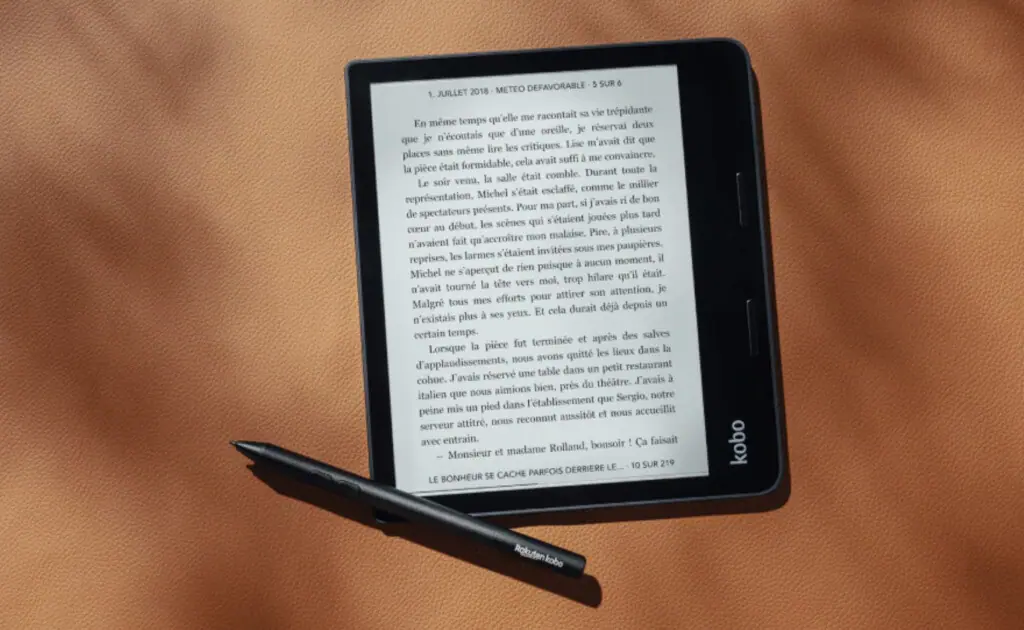 Are you looking to buy a Kobo e-reader? Great! You've selected a great brand. In this blog, we're going to review the top 5 Kobo e-readers you can consider buying.
So, let's get started:
#1 Kobo Elipsa 2E
If you're looking for a Kobo e-reader with the largest screen, you need the latest version Elipsa 2E. The 10.3in E Ink display, paired with high 1404X1872 resolution and adjustable front light, provides excellent clarity and contrast. It's great for reading in most situations except when traveling due to the bigger screen. Fast and responsive, Kobo Elipsa 2E is an excellent e-reader for both reading and note-taking.
The 32GB of non-expandable storage gives you plenty of room for eBooks, Kobo audiobooks, and every note. Kobo Elipsa 2E and Kindle Scribe have many things in common, but the software experience of the former feels better.
But this e-reader may not be for audiobook fans because its audiobook selection is more limited than Amazon's. It comes packaged with Kobo Stylus 2, which lets you write or annotate directly onto books.
#2 Kobo Sage
Kobo Sage has many features in common with Elipsa 2E. But this medium-sized e-reader with an 8-inch screen is best for reading at home and on the go.
In fact, Sage combines the pros of the Elipsa and the Libra 2. It's more compact and portable than Elipsa. It has many features that are missing on Elipsa, like Bluetooth, waterproof casing, and physical buttons. So, Kobo Sage is the best e-reader for all situations.
#3 Kobo Libra 2
The 7-inch Kobo Libra 2 looks like Libra H2O with key differences in battery capacity, Bluetooth support, and USB-C. The Bluetooth support is a much-welcome change, which allows you to listen to audiobooks on the e-reader. Thanks to its waterproof casing, you can take your e-reader in the bath or pool.
Libra 2 has built-in page-turn buttons and provides space for gripping the device, thus giving a more book-like handling experience. Although heavier than its predecessors, the Libra 2 is still comfortable to hold, thanks to the dedicated grip area.
The 300ppi E Ink Carta 1200 screen is the same new panel as on the Elipsa, giving a comfortable reading experience.
#4 Kobo Clara 2E
This is the first Kobo e-reader made from recycled and ocean-bound plastics. The 6-inch HD E Ink Carta 1200 screen makes it lightweight and easy to carry. The crisp touchscreen display doesn't reflect light, which means you read comfortably even in direct sunlight.
Kobo Clara 2E has an IPX8 rating, so you can submerge the e-reader in two meters of water for up to 60 minutes. It's safe in the water!
But many people have complained about its slow performance compared to other e-readers on the market.
#5 Kobo Nia
The Nia is Kobo's base model in its four-tier lineup, with a 6-inch display and a buttonless front with a touch screen. The hard plastic back features a stippled texture, which makes it easy to hold and non-slippery.
Kobo Nia features only one physical button – the power button – next to the micro-USB charging port. Although Kobo Nia is great for reading plain text, the small screen is not ideal for manga and comic fans. The screen is too small for viewing pictures.
Hopefully, now you know which Kobo e-reader you should buy.
Navkiran Dhaliwal is a seasoned content writer with 10+ years of experience. When she's not writing, she can be found cooking up a storm or spending time with her dog, Rain.