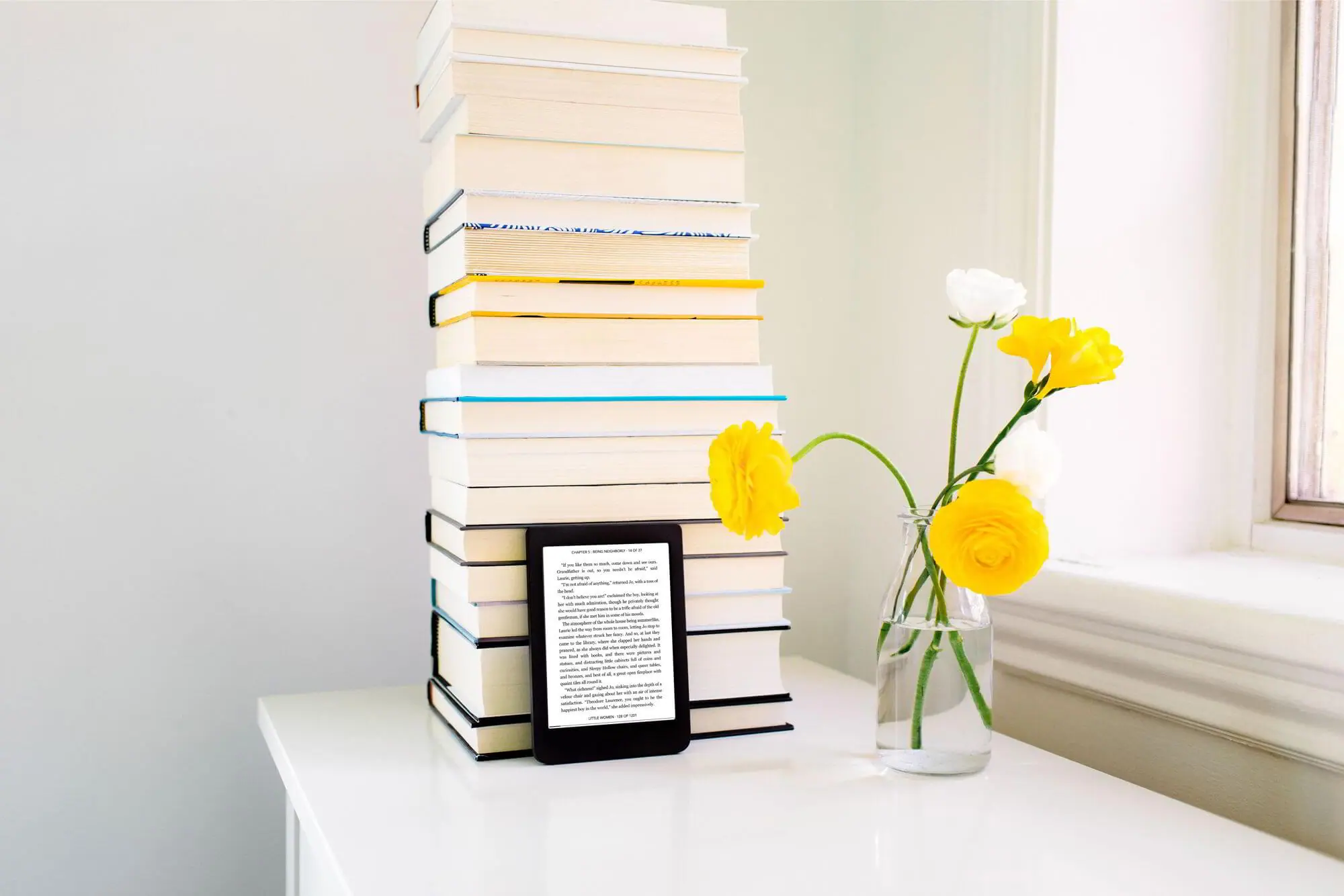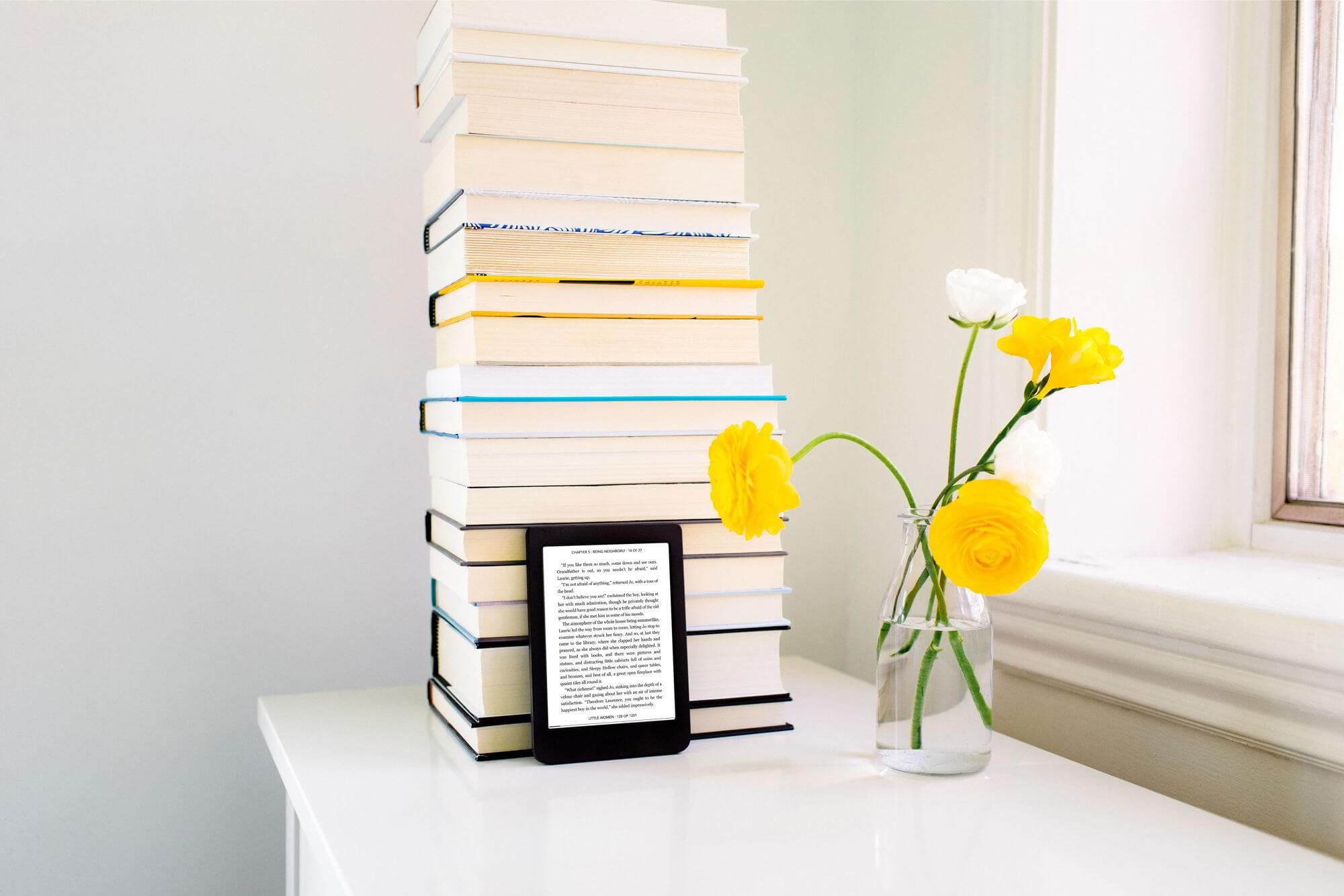 The Kobo Nia is the first e-reader that the company has released in 2020. It is considered an entry level e-reader that is ideal for people who have never had one before or had an older Kobo branded device that is more than five years old.  It is great to read ebooks, borrow ebooks from Overdrive or read blog articles from Pocket. It seriously lacks the hardware power to read PDF files effectively or use the experimental web browser.
Hardware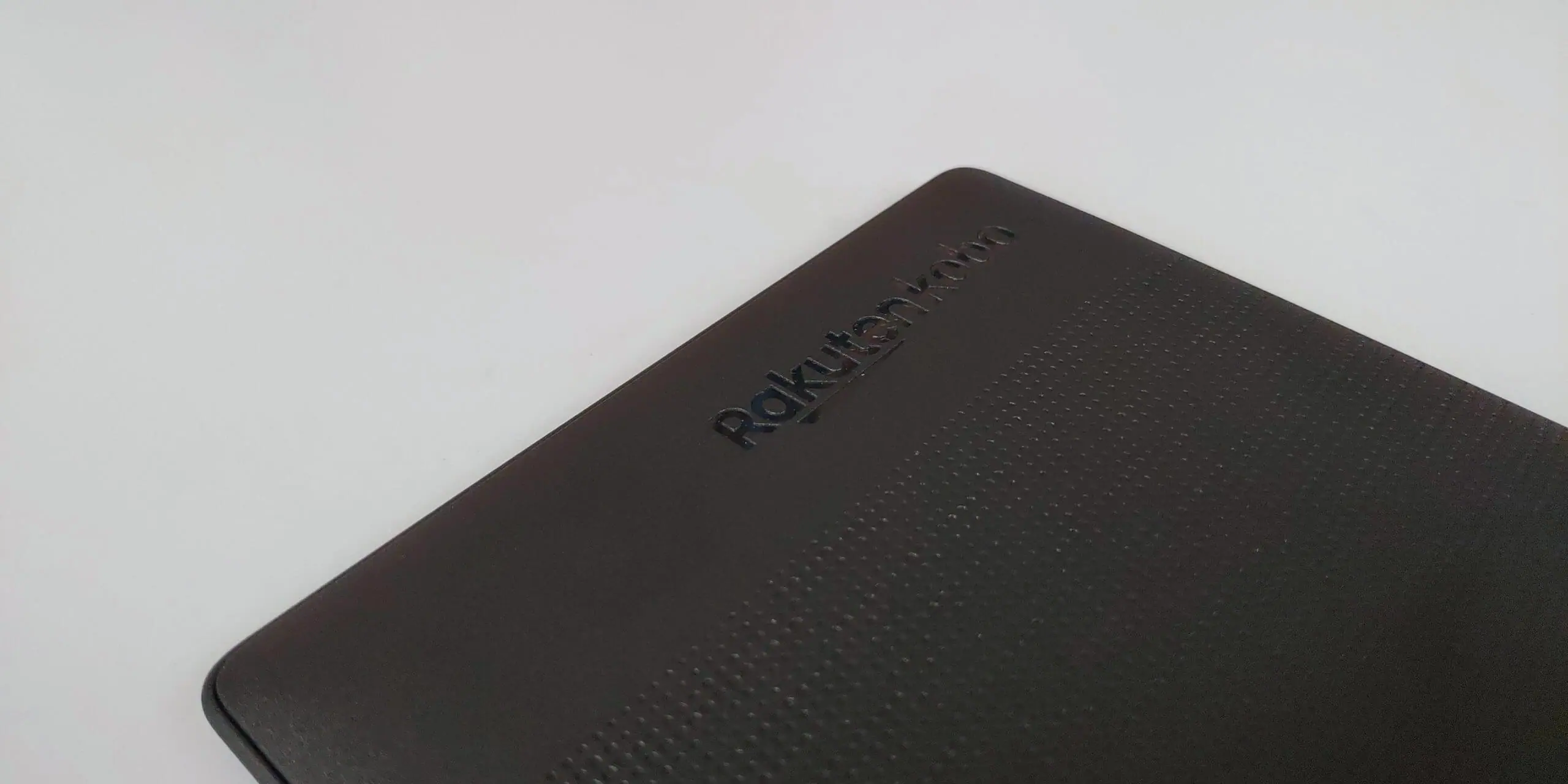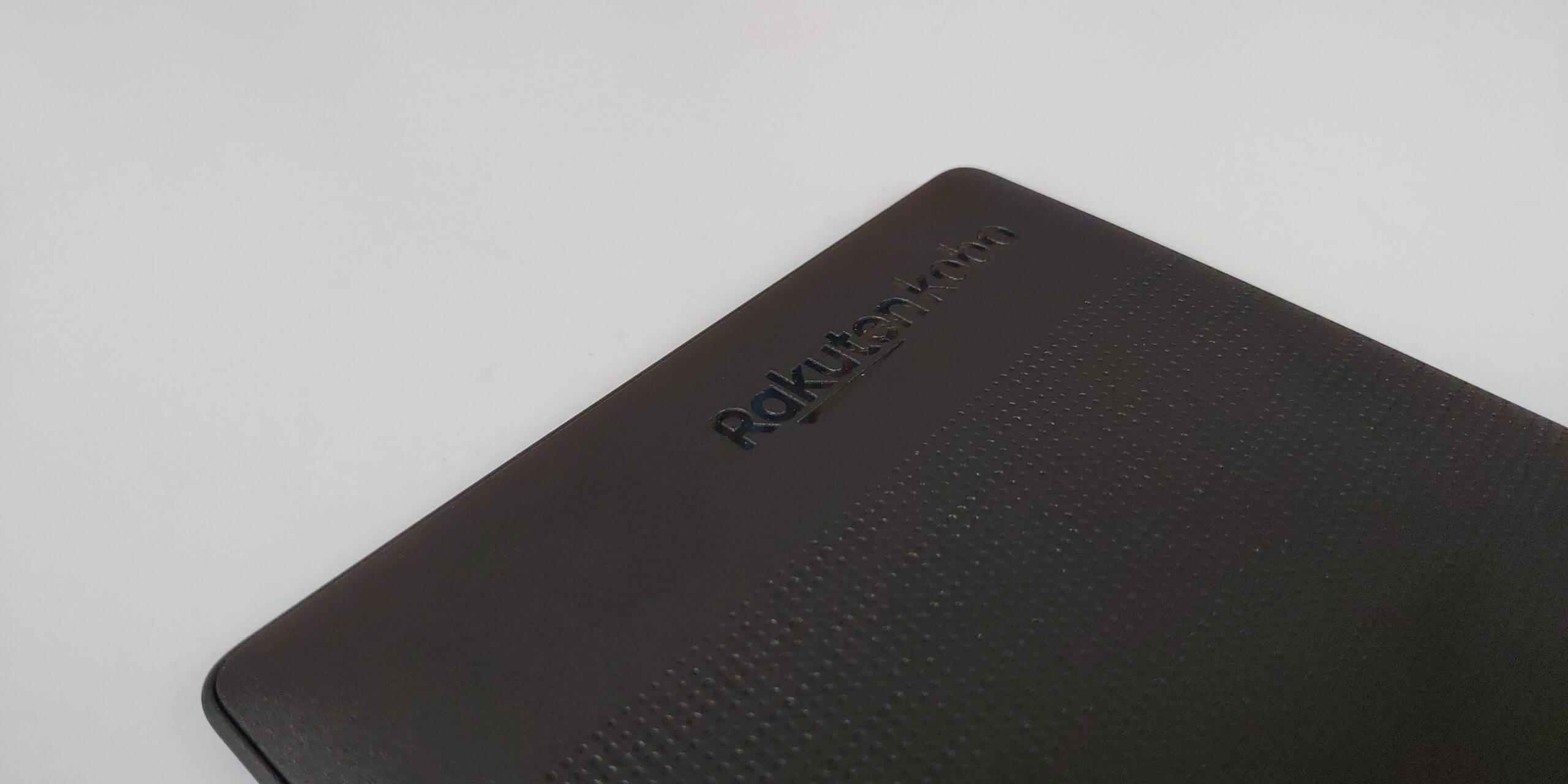 The Kobo Nia features a six inch E INK Carta HD capacitive touchscreen display with a resolution of 1024×758 and 212 PPI. The screen is sunken and not flush with the bezel.
It has a frontlit display with white LED lights, but no amber LED lights.  There are 5 white LED lights There are fewer LED lights on this unit, which does not provide totally even spacing and the illumination settings pale in comparison to the Kobo Clara HD, which costs $30 more and has 8 white LED and 7 Amber to provide a candlelight effect.. Overall, it does the job of being able to read at night, but the lighting isn't that great.  Since this is an entry level e-reader it is not waterproof, so it is not possible to read in the bath, or at the beach.
The vast majority of Kobo e-readers are employing the Freescale IMX6 Solo Lite processor that is 1 GHZ. The Nia is the first Kobo e-reader to utilize the i.MX 6ULL processor, which is power efficient and cost-optimized, featuring an advanced implementation of a single Arm Cortex-A7 core, which operates at speeds up to 900 MHz.  The Nia has a paltry 256MB of RAM and 8GB of internal storage. The internal storage is housed on an SD card that is soldered onto the motherboard, there is no user accessible SD card slot.  You can access the internet via WiFi 802.11b/g/n and power it via the Micro USB port. It is powered by a paltry 1,000 mAh battery. The dimensions are 112.4 x 159.3 x 9.2 mm and it weighs 172g.
The industrial design of the Nia e-reader features an all black body. Below the e-paper screen is an  embossed Kobo logo, also in black, so there is little contrast between the overall color scheme and the logo. On the back of the device is another Kobo logo, but the font is piano black. There are perforations on 3/4 of the back, basically where you would hold it with two hands, while reading. These little grooves make it easier to hold and to ensure it will not slip out of your grasp. It also provides the added benefit of being less susceptible of leaving fingerprints, so you will not have to constantly clean in.  The top of the e-reader and sides are devoid of all buttons, everything is on the very bottom. This includes the power button, status indicator light and Micro USB port.
On a hardware design level, the Nia looks really good. The box cover art has a myriad of eye catching colors, which should turn heads in a retail environment.  Sadly, the lack of processing power and abysmal RAM really hampers performance. It really struggles when doing anything other than browsing the Kobo bookstore, reading an ebook, reading a Pocket Article or browsing your local libraries branch's digital collection, checkout out an ebook and then reading it. Accessing menus, or sub-menus, browsing the internet or viewing a PDF takes a really long time to load and is prone to crashing.  When filming our review video, the interview browser crashed on 7 different occasions when visiting popular tech websites.
Software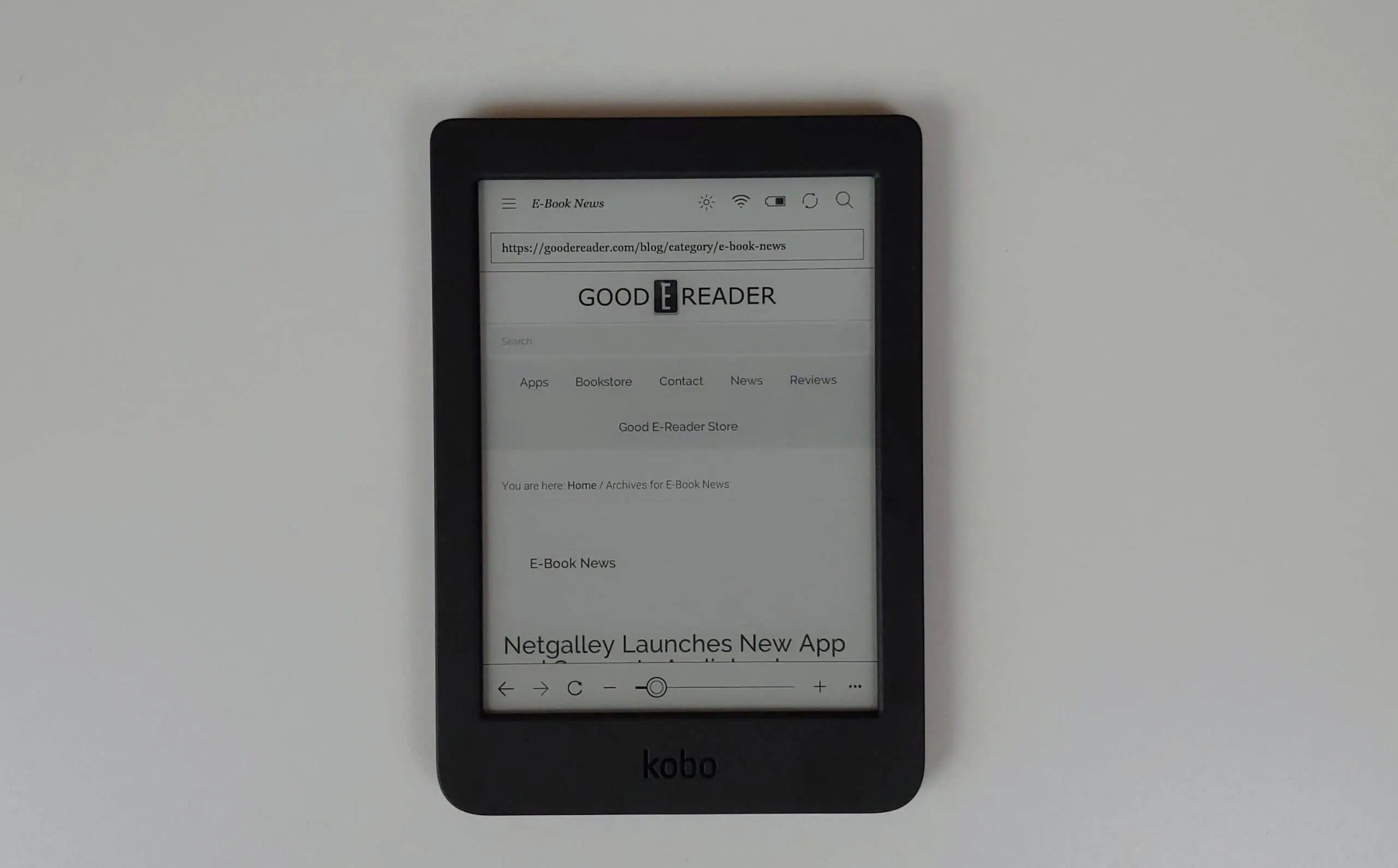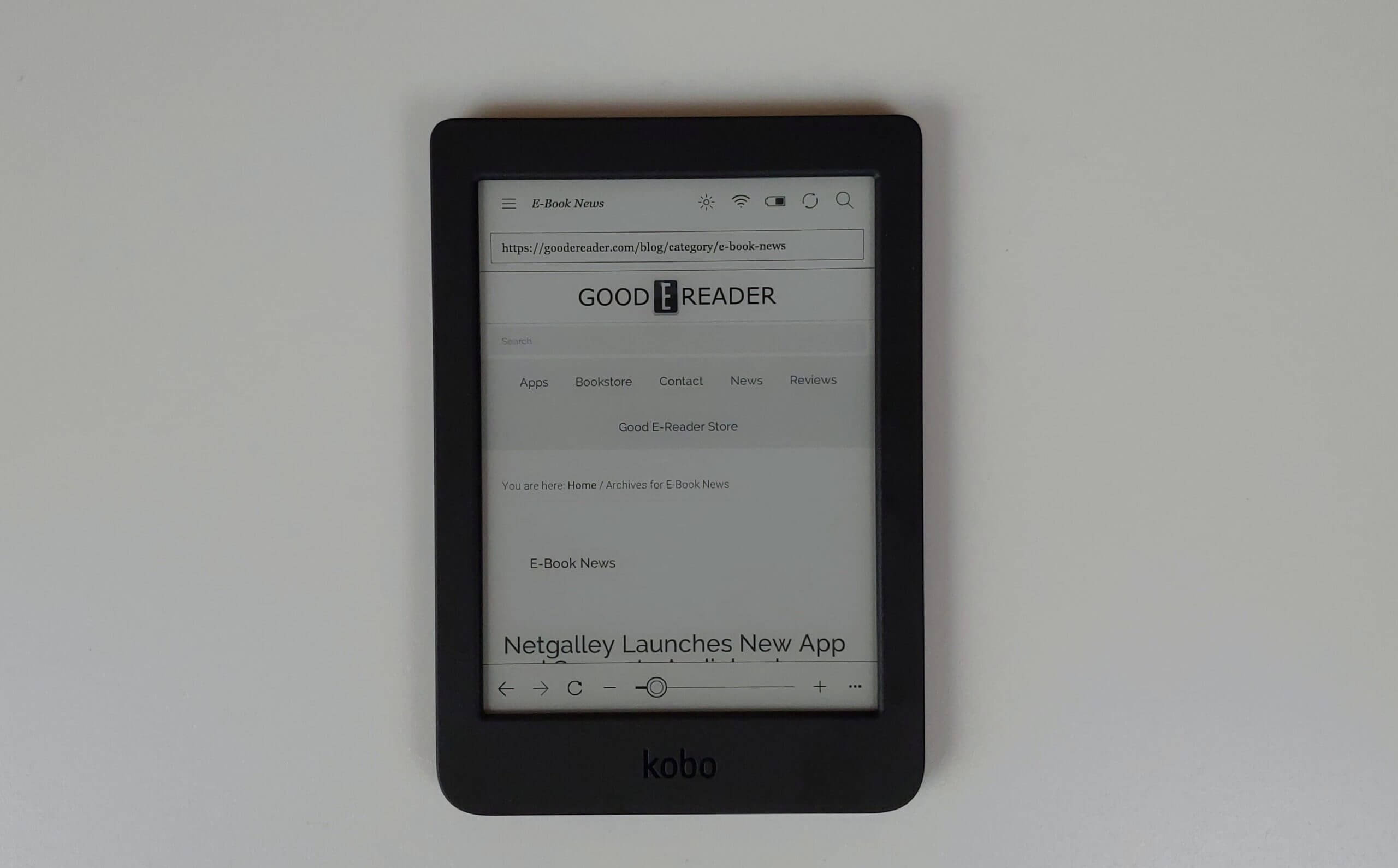 Kobo runs a customized version of Linux, instead of Google Android. This allows them to really tailor the user experience.  The home screen comprises of the last few books you have opened or have purchased and the rest is devoted to similar titles and various links to the Kobo online store. When you click on the settings menu the main navigation bar is more condensed and the text is smaller and more streamlined. Many people who own a Kobo e-reader also have a family. Sometimes the kids pick up the Kobo and use it when the parents are not around and make purchases. Kobo has a PIN lock system where you can establish a password and whenever the device is in sleep mode the password has to be entered in order to wake it up.
The library menu is where you will spend most of your time. There are two main options to display your content, list and cover view. List provides you with the full author name and the title of the book and cover mode basically just shows the ebook cover art. You can sort by author, date added or publisher. You can also develop your own collections and pick and choose what books you want to add to it. When you are done reading a book you have the option of leaving a review and the review is automatically entered into the Kobo bookstore. There is also an option to automatically remove the book from your device upon completion to conserve on memory.  There is also a new option in the library to browse similar titles, which opens up a little pop up bar at the bottom of the screen. You can click on one and it opens the bookstore, but you can also improve the recommendation engine over time by flagging your interest level in a particular author or genre of book.
Kobo has an exclusive arrangement with Pocket that allows you to push website and blog articles directly to your e-Reader. The easiest way to do this is to download the Pocket browser extension for Chrome, Edge, Firefox or Safari. Once you download the extension and log into the service you can begin to push out all of the stories you want to read to your e-reader later and they will automatically be synced. The articles will include any links, pictures or text, but truncate short code and adverts. The Kobo beta internet browser also has a new Pocket plugin that allows you to send any blog articles directly to the Article menu. There is an option to automatically delete all Pocket articles when you have finished reading them on your Nia.
One of the big reasons to own a Nia e-reader is because of its seamless integration for the public library that uses the Overdrive content distribution system. They are the leading provider and have a huge market share in Canada, US, and Europe. Overdrive on the Kobo Nia currently works in Canada, United States, United Kingdom, Australia, New Zealand, Denmark, Finland, Norway, Sweden, Taiwan, Hong Kong and Singapore. In order to get started you need a library card and a four digit pin number. You enter the card in the settings menu and once it has been verified a new option appears on your homescreen. Your local branch is listed and you can browse their collection of ebooks. Most libraries curate the main screen and they put an emphasis on seasonal titles and also new and notable. If you are looking for a specific book or author there is a dedicated search bar.
Once you have found a title you like, there is a drop down menu on the product description page that will automatically download the book to your Nia. It will appear in your library menu and you normally have around two weeks to read it, before it is automatically returned to the library. For the most part, each ebook in your library  is one user, one use.
If you complete the book early, there is a another drop down option in your library that allows you to manually return the book. Once you do this, you should also delete the book from your library menu, since its not done automatically.
Unlike many e-readers on the market, Kobo has a deep and rich digital bookstore. This is likely where new users to the ecosystem will visit first to purchase paid titles or download free ones. There is little cover art and imagery, there is mostly text, which decreases the number of graphical assets that has to load on a slow WIFI network. You can checkout the cover art, product description page and reviews. Kobo has just launched a new unlimited subscription system in Canada, called Kobo Plus. There are hundreds of thousands of titles. You can sign up for Kobo Plus right on the Nia and in the bookstore, eligible ebooks will have a flag, letting you know, they are participating in the program and can be read for free.
One of the best things about the Kobo software experience is the frequency of firmware updates. They tend to push out bug fixes, enhancements and new features every couple of months and still support e-readers from 2012. Amazon frequently suspends support for e-readers more than 4 years old, to encourage their users to always buy the latest generation.
Reading ebooks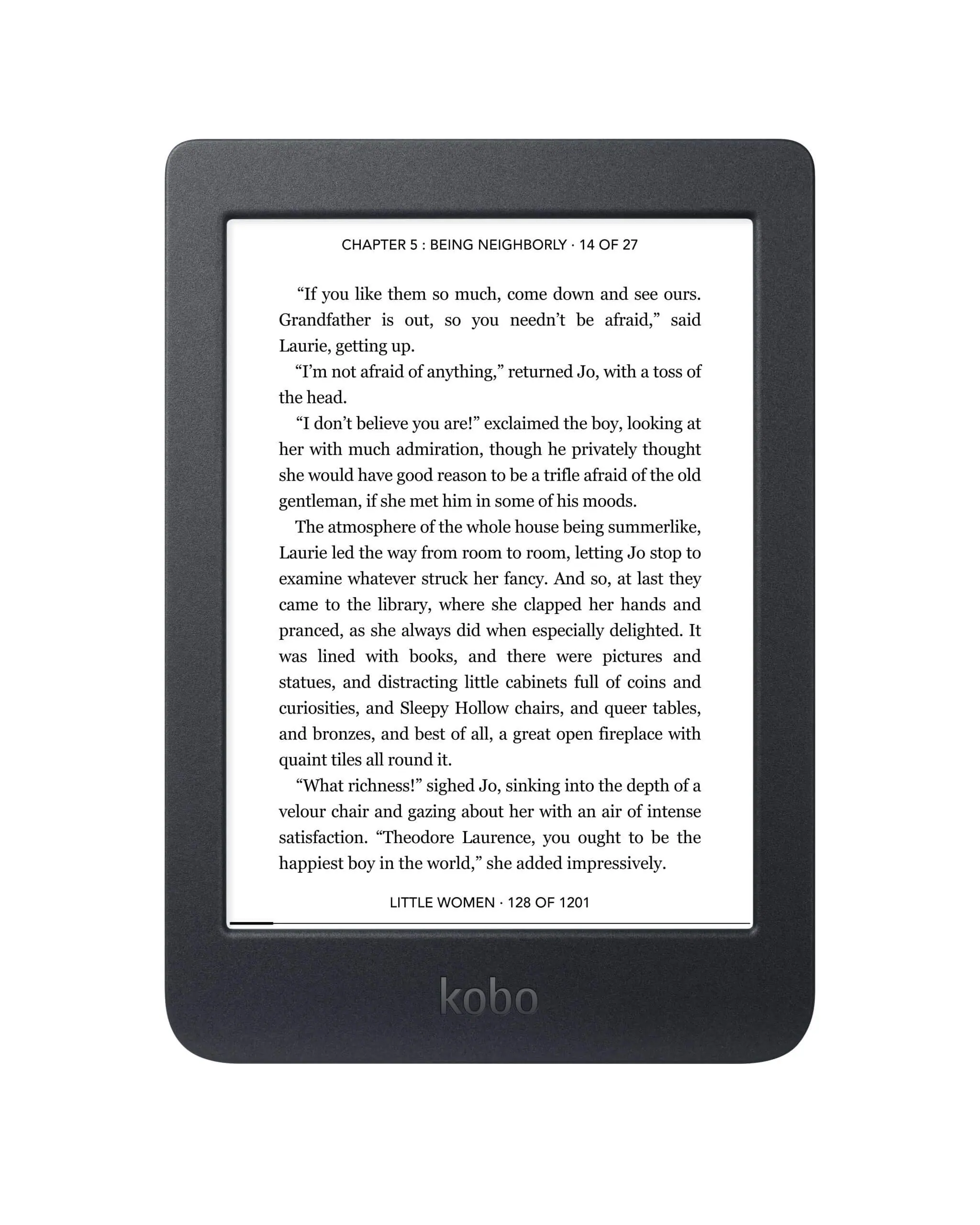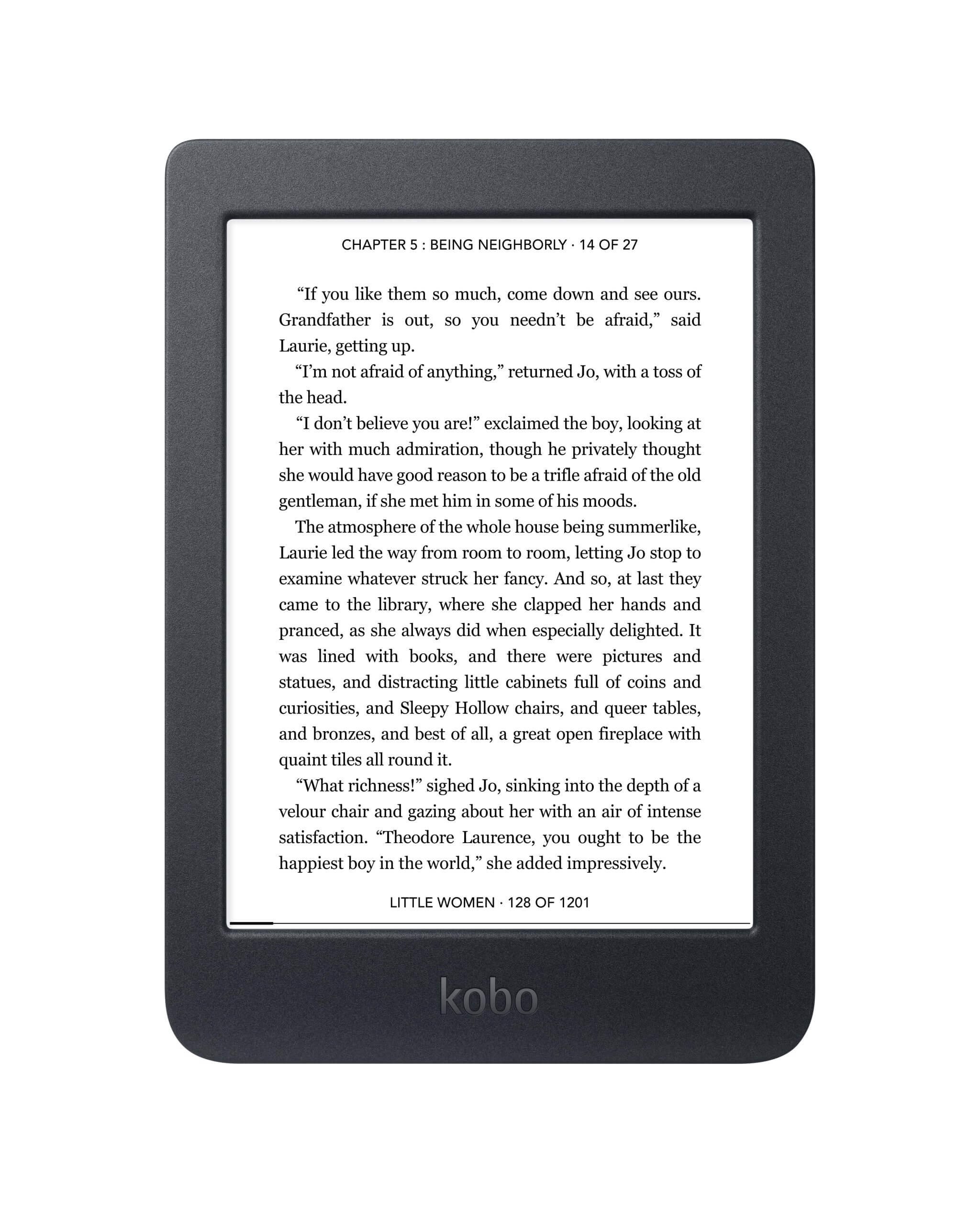 Kobo does an amazing job in making their e-readers appealing to both casual and hardcore users. They have plenty of advanced options that the competition simply cannot match. One of the most popular is having the ability to load in your own fonts. This is useful if you want to load in stuff like Bookerly or Ember, two fonts Amazon developed with e-readers in mind.
Most e-readers and e-reading apps have a few different preset options to change the line spacing, margins, or font size. Kobo does things differently, they also have a bunch of sliders that allow unparalleled flexibility in determining how much weight you want your fonts to have and configure the margins and line spaces. There is also advanced options that allow you to see a before and after side by side that shows you how all of your customizations will look, compared to the existing settings.
The Kobo Nia was designed to basically read EPUB and KEUB books. They also have support for manga, graphic novels and comic books with CBR and CBZ, so users will be able to download them from the internet and easily load them on their reader. When it comes right down to it, it reads: EPUB, EPUB3, , MOBI, JPEG, GIF, PNG, BMP, TIFF, TXT, HTML, RFT. One of the new ebook formats the Nia supports is Flepub, a new fixed Layout ePub. This particular format is ideal for children's books that are more graphic dependant, you can see an example of an ebook using it HERE.
When you are reading a book, the only way to turn pages is through swipes and gestures. There are no physical page turn buttons.  If you long-press on a word and get an instant definition of it. If you speak another language, you can look the word up in Japanese, Italian, German, Dutch, and many more. When long-pressing a word, you get an anchor that will allow you to select a single word, sentence, or entire paragraph. You can then highlight it or add a note. When you add a note, a virtual keyboard appears that allows you to manually add one.
There are also a few other notable options. You can monitor your reading progress with a dedicate button on the bottom of the screen. It tells you how much time remains in a specific chapter and the estimated duration on when you will complete the book. Some e-reading apps have this at the bottom of the screen while you are reading a book, I like how Kobo makes this optional. Speaking of optional, there are also settings that allow you basically turn off page numbers, and everything like that, so it just shows the text on the screen and no other progress indicators.
The PDF experience is totally awful, do not load these files on the Nia. Even small PDF files take a very long time to load. This is because the device is using a paltry amount of RAM and not even a 1GHZ processor, so it really struggles.
Wrap up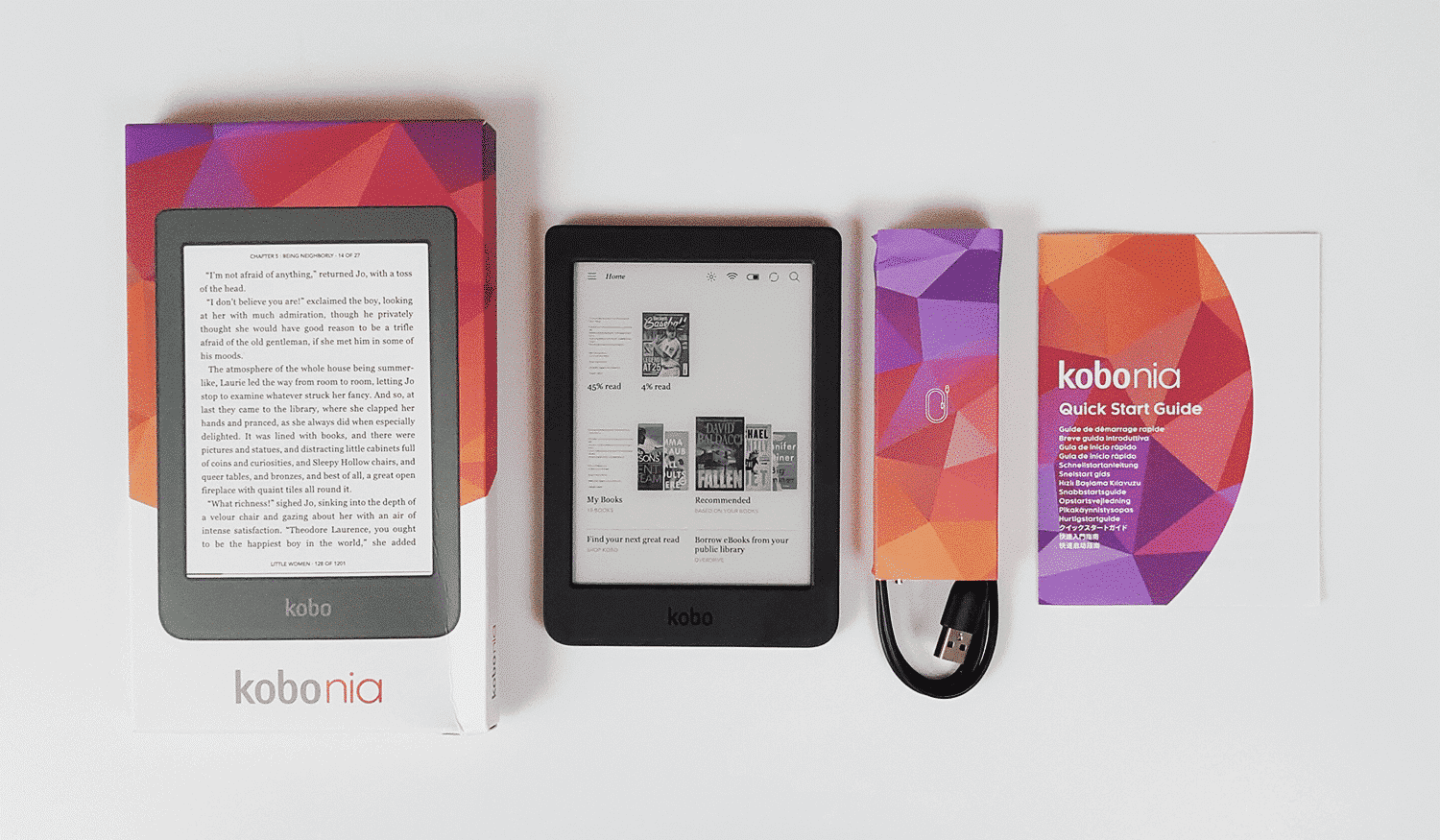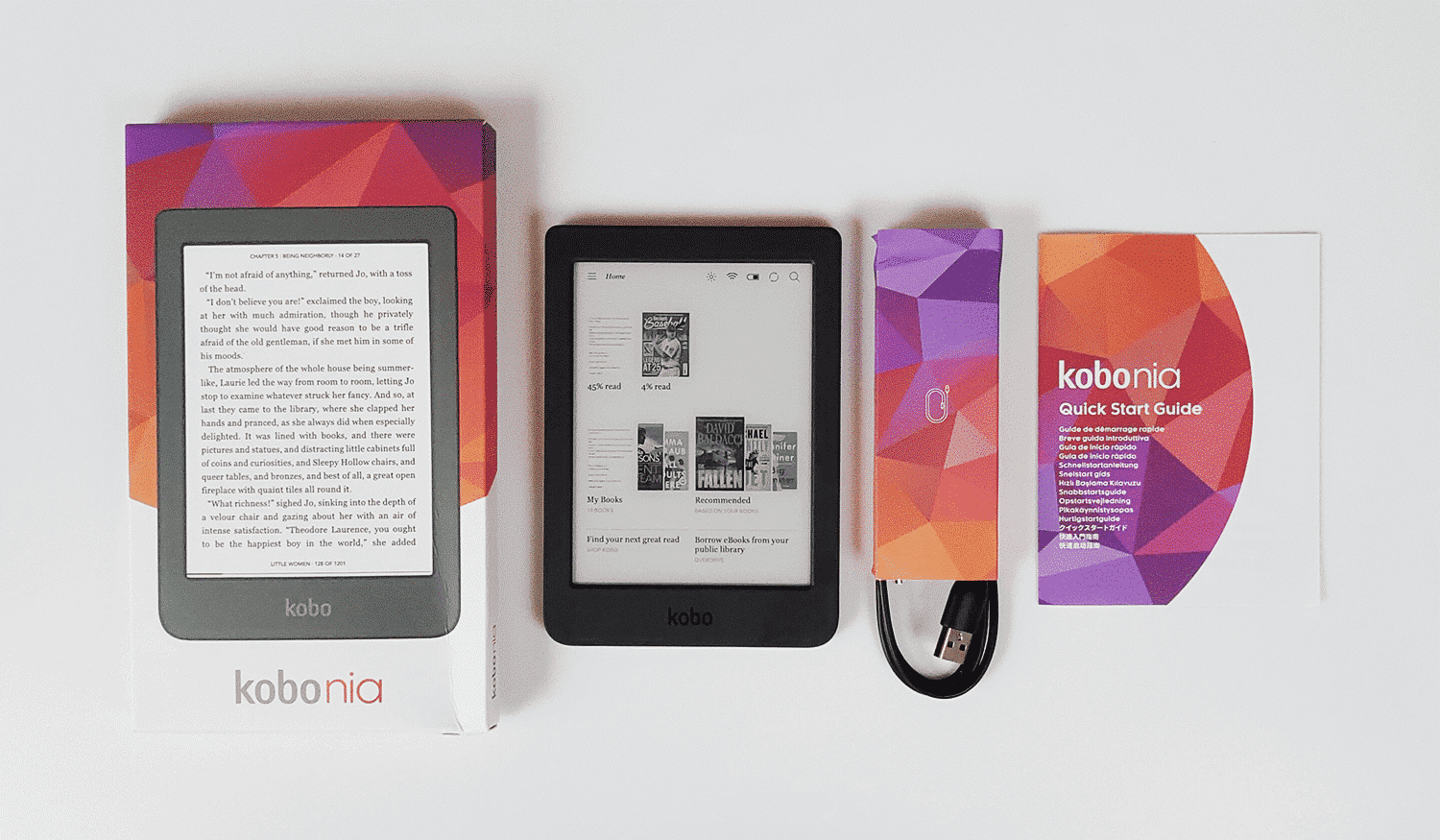 The Kobo Nia is a bargain basement e-reader that is basically the lowest priced SKU in their portfolio. It comes out on July 21st, but is available to pre-order now in Canada, US, UK, Europe and Australia. Walmart is no longer carrying Kobo e-readers anymore in their stores, so they are now difficult to try before you buy.
Should you buy this e-reader? I would suggest no. It is totally worth it spending $30 more on the Clara HD, which has a 300 PPI screen, a better lighting system and better hardware specs. There is no reason why an e-reader in 2020 should have a 212 PPI screen. Even if you are new to e-readers on a budget, the Nia will let you down at every corner.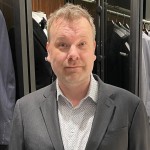 Michael Kozlowski has written about audiobooks and e-readers for the past twelve years. Newspapers and websites such as the CBC, CNET, Engadget, Huffington Post and the New York Times have picked up his articles. He Lives in Vancouver, British Columbia, Canada.