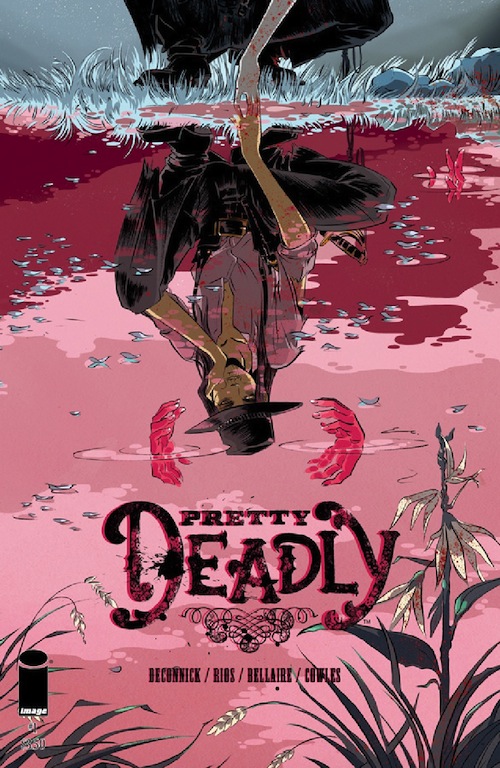 Here's my weekly look at the best-selling digital comics of the week, as of Sunday evening.
1. Wolverine and the X-Men #37
2. Justice League #24
3. Uncanny Avengers #13
4. Pretty Deadly #1
5. Young Avengers, vol. 2 #11
6. Ultimate Comics Spider-Man #28
7. Velvet #1
8. Justice League Dark #24
9. Aquaman #24
10. Captain America #25
Marvel takes the week with five titles in the top ten, while DC has only three. The other two are new series debuts from Image. Pretty Deadly was the subject of a bit of controversy this week, when a reviewer mentioned his retailer disliked it so much he ripped up a copy. Writer Kelly Sue DeConnick's response was measured and professional: She didn't care about the ripping up of the comic, but it sold 57,000 copies in print, far beyond her expectations, and she was disappointed that the retailer's stunt took attention away from that. It looks like plenty of people liked it in digital, too—and you can't rip up a digital copy.
1. Stephen King's N
2. Spider-Man: Big Time
3. The Walking Dead, vol. 1
4. Astonishing X-Men, vol. 1: Gifted
5. The Hedge Knight: The Graphic Novel
6. The Sandman: Overture #1
7. The Sandman, vol. 1: Preludes and Nocturnes
8. Fables, vol. 1: Legends in Exile
9. The Walking Dead, vol. 2
10. Batman: The Killing Joke
This week's Kindle best-seller list is very similar to last week's. The Spider-Man and Astonishing X-Men books are still on sale, and the Walking Dead is still a monstrously popular franchise. Both The Hedge Knight and The Sandman: Overture #1 are pre-orders, so I expect we'll continue to see them on the chart for several weeks to come. It's interesting to note that although Amazon sells single-issue comics, every title on this list except The Sandman: Overture is a graphic novel. That's what people seem to prefer on their Kindles, at least now that Injustice: Gods Among Us is on hiatus.
1. Ghostopolis
2. It's a Dog's Life, Snoopy
3. The World According to Lucy
4. Snoopy at the Bat
5. Sandman #1
6. The Walking Dead, vol. 1
7. Injustice: Gods Among Us #1
8. Big Nate: Game On!
9. Injustice: Gods Among Us #2
10. Injustice: Gods Among Us #36
There's a new top seller in the Nook store: Doug TenNapel's Ghostopolis, a full-length graphic novel for children, marked down to $1.99 at the moment, which probably explains its popularity. It's also very good, and well worth a read at any price. Aside from that, it's the same ol' same ol', with Peanuts, Injustice, and The Walking Dead dominating the lineup.
iBooks
1. Blue Is the Warmest Color
2. The Walking Dead, vol. 1
3. My Little Pony: Friendship Is Magic #11
4. My Little Pony: Friendship Is Magic #1
5. My Little Pony: Friendship Is Magic #2
6. My Little Pony: Friendship Is Magic #4
7. Watchmen
8. My Little Pony: Friendship Is Magic #12
9. The Walking Dead, vol. 18
10. The Walking Dead, vol. 9
Finally, we get a bit of variety in the iBookstore as Blue Is the Warmest Color tops the charts. This is another book with a bit of controversy behind it. It was the basis for the film of the same name that won the Palme d'Or at the Cannes Film Festival and had its U.S. premiere this past weekend, but the actresses, director, and writer have all had sharp words for one another. Clearly the film and the gossip have folks reaching for the original graphic novel, and digital is the quickest and easiest way to get it. (It's also available on Kindle, but apparently not on Nook or comiXology.)

A former book editor and newspaper reporter, Brigid Alverson started MangaBlog to keep track of her daughters¹ reading habits and now covers comics and graphic novels for Comic Book Resources , School Library Journal, Publishers Weekly Comics World, Robot 6, and MTV Geek. She also edits the Good Comics for Kids blog at School Library Journal. Brigid was a judge for the 2012 Eisner Awards. Send her an email to wordballoons@gmail.com