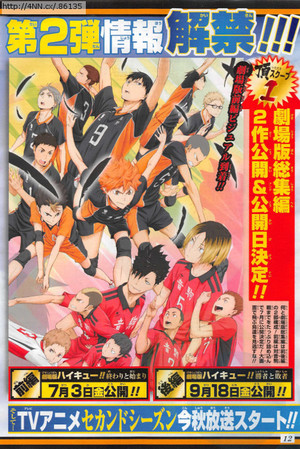 Several months ago, Production I.G announced a series of events coming in 2015 to accompany the second season of Haikyuu!!, the popular volleyball manga. The project is called the Itadaki Project, and was no doubt set in motion to ride the popularity of sports anime, and the particular popularity of Haikyuu!!.
Now, a recent announcement has promised a whole slew of Haikyuu!! events coming our way. Earlier, Production I.G stated there would be one compilation film. Now, it has been given two films: the first, Haikyuu!! the Movie: Ending and Beginning, is coming on July 3. The second, Haikyuu!! the Movie: Winners and Losers, on September 18. A compilation film, for those who don't know, is a movie made of combined footage from the TV show. It often includes bonus features, extra scenes, and new animation. The goal of the film is to tell the story of the anime in one compact two hour film.
Another excellent announcement is the Haikyuu!! Festival! coming on August 30, at the Pacifico Yokohamo. No other information is known about it at this time, but the words Haikyuu!! and Festival are enough to get any fan's blood pumping.
Yet a third event comes in the form of a stage play. For an anime to have a stage play is not a rare thing; if an anime is popular enough, a stage play seems almost necessary. What I am currently wondering is, how on Earth are they going to show volleyball games on a stage? Not that I, or anyone, are complaining, In fact, I am looking forward to seeing how a sports anime looks adapted for the stage. The play is in the hands of director "Worry Kinoshita," and is described as a "hyper-projection performance." The stage play will begin to run mid-November, through December.
All of this is just leading up to the announcement Haikyuu!! fans have been waiting with bated breath for: the second season of the Haikyuu!! TV anime. The first season ended on September 21, after a particularly devastating loss for our main team, Karasuno. The second season will entail the team picking up the pieces, getting back on their feet, and making their way back to the Spring High tournament. Another reason fans are so excited for season two? It will contain the Tokyo Training Camp arc, filled with new characters we've been waiting to see from the beginning.
The manga by Haruichi Furudate has been popular since its publication in 2012. Recently, it was ranked #15 in Takarajimasha's Kono Manga ga Sugoi! in the Male Readers category. A funny enough placement, as the series is just as popular with female readers, and every reader in general. As for the anime, Crunchyroll streamed the series; so if you haven't gotten into the wonderful world of volleyball yet, go have a look!