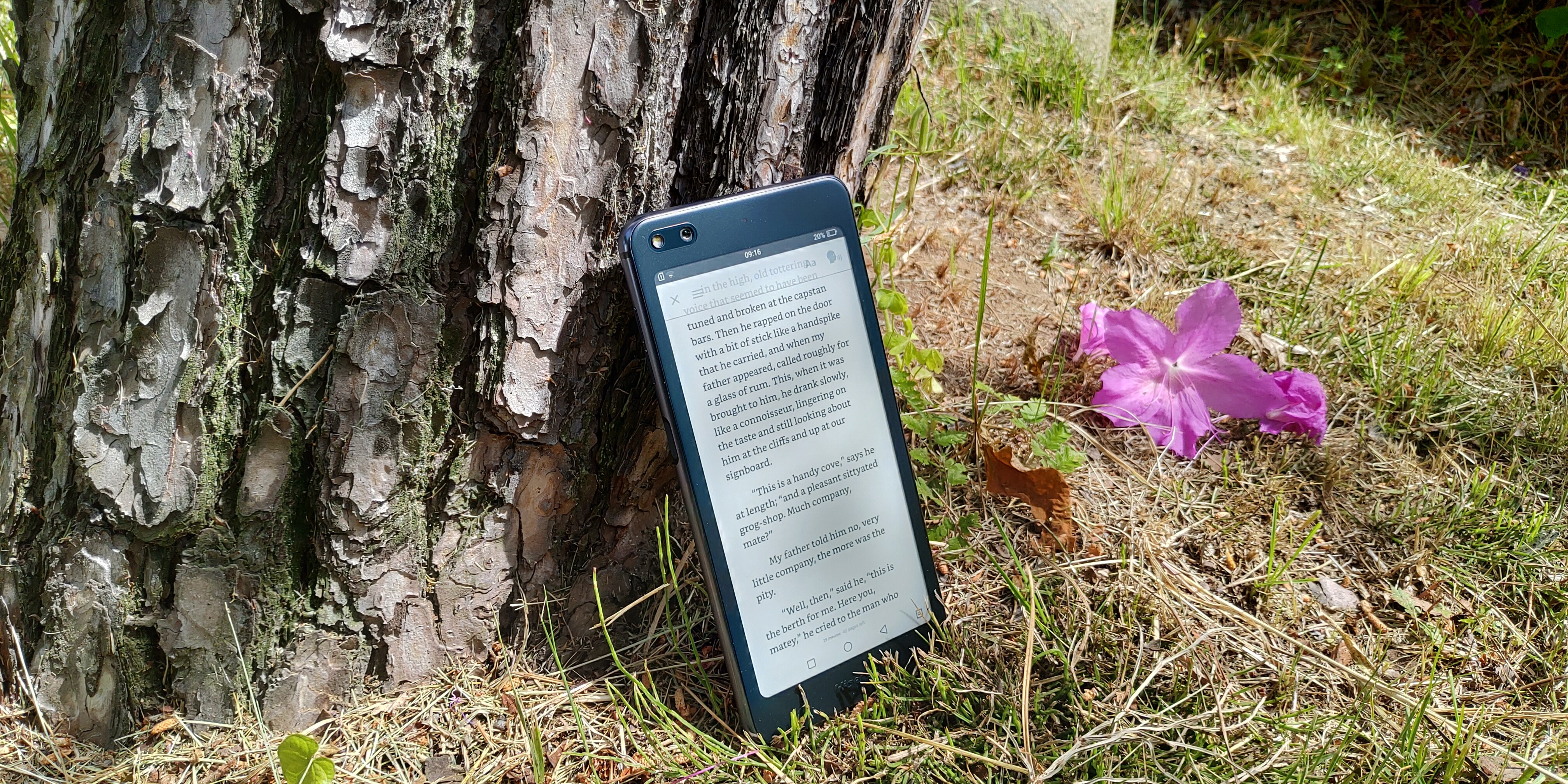 The Hisense A6 is designed similar to the dual screen phones of yesteryear, such as the Yotaphone. This device has a full color IPS screen and the rear screen is a full E INK monochrome touchscreen. Would you buy this device? It does have solid hardware specs and could be your primary phone.
Hardware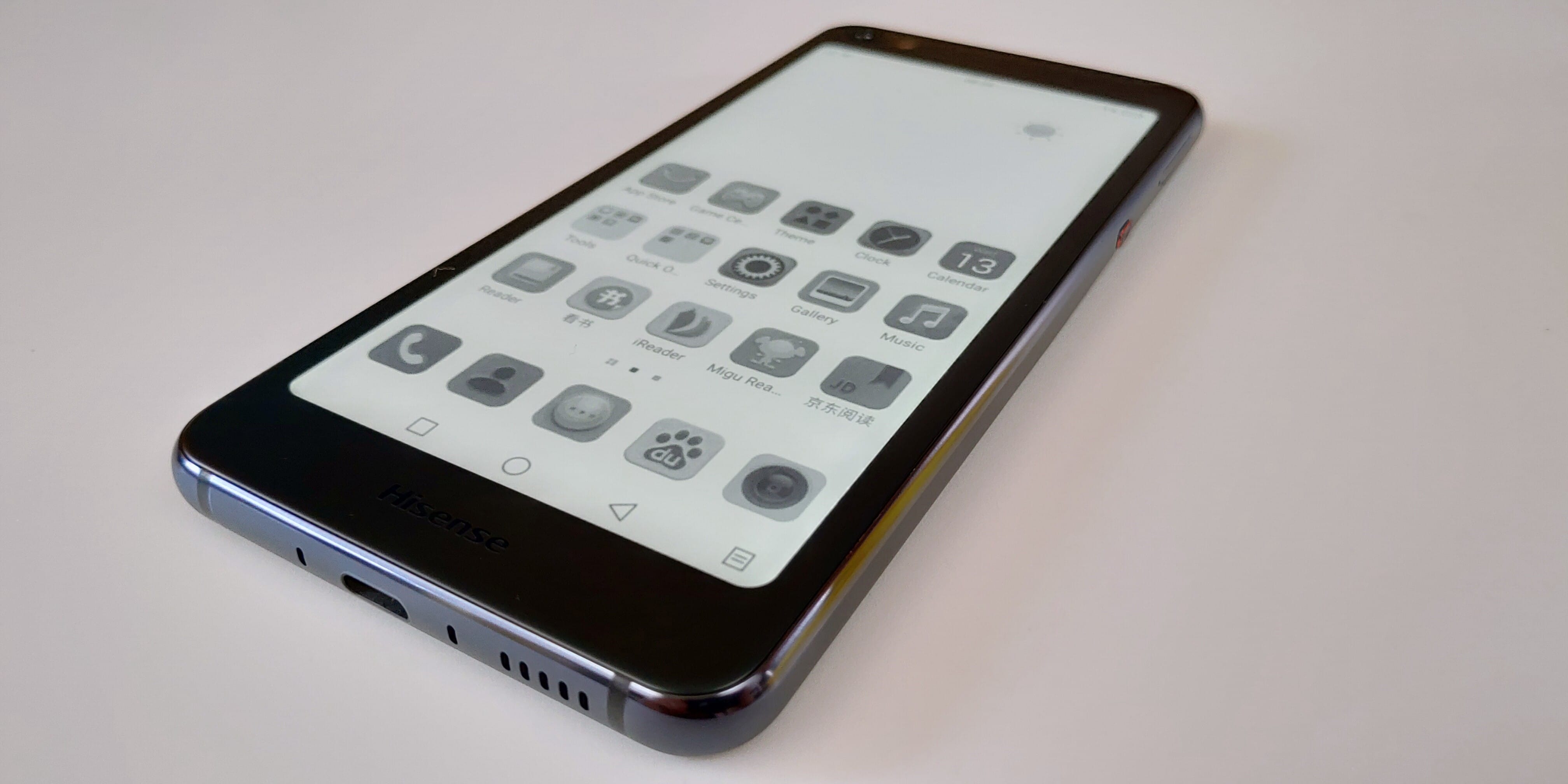 The Hisense A6 features a 6.53 IPS LCD display with a resolution of 2340×1080. The E INK panel on the back is 5.84 inch E INK Carta HD screen with a resolution of 1440×720. It has an adjustable front-lit display that is controlled by a slider bar. It has an automatic mode to adjust the brightness of the screen based on the time of day, since it does not have a ambient light sensor.
Underneath the hood is a Qualcomm Snapdragon 660 octa-core processor with up to 2.2GHz burst frequency. There is different RAM and storage configurations that can be purchased, you can go with 6GB of RAM and 64GB of storage or 6GB of RAM and 128 GB of storage. There is an SD card that fits in the SD card tray that allows you to expand the storage further up to 256GB. You can connect to the internet via WIFI or 4G. Network band support is 2G/GSM 850/900/1800/1900MHz (B5/B8/B3/B2), CDMA2000 (800MHz), CDMA (800MHz), 3G/WCDMA 850/900/1900/2100MHz (B5/B8/B2/B1), 3G/TD-SCDMA 1900/2000MHz (B39/B34), 4G/FDD-LTE 850/900/1800/2100MHz (B5/B8/B3/B1). It is powered by a 3800 mAh battery with Quick Charge 3.0 support.
There is a single mono speaker on the bottom of the device. You can use this to hear what someone is saying while on the speaker phone. It can also emit any music, audiobooks, or videos that you are watching. Beside this is the microphone. You can also listen to audio content with the 3.5mm headphone jack or attach Bluetooth accessories.
The dual rear camera takes pictures with a 24-megapixel main sensor and a secondary 8-megapixel camera lens. On the front, the 20-megapixel camera is used to take selfies, use the A6 for video calling or to securely unlock the dual-screen smartphone with your face.
The phone is running Google Android 9.0, but it doesn't have Google Play or Google Play services. You will have to manually load in APK files or download and install alternative app stores. Hisense did reply to a customers comment in their website and said that they are looking at a possible feature firmware update that will give Google Play, not only to this phone, but all of their devices running Android 9.0, but it will take around six months of testing.
Hisense has developed this phone with the Chinese market in mind, but it does come with various languages during the setup process. You can select English and the entire UI will be changed. The only vestiges that will persist is the Chinese bookstore, but you can uninstall it.
On the E INK panel there are two different refresh modes that you can engage to increase performance. Clear mode is the default, it gives you the best E INK experience. Smooth mode is basically an A2 mode, which degrades image quality, but makes navigating menus and using apps much better, although it does leave a little bit of ghosting on the screen. One of the things that Hisense has done with the phone is give you the ability to change any app you want to load with clear or smooth mode, so you don't need to keep changing the settings. If you are using the phone at night, there is a dark mode system, which changes the background to black and the text white, you can also have the front-light on on this mode, to adjust the brightness.
This phone has big bezels on both screens, there are no physical buttons, everything is software based. I like the overall design and it modernizes the concept that Yota pioneered in the past.
Software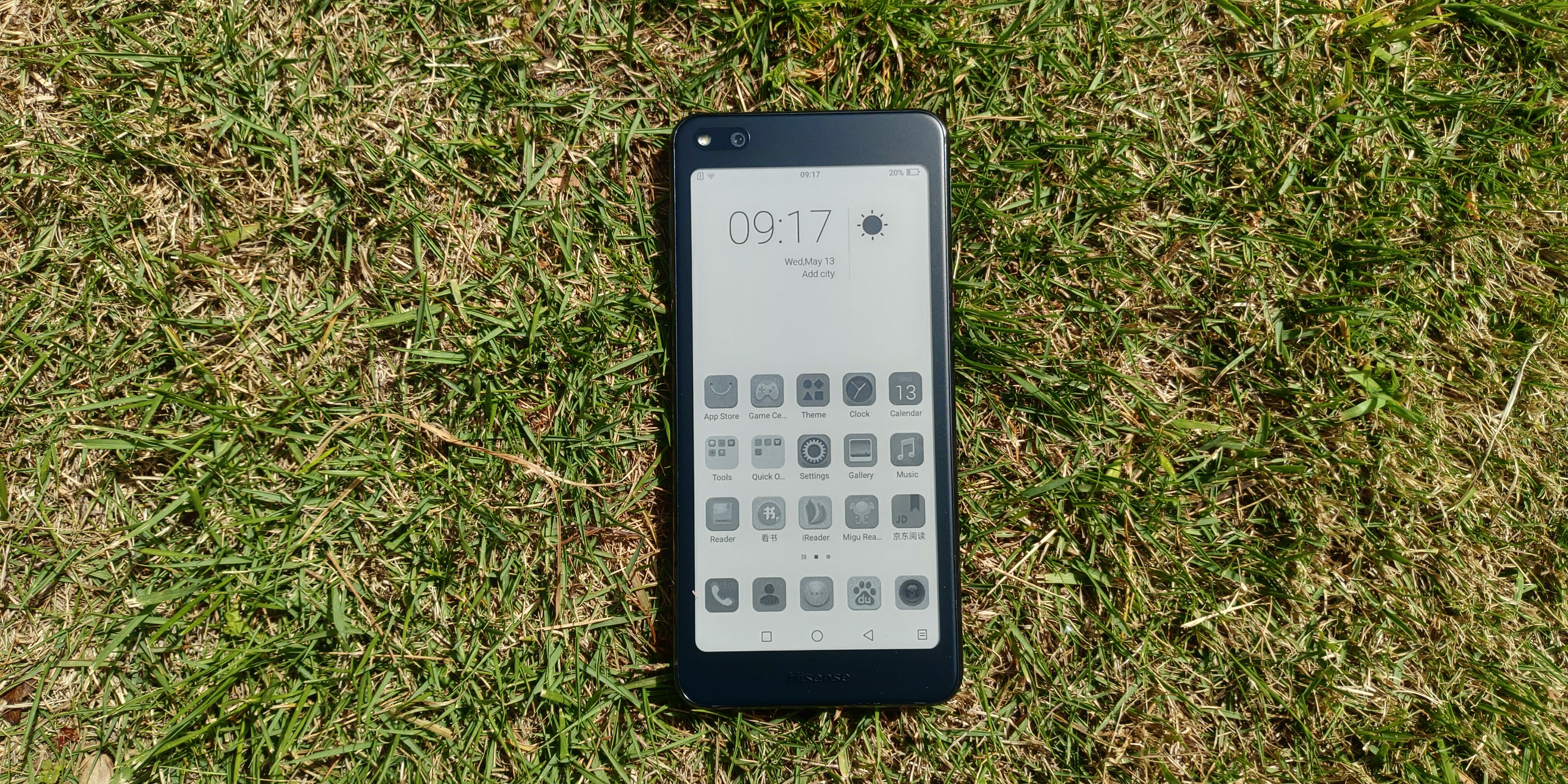 We are going to focus the software experience on the E INK screen and not the full color touchscreen. Everyone knows what an Android phone looks like and how it performs, there is really no need to tell you how it works. Whereas the E INK display, provides a ton of great features, not found in phone before.
The first thing you will see on the E INK screen are a series of panels. This includes a widget screen, bookstore, memo and your phone/sms system. There are a ton of different panels you can install such as a Google Smart Assistant, calendar, motto, bookshelf, music player, news, read it later, dictionary, clock or any other widgets you install via Android apps. Since this is the stock experience, flipping through the panels is lightning quick.
The panel system can be disabled if you do not like it or want more flexibility and control. You can change it so you get the stock Android screen. Whatever you do on the E INK screen will show up on the main IPS display, so in effect it is screen mirroring. While you using the e-paper panel, you can turn off the LCD to conserve battery life.
The E INK screen has a number of settings that you can change. You can establish a lockscreen and a password to unlock it. You can set a timeout, so the display will automatically go into sleep mode. System wide dark mode, high contrast text, show desktop/panel or the different refresh modes.
When you are on desktop mode and showing the stock Android experience you can do everything that a traditional screen does. You can drag your finger downwards from the top center and establish WIFI, data, mute/unmute the phone ringtone, autorotate, flashlight, hotspot, power saving mode, location, Bluetooth and screen brightness.
The default e-reading app is called iReader and it functions as a dedicated android app. You can convert sideloaded books to TTS, and have the text read aloud. You can also adjust the fonts, font-type, line spacing and margins. By default, all of the text is displayed by an infinite scroll mode, but you can switch to page turns.
Obviously since this phone is running Android, you can install your preferred e-reading apps from the ecosystem you are already invested in. This includes everything from Overdrive Libby to Kindle, Scribd, Nook, Kobo or any other service that has an Android app.
Wrap Up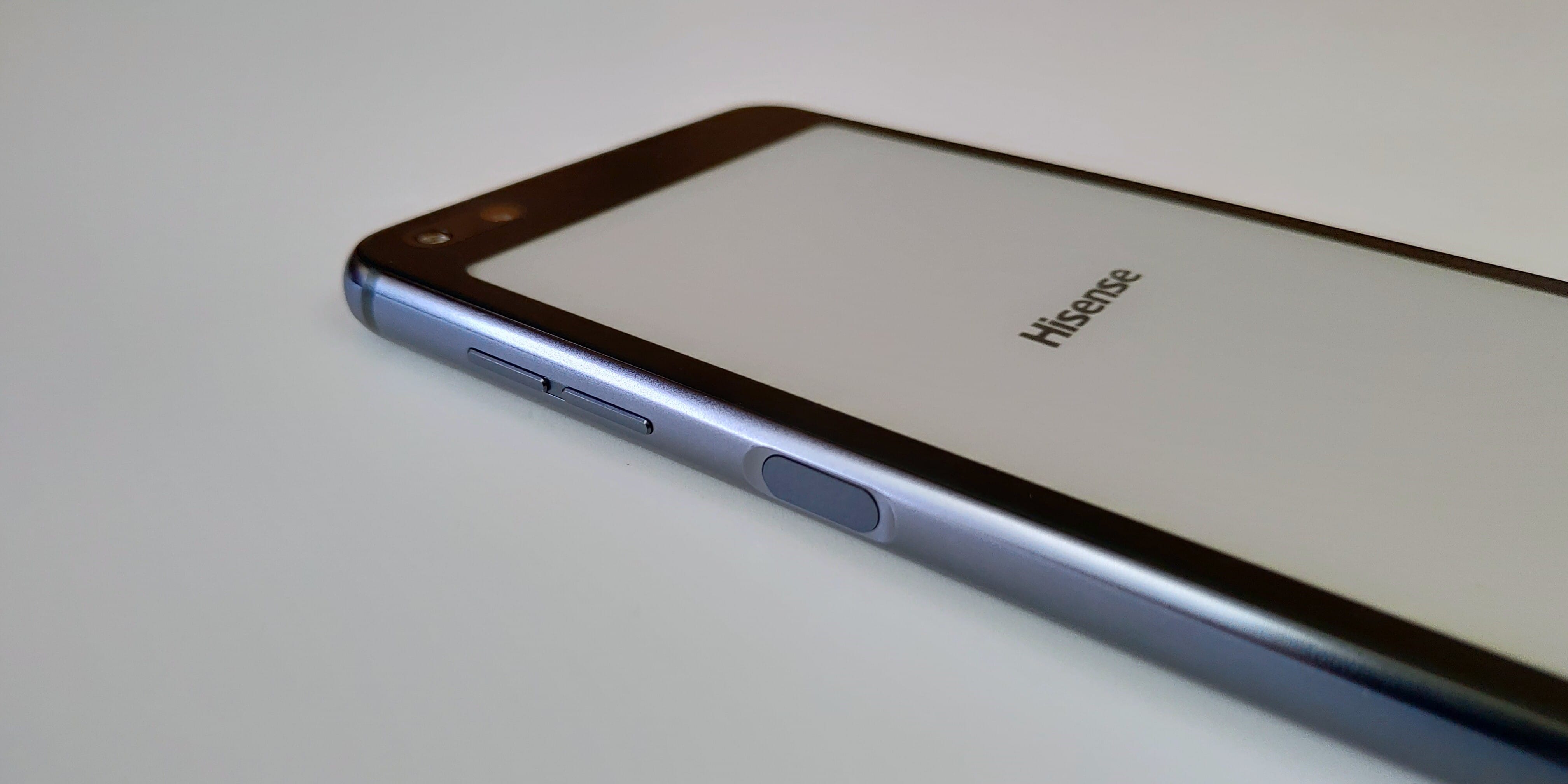 This phone is a great bargain for those of you that want a dual screen phone and not a single screen. It retails for $389 and can be purchased from the Good e-Reader Store.
Hisense is really the only modern company that is heavily invested in E INK phones. They have the A5, A6, A5C color e-paper phone and will be releasing the upcoming A5 Pro CC, which is relatively the same as the A5C, except it has a faster processor, more RAM and internal storage.
There are really no other vendors that are invested in E INK smartphones, Onyx Boox has confirmed they are working on the Boox phone, but there is no date in which it will be released and it is a monochrome device and not a color one.
Michael Kozlowski is the Editor in Chief of Good e-Reader. He has been writing about audiobooks and e-readers for the past ten years. His articles have been picked up by major and local news sources and websites such as the CBC, CNET, Engadget, Huffington Post and the New York Times.