The Kingrow K1 might be the best E INk phone ever made when it comes to the hardware specs. It has a crazy processor and lots of RAM and storage. The front-lit display will allow you to read in the dark and it even ships with the Kindle app to read ebooks right away. The lack of the Google Play and a GPS system might be deal breakers for some. This phone might be ideal for people who want to cure their tech addiction. Is it worth the $300 and should you buy it?
Hardware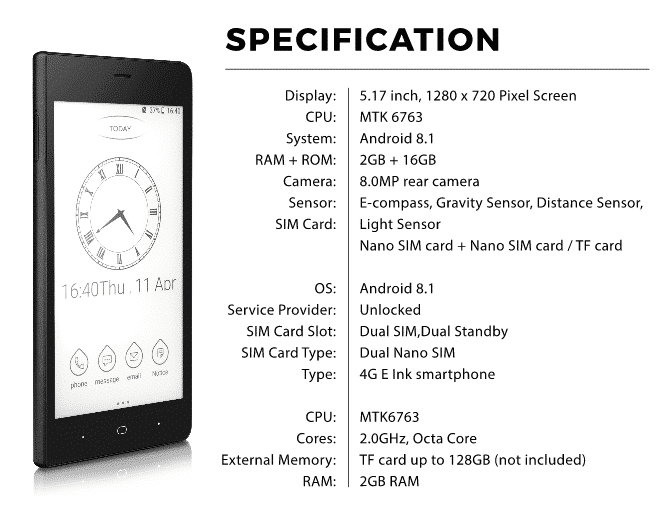 The Kingrow K1 features a 5 inch E Ink Carta HD display with a resolution of 1280×720 and 283 PPI. This means you will only get 720P resolution and the text is not as crisp as reading on your 300 PPI Kindle Paperwhite. It has an adjustable front-light, something that no other smartphone in this class has ever had. It is accessed by sliding your finger down from the top, and is presented in a slider bar.
Kingrow is marketing this smartphone as easy on the eyes. This is because E Ink does not emit light from behind the screen like a modern LED or OLED smartphone. It absorbs light, which means you can use it in direct sunlight and you still get a great user experience. The front-lit display has a series of small LED lights on the bottom of the bezel and they project light upwords, evenly across the screen. This ensures that even the lighting system does not shine in your eyes.
Underneath the hood is a MediaTek Helio P23 (MT6763) octa-core processor, 2GB of RAM and 16GB of internal storage. When you turn it on for the first time, you have around 10GB of storage after the OS is installed and all of the preinstalled apps. If storage matters, there is a dual SIM tray that has a few different ways you can do things. You can put in two different Nano SIM cards, or a SIM card and an SD card. It has support for SD cards up to 128GB.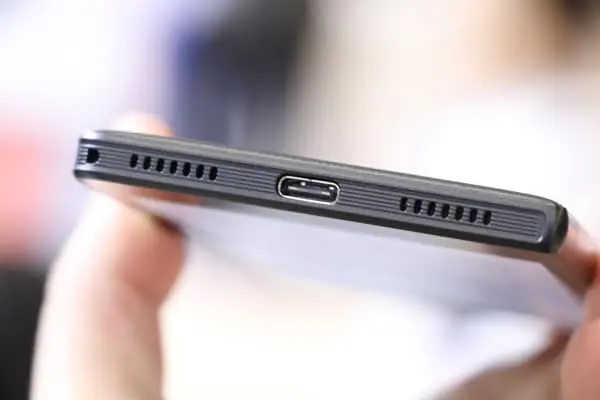 There is a USB-C port on the bottom of the device, volume buttons on the side and 2 stereo speakers on the bottom half of the bezel. The speakers are positioned more or less like all of the iPhones. Many E Ink devices actually put the speakers on the back of the device, so if it is lying on the back, the sound gets muffled. The sound quality on the K1 is actually fairly solid, it is not as good as flagship phones, but listening to audiobooks or podcasts is ok. There is no 3.5mm headphone jack, but it does have Bluetooth to attach a pair of wireless headphones or speakers. There is also no GPS, so none of the various maps services will work.
The K1 is powered by a 3100 mAh battery. You should get 2 months of standby mode, if you are not using the device. Mixed usage will require having to charge it every week and it has 20 hours of talktime.
Will this phone work in the country and telecomm you do business with? Here is the full network data report.
WIFI: 802.11a/b/g/n/ac wireless internet
Wireless Connectivity: 3G,4G,A-GPS,Bluetooth,CDMA,Dual Band WiFi,GPS,GSM,WiFi
CDMA: CDMA 1X EVDO 800MHz,CDMA 2000,CDMA: 800
TD-SCDMA: TD-SCDMA 1880MHz/2010MHz,TD-SCDMA 1900/2000MHz
4G LTE: FDD B1 2100MHz,FDD B3 1800MHz
The industrial design of the K1 is primarily a plastic on the front and back. The back is actually tapered to look like a leatherbound book, the sides of the K1 actually have faux leather stitching.The front has a flush screen and bezel design. There are 3 capacitive touchscreen keys below the screen, so you can go back, home and visit the multitask menu. On the front is a speaker and microphone and 5 MP front facing camera for selfies and the rear is 8MP with auto focus. You can take pictures on the device that are in full color, but you can't view color. You need to send the pictures to your cloud storage or PC to view them in color.
In the end, the K1 looks and feels like a premium smartphone. It looks really solid and the E INK display is easy on the eyes. It does suffer from latency and framerate drops if you are browsing the web or playing games. This is because it does not have an A2 mode setting, so there is no reliable way to boost performance. If you are just calling friends, text messaging or using it for email, or reading books, you should be fine. Just do not expect the same type of smartphone experience you would have with an iPhone or flagship Android phone.
Software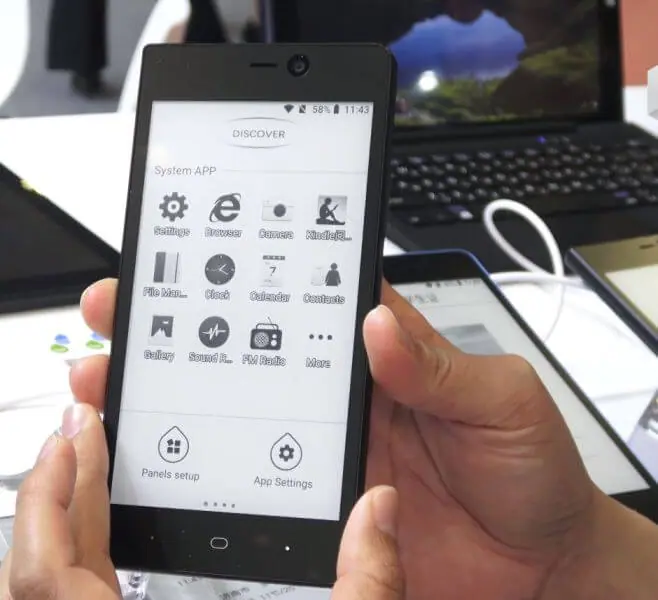 The Kingrow K1 is employing Android 8.1, which is fairly modern for E Ink standards. Only the Onyx Boox Note 2 and MAX 3 run Android 9, whereas most other Android driven E Ink devices have Android 6.0. Google Play is not available, this is due to not having the hardware capability to become officially certified, such as GPS and other key aspects. Kingrow promised they would develop their own app store and it would be released in October, but it still is not out yet.
The K1 ships with a number of preinstalled apps such as the Microsoft Edge Browser, camera, Kindle, clock, calendar, contacts, gallery, sound recorder, FM Radio, File manager and a music player. This is not a very large selection of apps, so you will have to sideload your own. Given the limitations of the phone and lack of an A2 mode, I would suggest Lite apps, since they typically only to up 2MP of space, fully installed, but they also do not have any animations. You can check out our list of Lite apps on the Good e-Reader App Store, and you can also sideload in our Good e-Reader App Store for E Ink, so you only need to sideload this app and you can one click install over 150,000 Android apps to your K1. The app icons do not look modern and employing a modern flat design, instead they look like something from the Jellybean era.
The home screen is basically comprises of a clock widget in the centre and on the bottom is your phone, SMS, email and notices, which basically just shows you all of the calls or messages you have missed. If you drag your finger from the top down. You will see a series of quick settings, such as WIFI, Bluetooth, Flashlight, battery saver, mobile data, airplane mode and a slider bar that can adjust the front-lit display. You can adjust it manually or select the automatic feature, which will automatically adjust it based on the time of day.
Reading on the default Kindle app is good. It does not have animated page turns, like the regular app has for Android. You can buy ebooks from the Kindle store and access your existing account and syncing all of your past purchases. This is the standard fair app, so you can adjust the font, font size, line spacing and things like that.
Many people find themselves reading the news and getting caught up with their phone, since it is always in their pocket. You can use the Microsoft Edge browser to access all of your favorite sites, but you can also sideload in other aggregation type apps like Pocket, Flipboard, Google News, Reddit, or Feedly.
There are no options to really enhance this phone and take it to the next level. There is a proprietary setting called Duraspeed, which allows you to select what apps you want to run in the background. There is no A2 or any kind of rapid refresh mode, which hampers this device to a very large degree.
Wrap Up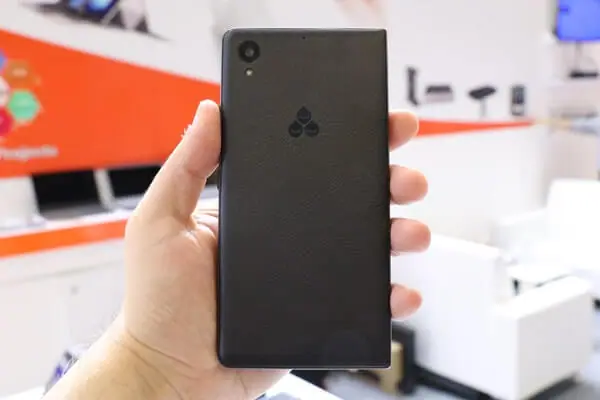 One of the big new trends of 2019 has been the emerge of E Ink smartphones. The Litephone 2, Hisense A5, Mudita Pure, and other devices are in various stages of development. You can expect that all sorts of new E Ink phones will be released in 2020 and beyond. E INK president Johnson Lee told me that next year they will have the refresh rate issue solved for color e-paper, which should take the phones using this tech to the next level.
The Kingrow K1 is trying to be a fully featured smartphone that has great specs, but falls short of being excellent. If it were a Linux phone, that just refined a few good apps and included an RSS Reader it would be awesome. Android, without an avenue to download apps, is beyond infuriating.
Slow and sluggish is really what this phone is all about. If you watch Youtube videos or attempt to play any meaningful games, you will notice huge drops in framework and peoples mouths will be moving, but the sound hasn't caught up yet.
This phone is ideal for parents wanting to buy their kids a distraction free phone, but still allows them to text and talk to the mom or dad. It is also good for luddites, who have an aversion to technology, but still recognize they need a phone to communicate with the world.
Is this phone worth it to buy? Right now there isn't even a way to buy it. They ran an Indiegogo campaign, but no new orders are being accepted. It looks like Indiegogo shuttered their campaign and did not allow them to take more orders, because of the lack of shipments from existing customers. There are no websites that I can find that are selling it. So good luck actually trying to buy one.
Michael Kozlowski has been writing about audiobooks and e-readers for the past twelve years. His articles have been picked up by major and local news sources and websites such as the CBC, CNET, Engadget, Huffington Post and the New York Times. He Lives in Vancouver, British Columbia, Canada.