The Kobo Libra H2O is the latest generation e-reader from Kobo. This device is going to be available around September 15th in North America and will hit Europe and other markets later this year. The big selling points is that it has manual page turn buttons, a new e-reading system and the same design sensibilities as the Kobo Forma, but it costs $100 less.
Hardware
The Libra features a 7 inch E Ink Carta HD display with a resolution of 1,680 x 1,264 and 300 PPI. The screen is not flush with the bezel, instead it has a small recess. This means it is using Neonode Z Force IR technology for the screen interactions. I find that plastic based screens that has a small dip, offer better resolution.
Kobo has incorporated a front-lit screen and their patented Comfortlight screen technology in all of their modern e-readers. They are using white and amber LED lights on the bottom of the screen and they project light upwards and evenly across the screen. This is great for long reading sessions, because the light is not shining into your eyes. The white and amber LED lights can be used at the same time, with a slider bar in the drop down menu. They can also be used independently of each other, or shut off completely. It also has an auto mode to adjust the light automatically, although this device does not have a ambient light sensor, it instead uses whatever timezone you are in. The lightning system is primarily used in low light conditions and they are better than using the a nearby lamp or a reading light, since the e-reader lights do not normally interfere with your circadian rhythms.
Underneath the hood is a Freescale Solo Lite 1GHZ processor, 8GB of internal storage and 512 MB of RAM. The internal storage stems from an SD card that is only evident if you take the e-reader apart. The SD card is soldered right onto the motherboard and cannot be expanded.  The Libra is powered by a 1,200 mAh battery that should provide two weeks of constant reading on a single charge. If you are a casual reader, maybe a few hours, here and there, you should get around a month.
The Libra H2O, is waterproof. Rakuten says its HZO Protection gives the Kobo Libra H2O water resistance an IPX8 rating, with endurance of up to 60 minutes in 2 meters of freshwater. You can use it in the bathtub or at the beach or anywhere there is water, without damaging the screen. If you are an utter and complete klutz like me, you constantly spill drinks everywhere, and this e-reader will shrug it off with ease. Here are a few caveats, you can't use the touchscreen if it is completely submerged in water, but the manual page turn buttons work fine. Normally e-readers that just have a touchscreen, will not recognize interactions if it is submerged or if there are many water droplets on the screen. This is because the water droplets are recognized as touchscreen interactions.
The industrial design of the H2O is asymmetrical and the entire device is made of plastic, this is how Kobo was able to cut costs and offer this e-reader for $169 USD. The design is similar to the Oasis 3, that is made of aluminum and the Kobo Forma. The manal page turn buttons have enough space between them, where you won't accidently click on the wrong one. This is one of the big problems I had with the Oasis 3, there is literally no spacing between the two buttons. The Kobo buttons are raised and have a satisfying level of torque when you press down on them. There is a power button on the back, and a USB/status indicator light on the bottom. There is no audio functionality or Bluetooth, but it does have WIFI for internet browsing or buying ebooks from Kobo.
One of the more interesting things about the Libra is that it has a gyroscope that will go 360 degrees. This was done so you can read in landscape mode or switch the page turn buttons to the left, which would allow left-handed users to feel comfortable.
The Libra H2O measures 0.2 – 0.31 inches thick and weighs 6.8 ounces, making its overall dimensions similar to the Kindle Paperwhite (0.32 inches thick, 6.4 ounces) and the Kindle Oasis (0.13 – 0.33 inches thick, 6.6 ounces).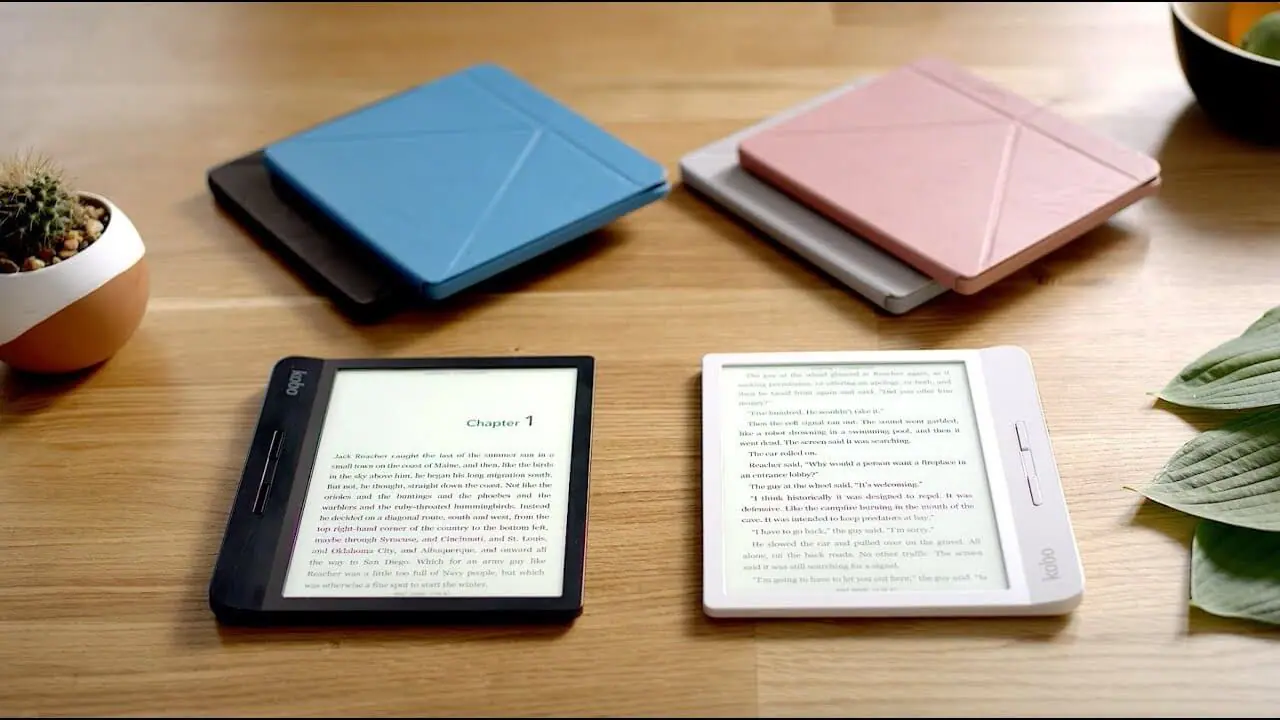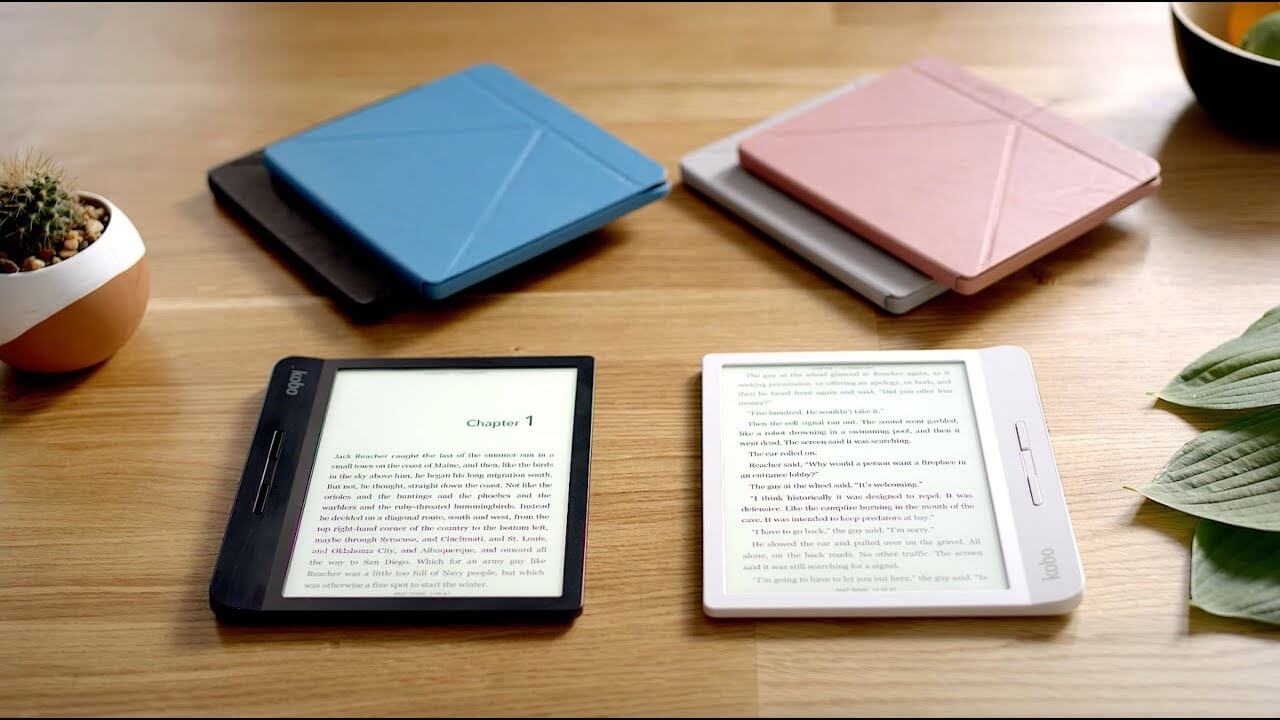 Finally, this is the first time that Kobo has launched a product with two different color options, black or white. They also have a series of cases that come in 4 different colors, traditionally Kobo only issues a single case for each generation.
Software
Kobo uses their own custom version of Linux to power their operating system, which is increasingly rare these days. Only Amazon, Kobo and Pocketbook use Linux on their consumer products, whereas everyone also is using Google Android. I find Linux often provides the best and most reliable experience, because it's totally optimized for reading books and whatever other social or analytics software is incorporated.
The main Kobo home screen comprises of recently added books, books that are similar to the ones in your library and recommended reads by Kobo. Similar and Recommended are controlled by an algorithm and take you to the Kobo store if you click on any the cover art. On the top left corner is a small software driven button that gives you a dropdown list of the most commonly accessed menus. This includes a link to your homescreen, library, collections, Pocket Articles, Kobo Store, Recommended, Wishlist, Settings and help.
On the top right hand side are your options to control the brightness settings, WIFi, battery, sync and search. The sync button will search for firmware updates, but it will also query the Kobo servers to see if there are any books you purchased on other devices, such as another e-reader or their apps.
My Books, or library is where you will likely visit on a daily basis. This is where all of your ebooks, manga or other content is stored. You can configure this section to your liking, such as list or grid review or sort by author, genre etc. Your library is also where Overdrive library ebooks are stored and you can read them, return them early or delete them from your e-reader.
Koo and Overdrive are both owned by Rakuten and this has created lots of synergy between the two companies. Kobo e-readers are the only ones in the world with built in support for libraries. In the settings menu you can enter your library card and four digit pin number. You local branch will appear in the UI and can browse their entire selection. If you find something you want to read you can borrow it and the length of time in which you can borrow something is also produced. Once a book is borrowed, you can read it at any time.
Kobo has an exclusive arrangement with Pocket that allows you to push website and blog articles directly to your e-Reader. The easiest way to get started is to download the Pocket browser extension for Chrome, Edge, Firefox or Safari on your PC or MAC.  Once you download the extension and log into the service, you can begin to push out all of the stories you want to read to your e-reader later and they will automatically be synced. The articles will include any links, pictures and text, but truncate shortcode and adverts. Kobo recently issued a firmware update that finally lets you adjust the font size of Pocket article, which is tremendously useful.
Here are some of the software highlights. There is a large print mode in the beta features, along with an internet browser. Large print mode will change the entire UI and most of the text based features of the software experience and make the fonts larger. This is great for people who wear glasses, have vision disorders or just are getting a little bit older and the eyes aren't what they used to be.  The shopping experience is clear and concise, it is easy to buy things, download samples or discover new reads.  I also really dig Pocket and Overdrive compatibility.
E-Reading Experience
"Each time we create a new device, we look to make the act of reading that little bit better. That's a mission worth our very best effort," said Michael Tamblyn, CEO, Rakuten Kobo. "So many of our customers are drawn to eBooks for the convenience and portability. With the Kobo Libra H2O, we designed a seamless digital reading experience that keeps your whole reading life with you, wrapped in a beautiful, modern design."
Kobo does an amazing job in making their e-readers appealing to both casual and hardcore users. They have plenty of advanced options, that the competition simply cannot match. One of the most popular is having the ability to sideload in your own fonts. This is useful if you want to load in stuff like Bookerly or Ember, two fonts Amazon developed with e-readers in mind. You can also sideload in your own ebooks, and all of the Kobo normal and advanced features are available with these too.
Most e-readers and e-reading apps have a few different preset options to change the line spacing, margins, or font size. Kobo does things differently, they also have a bunch of sliders that allow unparalleled flexibility in determining how much weight you want your fonts to have and configure the margins and line spaces. They also have basic settings to change fonts, line spacing and margins
The Kobo Libra H2O was designed to excel at reading the two most popular electronic book formats, PDF and EPUB. They also have support for manga, graphic novels and comic books with CBR and CBZ, so users will be able to download them from the internet and easily load them on their reader, or simply buy them from the manga store.  When it comes right down to it, the Libra supports EPUB, EPUB3, PDF, MOBI, JPEG, GIF, PNG, BMP, TIFF, TXT, HTML, RFT, CBZ, and CBR.
Kobo has updated reading interface with improved eBook navigation on the Libra and will introduce these features in a firmware update for the Forma, Clara HD and Aura. The enhanced navigation provides users with increased awareness of where they are in an eBook, allowing readers to seamlessly skim an entire book, jump to a new location, or go back to their original page, all without fear of losing their place.
"This enhanced eBook navigation is really about giving our users a reading experience that surpasses paper," said Tamblyn. "Through customer surveys, interviews, and by looking at reading data, we could see that digital is perfect for reading to escape, but when it comes to reading to understand—things like reference manuals, non-fiction titles, or books where you would want to skip back and forth—digital can seem difficult to navigate, to know exactly where you are in a book and where you want to go. Our new navigation makes the geography of a book very clear and intuitive."
New features include:
Enhanced eBook scrubber: The scrubber has been updated to represent the entire eBook rather than a single chapter. Easily flip back and forth through your eBook without fear of losing your spot—your previous page is noted by a black breadcrumb for easy return.
Page previews: A preview of pages viewed using the eBook scrubber will now appear as you skim. Use the preview page to quickly scan other parts of the book, and easily navigate to that page by tapping the preview window.
Updated headers and footers: Headers and footers display chapter and book progress simultaneously, so you know where you are in your eBook at all times.
Progress bar: A thin black bar at the bottom of the eReader will now help you understand at-a-glance where you are in your eBook.
Improved in-book menu: Swipe up from the bottom of the page to open the new in-book menu. For better location awareness in your eBook, the scrubber now appears as part of the menu. Annotations (notes, highlights and bookmarks) are easier to access, by tapping the annotations icon at the bottom of the screen.
If you have ever read an ebook before on a Kobo e-reader, the experience is fairly similar, aside from the new features. You can swipe and gesture to turn pages of an book or press on the manual page turn buttons. Page turns are super fast, although I found it more responsive to press the buttons.  If you hold down on the top button, you will take advantage of the rapid page turn system, which will quickly turn the pages of a book, forward, or backwards.
Long-pressing on a word will provide an instant definition of it. If you speak another language, you can look the word up in Japanese, Italian, German, Dutch, and many more. When long-pressing a word, you get an anchor that will allow you to select a single word, sentence, or entire paragraph. You can then highlight it or add a note. When you add a note, a virtual keyboard appears that allows you to manually add one. The keyboard is snappy and responsive, although it is not a true QWERTY keyboard.
The Libra does a very good job at PDF files, this is primarily due to the 7 inch screen showing more content at any given time. When you pinch and zoom with your fingers to isolate a specific image or text, it occurs very fast. A small mini map is on the top left hand side that gives you a sense on where you are in the document and it actually is a screenshot of all of the text and images.
I feel that this device is built for manga. The manual page turn keys can be inverted, so people who regularly read manga will feel right at home. You do not have to pinch and zoom to read all of the text or to look at the pictures. All of the manga that Kobo sells is optimized for their e-readers and fits to the screen very well.
Wrap Up
The Kobo Libra H2o is the perfect upgrade path for anyone that had the H2o Edition 2 or the original model. I would also buy this if you were on the fence between a Clara HD or the Kobo Aura Edition.  This is also a great purchase for someone who wants to buy a Forma, but can't rationalize spending over $250 to get one.
I really like how Kobo maintained the Forma design sensibility in a smaller body and screen. The manual page turn buttons are very compelling for people who like to hold their e-reader in one hand while juggling a kid or commuting to work.
This e-reader is available on September 15th and will be sold in Canada and the US to start. Kobo has not given a timeframe for international availability. In the meantime, if you live outside North America, you can purchase the Libra from the Good e-Reader Store.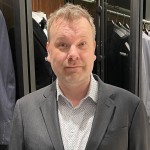 Michael Kozlowski has written about audiobooks and e-readers for the past twelve years. Newspapers and websites such as the CBC, CNET, Engadget, Huffington Post and the New York Times have picked up his articles. He Lives in Vancouver, British Columbia, Canada.