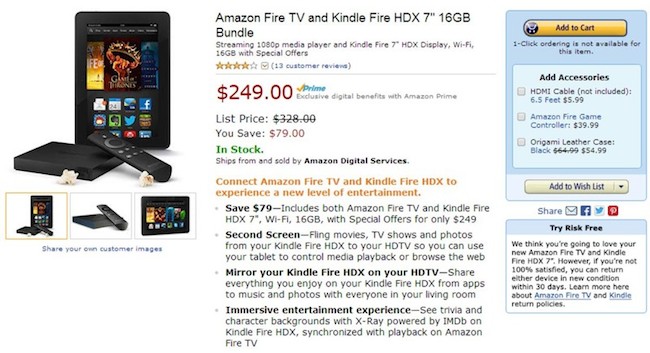 Everybody likes to get a good deal, which is why the bundle being offered by Amazon right now is especially attractive. With that extra $249 in your pocket, you can own Amazon's brand new Fire TV as well as a 7″ Kindle Fire HDX tablet: consider it the Android accessory pack for those of you who only have a smartphone so far (or a starter pack for those who may have iPhones).
The two products are a very natural pairing given how seamlessly they work together. Even beyond the Fire TV being able to be controlled from within an app on the tablet, use the X-Ray feature to do your research on the movie or TV show you are watching or Fling media (TV shows, movies, music) to your television.
It isn't known for certain whether this bargain is due to poor sales of the recently launched Fire TV (from April, 2014) or a smart move towards gaining market share, but it is certainly good incentive for anybody who was on the fence as to whether or not to buy one.

Jillian Koskie is an experienced software developer, content writer, project manager and usability design expert. With over 17 years in these roles, Jillian has enjoyed applying her skill-set to assist clients and users across a wide variety of sectors including: legal, health, and financial services. Combining these professional opportunities with a love of technology, Jillian is pleased to contribute articles, opinions, and advice to numerous news outlets, websites, and publications.