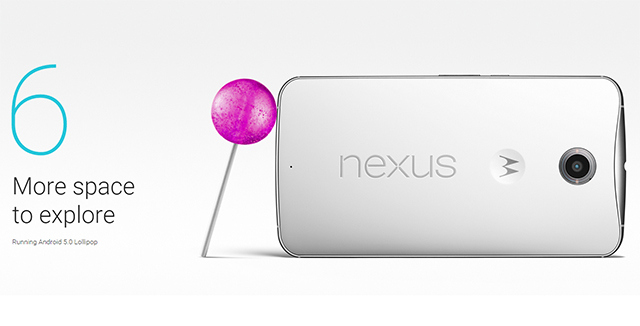 It is with great enthusiasm that Google released their next generation Nexus 6 smartphone yesterday. Being labelled the next in a line of phablets, the Nexus 6 is a very large mobile device that straddles the line between smartphone and tablets. Packed with features, the Nexus 6 promises to stand up proudly against the Samsung Galaxy Note 4 and Apple's iPhone 6 Plus.
Design and Display
It can't be said that the Nexus 6 is a light smartphone, and coming in at 6.49 ounces (184g) is will feel quite substantial. By comparison, the Galaxy Note 4 is 6.21 ounce (176g) and the iPhone 6 Plus is the lightest at 6.07 ounces (172g). It is also the largest of the three phablets, with a full 6-inch display with a 1440×2560 pixel resolution and 493 ppi density. Also a very attractive feature is that the Nexus 6 is splash resistant (without needing to wrap it in a case) –other Samsung products can boast that, the Galaxy Note 4 isn't so lucky.
Camera
The camera in the Nexus 6 is competitive with a dual LED flash, but only measures 13 megapixels (where the Galaxy Note 4 has 16, and iPhone 6 Plus lags quite a distance behind at 8).
Operating System
Running the latest Android Lollipop, Google maintains their top spot as the manufacturer with the truest Android smartphone.
Hardware
Powered by a quad core, 2700 MHz, Qualcomm Snapdragon 805 processor, the Nexus 6 should still be comparable the 8-core, 1900 MHz ARM processor found in the Galaxy Note 4 –though on paper Apple's processor seems quite a bit behind both devices by only being dual core and 1400MHz. With that said, many of the performance tests being run are placing Apple's smartphone performing ahead of Samsung's, so these specifications on their own don't carry much real-world weight or meaning. The Nexus 6 comes with 32GB or 64GB of built-in storage, but unlike the Galaxy Note 4, cannot be expanded with additional storage (using microSD, microSDHC, or microSDXC).
Battery
Google claims that the Nexus 6 will deliver 24 hours of talk time. They also say you can expect 13.8 days of stand-by time. In other news, pigs can apparently fly. I'll believe that these batteries perform this well when I experience it for myself, but I do trust that it's better than most of us are used to… especially if you turn off the Ambient Display.
Unlike any of the competition, the Nexus 6 does lead the pack in the power arena by offering built-in wireless charging… and using Qualcomm's Quick Charge 2.0, a quick 15 minutes of charging should get you about 6 more hours of use.
Connectivity
You should have no complaints in this arena, with the Nexus 6 offering GSM at 850/900/1800/1900MHz, CDMA band classes 0/1/10, WCDMA bands 1/2/4/5/8, and LTE bands 2/3/4/5/7/12/13/17/25/26/29/41.
Aside from cellular options, Google equipped the Nexus 6 with 802.11ac Wi-Fi using a 2×2 MIMO antenna, Bluetooth 4.1 LE, and NFC.
Before you salivate yourself into needing a fresh shirt, brace yourself for the $649 USD price-tag found on the unlocked model. Not surprisingly, many Android purists are already expressing their outrage at the cost –especially when previous Nexus smartphones only rid our wallets of $349 USD. While this increase is difficult to accept, it's necessary if Google is going to produce the kind of hardware that will have the chops to compete with the quality options being released by the competition. Of course, the Nexus 6 looks to be worth every penny… but it means that carriers with contract-signing incentives will play a much more significant role in the success of this device (like they already do for the high-end hardware coming from Samsung and Apple).
Pre-order for the Nexus 6 will begin in late October, with full retail availability beginning in November.
Jillian Koskie is an experienced software developer, content writer, project manager and usability design expert. With over 17 years in these roles, Jillian has enjoyed applying her skill-set to assist clients and users across a wide variety of sectors including: legal, health, and financial services. Combining these professional opportunities with a love of technology, Jillian is pleased to contribute articles, opinions, and advice to numerous news outlets, websites, and publications.