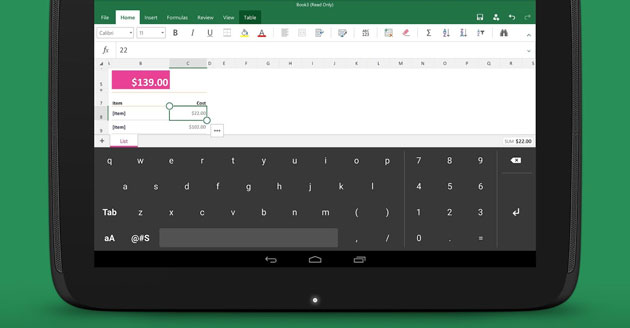 If you want to get in to a heated debate with a true nerd, ask them if they feel numpad is a true necessity for a keyboard (and let me advise you ahead of time to avoid the arrow keys argument entirely). Honestly though, if you do a lot of work with spreadsheets that numpad comes in pretty handy. Microsoft agrees, and so if you happen to have an Android tablet, there is a keyboard now that lets you enter numbers with speed, ease, and precision (unfortunately smartphones are still out of luck, no matter how many numbers you plan to crunch on the smaller-format devices).
As handy as it is, the main keyboard is truncated, which means it really is designed for making numerical entry easier at the sacrifice of alpha-numeric typing (as I think about it, there are a few games out there that could benefit from this little addition as well).
No matter your take, this is yet another piece of evidence in support of Microsoft starting to really understand mobile users and the experiences they demand.
All this keyboard is missing, is that inexplicable noise that was produced by those journal ling calculators with the paper tape roll… if you are of a certain vintage, you will know exactly what I mean.
Jillian Koskie is an experienced software developer, content writer, project manager and usability design expert. With over 17 years in these roles, Jillian has enjoyed applying her skill-set to assist clients and users across a wide variety of sectors including: legal, health, and financial services. Combining these professional opportunities with a love of technology, Jillian is pleased to contribute articles, opinions, and advice to numerous news outlets, websites, and publications.