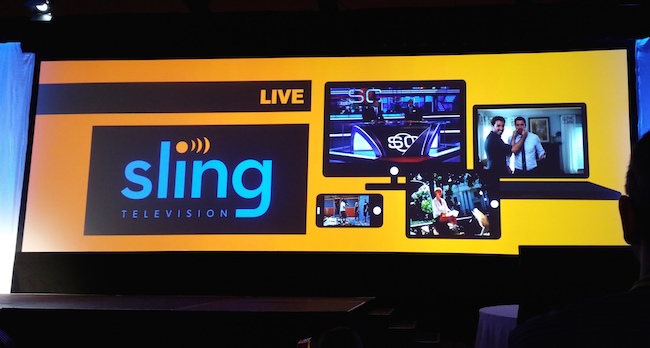 CES is always an exciting event filled with news and previews that make us salivate; the 2015 event is no exception, with Sling TV proving to be one of the more exciting announcements. Following an entrance that can be described as nothing short of impressive, Dish CEO Joe Clayton announced that Sling Television will deliver television packages for Internet streaming that includes networks like ESPN, TBS, TNT, CNN, and the Disney Channel (almost 200 choices all told)… all for only $20 per month.
An offering like this has to be making cable companies more than a little nervous. Most of us are happy to pay a subscription fee for the content we want to watch, so much so that we've been paying for the likes of Netflix and Amazon Prime –as long as it doesn't break the bank.
Most of the participating networks allow you to pause and rewind live TV, with many also giving access to shows that have aired within the past three days. It's true that you can't do any DVR style recording with Sling TV, but we have services like Hulu Plus for that (meaning for under $30 a month, you get first run television along with a library of stuff that has already aired) –even paying for both, you are still coming out ahead of the cost for competitive cable packages from leading providers (not to mention the added streaming conveniences).
As if those features weren't compelling enough, Sling TV will also feature a movie rental service.
Upon release later this year, Sling TV will be featured on a selection of smart TVs, Roku players, Amazon Fire TV (and Fire Stick), Xbox One, Nexus Player, Android TV, Android, and iOS mobile platforms.
Jillian Koskie is an experienced software developer, content writer, project manager and usability design expert. With over 17 years in these roles, Jillian has enjoyed applying her skill-set to assist clients and users across a wide variety of sectors including: legal, health, and financial services. Combining these professional opportunities with a love of technology, Jillian is pleased to contribute articles, opinions, and advice to numerous news outlets, websites, and publications.